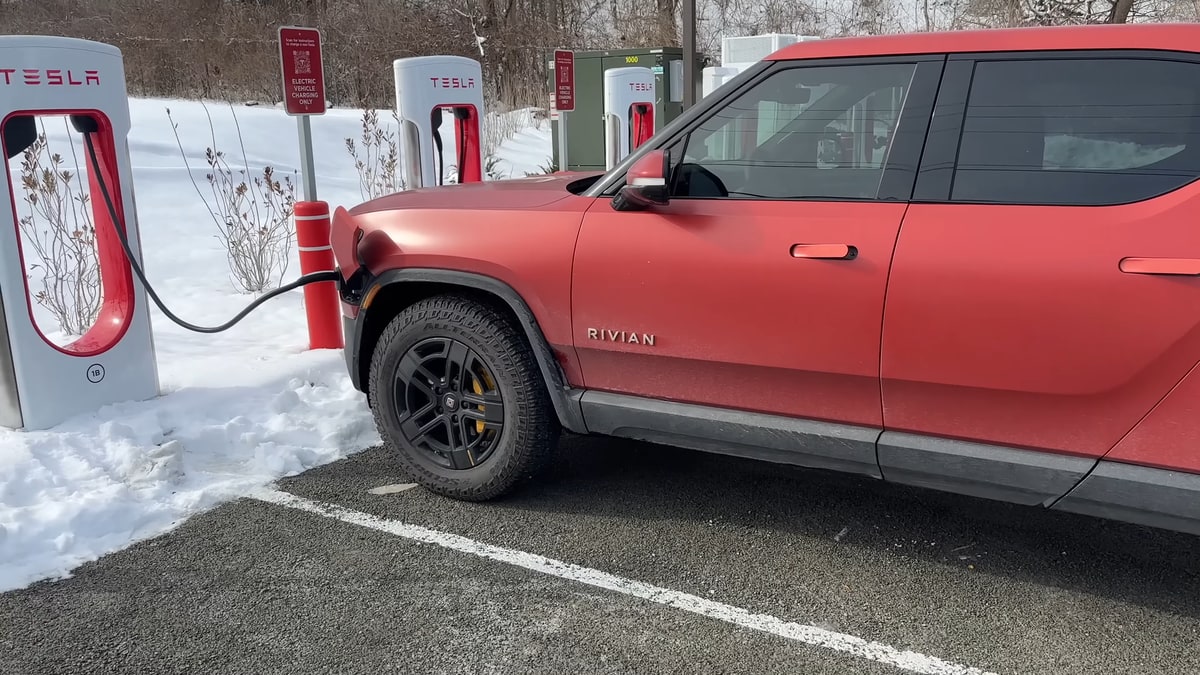 Adding to the recent trend of manufacturers endorsing Tesla's charging standard, Rivian has adopted the North American Charging Standard (NACS). This move, expected to take effect in spring 2024 with Rivian users utilizing adapters, is a significant step towards standardizing EV charging infrastructure. Starting in 2025, Rivian vehicles will come equipped with Tesla-style charging ports as a standard feature.
Rivian Joins Ford, GM in Embracing Tesla's Charging Standard
In what seems to be an emerging industry pattern, Rivian follows in the footsteps of auto giants Ford and General Motors, who have recently committed to Tesla's charging standard. Rivian's CEO, RJ Scaringe, voiced his preference for the compactness of Tesla's connector and the opportunity to utilize the existing charging infrastructure that Tesla has painstakingly built.
Rivian, whose share prices have struggled until this key announcement, seeks to capitalize on the customer convenience and operational efficiency offered by Tesla's extensive Supercharger network. This move also implies an anticipated rise in Rivian's stock value, as was observed with Ford and GM after their similar announcements.
Tesla's Supercharger Network Opens Up to More EVs
With Rivian's adoption of the NACS, Rivian customers can look forward to accessing Tesla's 12,000-strong Supercharger network across the US and Canada. Existing Rivian vehicle owners are also set to benefit, with Tesla-designed adapters becoming available in spring 2024.
Tesla's Charging Leadership - Who's Next?
The wave of adoption surrounding Tesla's NACS seems far from over, with Rivian's decision adding momentum to the trend. Speculation is rife over who will be the next EV manufacturer to join this growing alliance. Notably, Hyundai has indicated an interest in joining this cohort, which could further strengthen the case for NACS and Tesla's leadership in the EV charging landscape.
Tesla's recent traction in setting the industry charging standard reflects the increasingly recognized benefits of the NACS. Several major industry players, including BTC Power and EV charging providers like ABB E-mobility North America, Tritium DCFC, and EVgo, are rushing to add NACS plugs to their charging stations, heralding a potential shift towards widespread standardization.
A Rising Tide Lifts All Boats
The acceptance of the NACS by a growing number of automakers is not just a victory for Tesla but for the entire EV industry. A universal charging standard simplifies the charging experience for all EV drivers, further encouraging the transition from internal combustion engines to electric power. Rivian's commitment to the NACS illustrates the company's acknowledgment of this fact, despite its previous endeavours to build its charging network.
The push towards a standardized charging infrastructure could catalyze wider EV adoption by mitigating the charging-related anxieties of potential EV buyers. As more and more car manufacturers follow suit in recognizing Tesla's NACS, the overall landscape of the EV industry is set to change drastically.
This trend may also play a pivotal role in promoting the collaboration and unity needed to achieve carbon neutrality goals worldwide. With Rivian joining the bandwagon and other major players likely to follow, Tesla's NACS continues to set the course for the future of EV charging, one plug at a time.