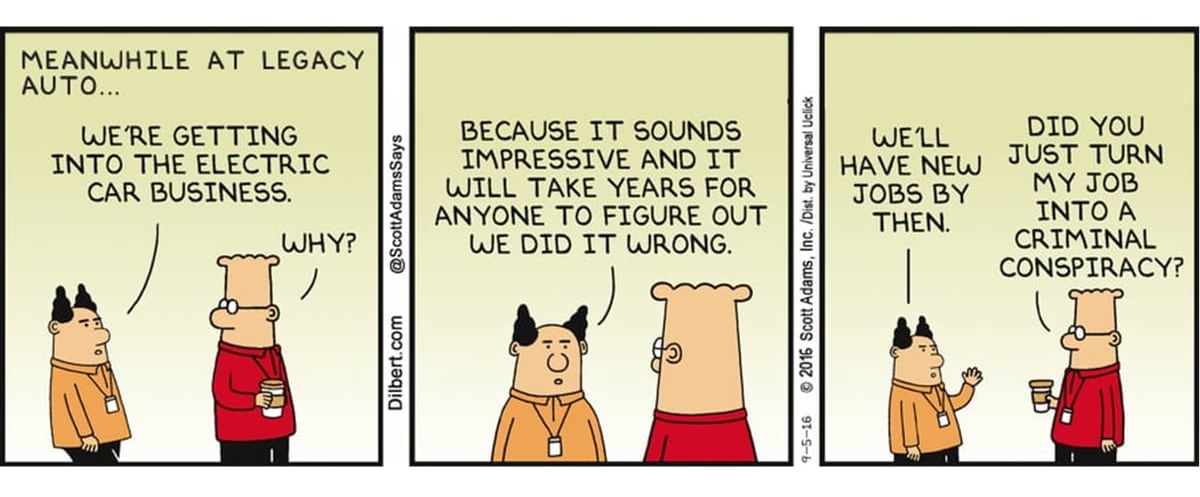 Tesla's CEO Elon Musk has frequently referred to the popular Dilbert cartoon. In a memo to employees in 2018, he wrote: "In general, use common sense as your guide. If following a 'company rule' is obviously ridiculous in a particular situation, such that it would make for a great Dilbert cartoon, then the rule should change."
Only Tesla could be penalized for being too environmentally friendly, too efficient and too far ahead of the competition, but that is what the Inflation Reduction Act is doing. Twitter user @farzyness tweeted a very Dilbert-like post, but it's not a cartoon.
The tweet reads: The car on the left (hybrid Jeep) has a gas engine and gets 20 MPG. It has 21 miles of electric range. It gets a $7,500 EV Tax Credit. The car on the right (Tesla Model Y) is electric only and gets 113 MPEe. It has 330 miles of range. It does not get a $7,500 EV tax credit.
Brett Winston, the chief Futurist with ARK Invest, added more layers to this already Dilbert classic. He tweeted: A recipe for misaligned incentives: Take 1 ICE SUV Add $2,500 of batteries (for a whopping 21 miles of electric range) Get a $7,500 subsidy (Meanwhile a true EV SUV with 15x the range and more cargo capacity doesn't qualify because it's not "SUV enough").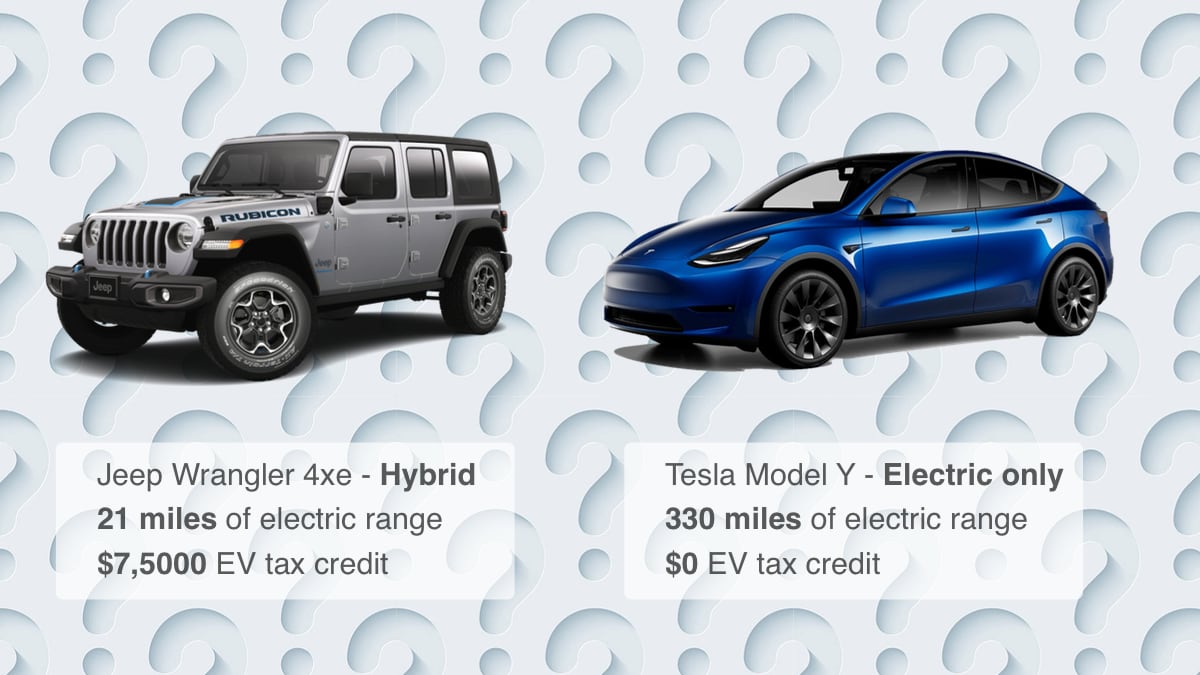 Farzad Mesbahi has started a Change.org petition to right this obvious wrong. His petition, Fix the Inflation Reduction Act EV Tax Credit, has some harsh words for those who wrote the legislation. He states, "At best, this is a pretty severe lack of negligence by the IRS to properly categorize vehicles. At worst, it's corruption against companies like Tesla in order to benefit a dying legacy auto industry by giving them EV tax credits for vehicles that are anything but EVs. Instead of funding the next generation of the American economy, tax payers are now funding old technology in large, inefficient gas vehicle auto makers. This is a gross miss use of taxpayer dollars."
But not all hope is lost — yet. The IRS allows public input on the "Qualified Plug-in Electric Drive Motor Vehicle Credit." Americans have until February 28, 2023, to provide comments. There is even an email address to make it easier: pra.comments@irs.gov. Make sure to include "OMB Control No. 1545-2137" in the subject line.