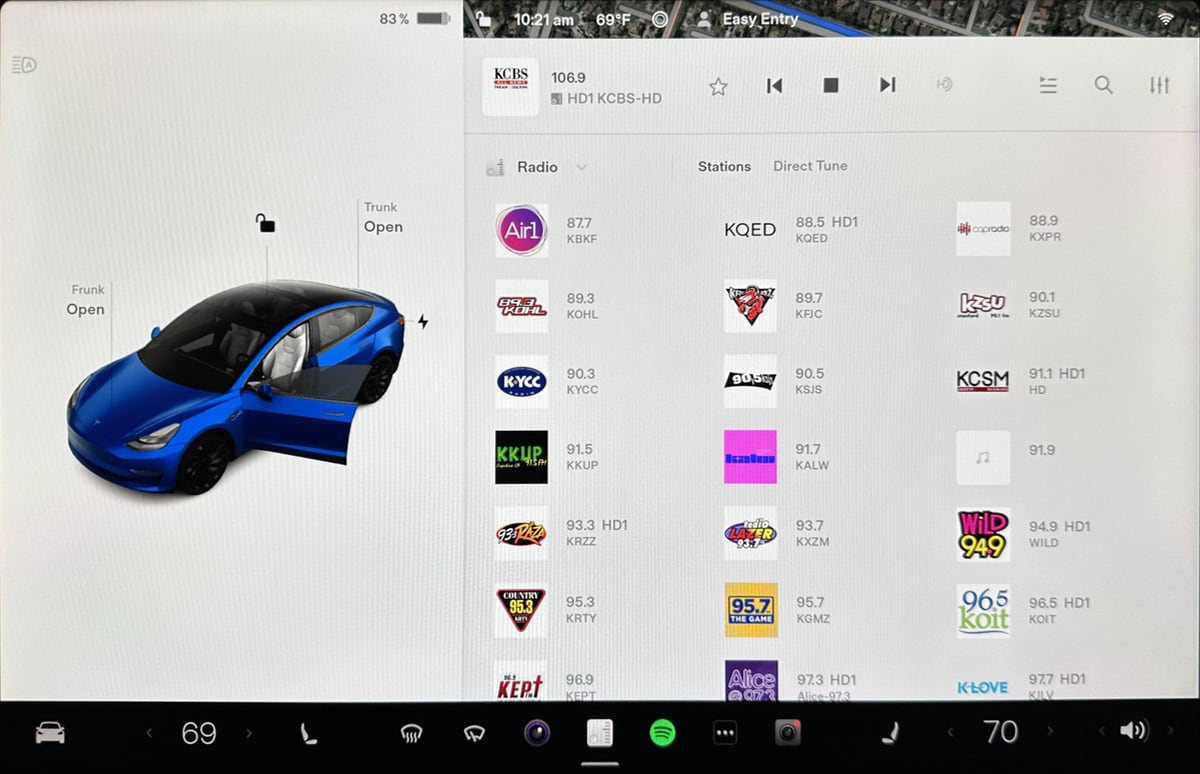 Tesla owners who are dog lovers no longer have to decide between Sentry Mode and Dog Mode. That is just one of several enhancements in the latest update — 2022.40.1.
Other improvements include battery preconditioning, driver door unlock and radio station logos, while existing features have launched in new regions.
New Features
Let's start with the Sentry and Dog Mode combo. Both of these features would rate high on items that Tesla owners appreciate about their vehicles. Sentry is a best-in-class security/surveillance system, and Dog Mode keeps the cabin at an appropriate temperature for your pet while you are away.
However, the two systems did not work together because Sentry would constantly be triggered whenever the dog moved inside the vehicle. For those who have dogs that love car rides, this meant not being able to use Sentry to protect your car and your dog. Now both features can be used together for most vehicles. This update silences Sentry Mode alarms while still recording and keeping the temperature safe for your pooch.
Listening to the radio may get more appealing with the addition of radio station logos to the media player.
The radio in a Tesla doesn't get a lot of recognition since competes against music streaming services and other entertainment that have much more engaging screens, but Tesla did a great job with its radio implementation.
The radio will automatically scan for local stations, so you can just tap to get to your favorite station. It also offers a direct input instead of a radio dial and now features radio station icons to make it easier to find your favorite station. With this update the list of radio stations has been changed to a grid to make room for the station name and logo. When playing an FM radio station, the station's logo will also appear in the album artwork area of the music player. (Photo credit to ArsalamiSandwich).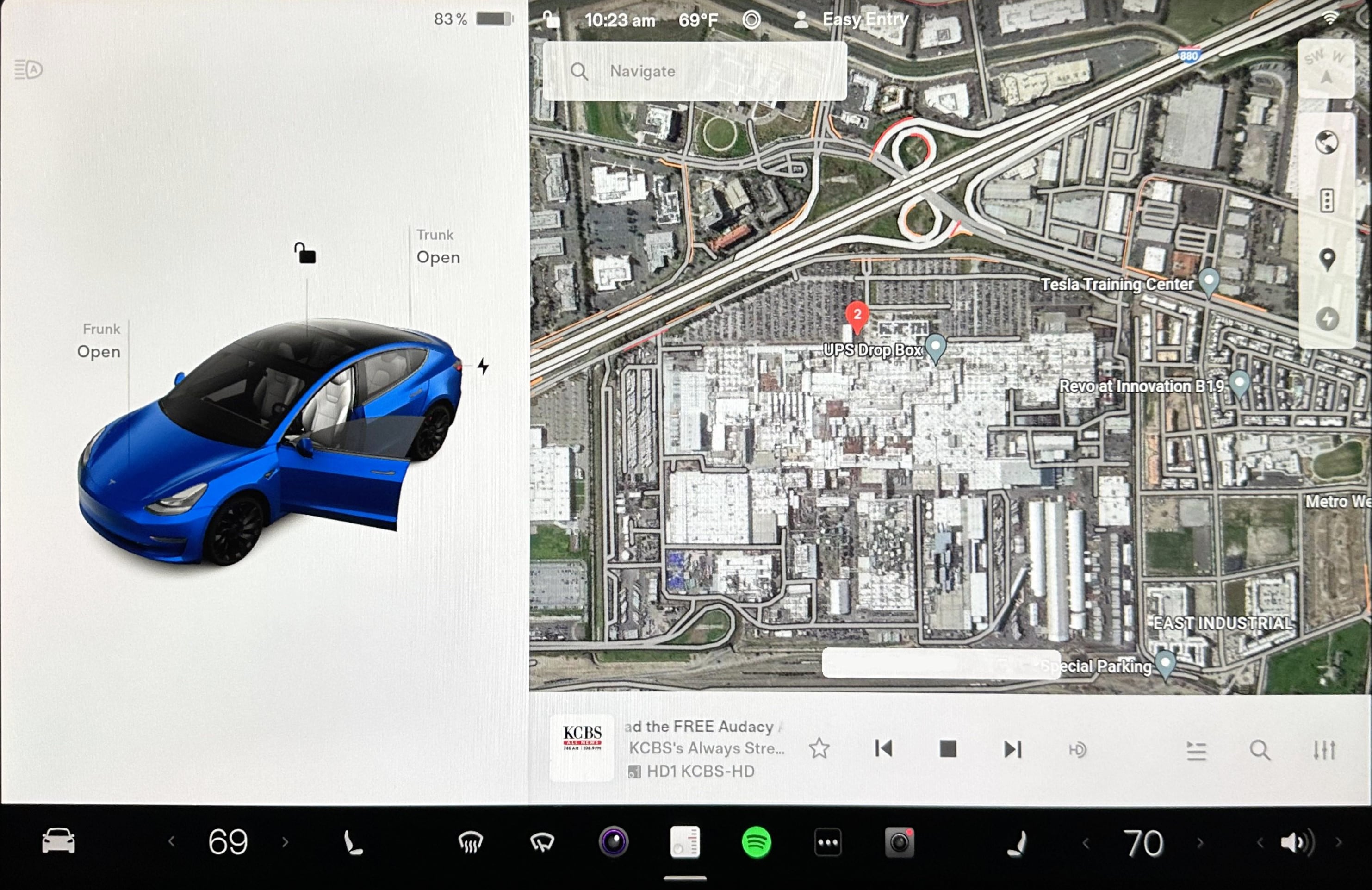 Voice directions are now available in Hebrew in the Middle East. Tesla continues to expand the languages offered in its vehicles. It's estimated that 9 million people speak Hebrew worldwide.
Improvements to Existing Features
In an effort to speed up charging times, the thermal system control will now be optimized to match the charging station's power capability. The company has been expanding its vast network of Superchargers, which means there are many variations in the station output. This update means your Tesla won't waste too much energy preparing the battery if you're headed to a slower DC charging station.
Update 2021.44 added the ability to only unlock the driver's door when the handle is pressed to improve safety. However, it wasn't ideal when traveling with passengers as they would have to wait until you get into the vehicle to open the other doors.
With update 2022.40, Tesla did what it does best — improve vehicle features. If you have the Driver Door Unlock Mode feature on, you can now hold and press the interior driver door switch to unlock all vehicle doors and trunk.
If this update Tesla is also adding this feature to the new Model S.
To access Driver Door Unlock Mode, tap Controls > Lock > Driver Door Unlock Mode.
Expanding to More Regions
Installed on 0% of vehicles
Last updated: Oct 3, 6:34 pm
More vehicles and regions now have access to a consistent regenerative braking feel even when it's limited. For example, regenerative braking may not be available when the battery is at a max charge or in certain weather conditions. In May 2022, Tesla sent out an update to many areas and vehicles, allowing the car to behave the same way when it is decelerating with or without regenerative braking. This feature enables drivers to perfect the one-foot driving technique at all times.
With this update, it is now available for some legacy Model S and Model X vehicles.
With winter coming, the Tire Configuration program is now for the Model Y as well. It allows users to reset the learned tire settings after a tire rotation or replacement for an improved driving experience. To reset, tap Controls > Service > Wheel & Tire Configuration > Tires.
Other changes include exterior lighting improvements and Sentry Mode Live Camera Access added to Israel, Supercharger details included in China, and Boombox is now available in Japan. However, Hong Kong went against the trend as it continues to allow fewer features. The dashcam viewer has been removed, the country recently took away Tesla's arcade and Toybox.
Tesla update 2022.40.1 has just begun rolling out and it's available on less than 1% of Tesla's vehicles (why Tesla doesn't update all vehicles at once).
You can also read the complete release notes for Tesla update 2022.40.1.