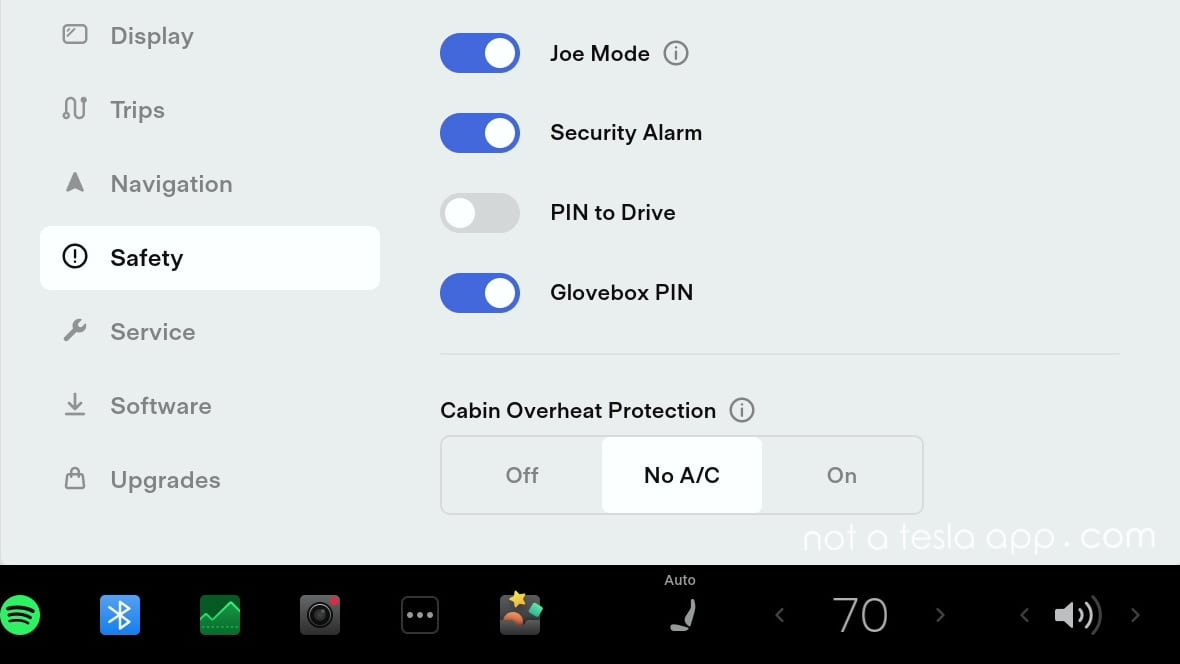 Cabin Overheat Protection (COP) is an amazing feature that is available on all Teslas.
If the interior of the vehicle gets too hot, the car can automatically turn on the HVAC fan, allowing cool air to be brought in to help cool the cabin.
You can also choose to have the vehicle use the AC to more effectively cool down the interior of the car, although it comes at the expense of some battery drain.
Up until now the temperature at which Cabin Overheat Protection turns on has not been configurable and is set at 105° F.
However, last night Elon Musk announced that Tesla will be bringing some improvements to Cabin Overheat Protection. You'll soon be able to adjust the temperature at which COP turns on.
Although Elon says that you'll be able to adjust the temperature at which COP kicks on, it may be limited to a certain range. Maybe somewhere along the lines of 90° to 120°.
After all, if you want to keep the car any cooler, you could always use Climate Keeper.
It'll be interesting to see if Tesla includes any additional improvements to Cabin Overheat Protection, such as only allowing it to cool at certain times or locations. It could also allow the vehicle to automatically vent the windows to help further cool the interior.
Elon recently said that Tesla would incorporate a feature that would allow the vehicle to automatically close its windows when it starts raining. It's certainly possible that these features could be tied together in a 'Summer Improvements' package.
Elon said that the enhancement will be included in the next software update. Elon is likely referring to the next major update and not any minor revisions to 2022.20.
The next major release is expected to be 2022.24, which is probably still 2-4 weeks away.
Tesla's automatic cabin overheat protection should make a real difference with record heatwaves.

Ability to adjust activation temperature coming with next software release.

— Elon Musk (@elonmusk) July 12, 2022
Cabin Overheat Protection currently has three options: Off, No A/C, and On. When the feature is set to off, which is the default, the vehicle will simply not do anything when the interior temperature reaches 105°.
When "No A/C" is selected, COP will simply utilize the fans to cool the cabin. This will help cool down the cabin slightly, but during hot days the interior of the cabin will still climb into 130° and beyond.
The best way to keep the cabin cool during hot days is to set Cabin Overheat Protection to "On," which will let the vehicle utilize the AC.
While this method is best for keeping the interior of the vehicle from exceeding 105° F, it still may not be enough in excessive heat. There is no gaurantee that the cabin will below 105°.
To enable Cabin Overheat Protection in your vehicle, head to Controls > Safety and scroll down until you see Cabin Overheat Protection and pick your preferred option.
You can also turn it on from your Tesla app by navigating to the Climate section and sliding up the bottom drawer for additional climate options, such as Dog Mode, Camp Mode.
In the app you can also choose to receive a push notification on your phone when COP is activated by going to Profile > Settings > Notifications.
COP is a nifty feature if you live in a warmer climate and dislike getting into a car that is excessively hot. It can also be life-saving if a small child or pet is ever forgotten in the car.
Cabin Overheat Protection will remain on up to a maximum of 12 hours after the car is parked, or until the battery reaches 20% of charge.
Look for this improvement and others in Tesla's upcoming update.