One advantage Tesla has over its competition is its Supercharger network. No one else comes even close to having such a vast charging network. That's not even taking other considerations into account such as the speed of chargers.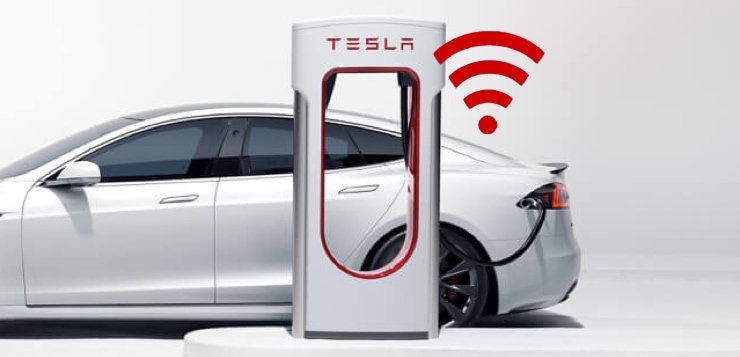 Tesla's v3 chargers can charge at rates of to 1,000 miles per hour according to Tesla. It really starts rivaling the speed of gas stations. Of course, you may not always see those speeds, since there are various factors to consider. You'll need to have a battery that's at least 50% depleted. Usually having a battery around the 30% mark is what will result in the fastest charging speeds.
The car will also need to have a warm battery in order to achieve such a high rate of charging. Your car will do automatically warm up the battery as long as you have a Supercharger destination set in your GPS. And of course, the Supercharger can't be crowded or that could affect the amount of power available to each vehicle as well.
The other big advantage that I feel is often overlooked is the simplicity of the whole thing. When you arrive at a Supercharger, you know what to expect, you're not dealing with different charging networks or figuring out how to pay. You literally just plug it in. It couldn't be simpler.
Adding WiFi
Now, Tesla is going to add another advantage to it's already great charging network. Elon tweeted that Tesla will be adding WiFi networks to all of their Superchargers.
This will be especially useful for those of us without Tesla's Premium Connectivity package. Connecting to Tesla's WiFi network will allow you to stream video services like Netflix and others. It will also give you the ability to use the web browser, Caraoke and the many features that are only available with Premium Connectivity.
Even for owners with Premium Connectivity, the WiFi access will be nice if you have other devices in the car that are WiFi only, such as a gaming device, laptop or an iPad.
They will

— Elon Musk (@elonmusk) October 14, 2021
Why This is a Win for Tesla
Adding WiFi to Superchargers actually makes a lot of sense for Tesla. The amount of data Tesla vehicles use is probably fairly small, with the exception of video streaming.
Considering that streaming YouTube or Netflix is likely one of the more popular entertainment options if you're waiting in the car while charging, this could lead to large amounts of data usage.
If Tesla added WiFi to Superchargers, they'll likely greatly reduce the amount of data that is being consumed through the car's cellular network.
In the US, Tesla has a partnership with AT&T. Since the very first Model S in 2012, all Teslas have used AT&T's network. We don't know the exact details of Tesla's partnership with AT&T, but Tesla is likely paying AT&T based on the amount of data used. After all, there's a reason why Tesla forces software updates to be downloaded over WiFi.
This move is likely to improve the customer experience at Superchargers while also saving Tesla some money.
Software Updates
Tesla is selling almost a million vehicles a year. Many of these are now being sold to owners who may not be able to get their car close enough to their homes in order to connect to WiFi and download the latest updates.
By adding WiFi to Superchargers, Tesla will now give owners a reliable and easy way to download software updates, regardless of their connection at home.
How to Connect to Tesla WiFi
We discussed earlier how easy it is to use a Supercharger. There's no need to authenticate, process payments or anything. It's all seamless. Expect Tesla to provide a similar experience when connecting to their WiFi network. You may not have to do anything. Just driving your car within range of Tesla's WiFi network will be enough to get it to automatically connect.