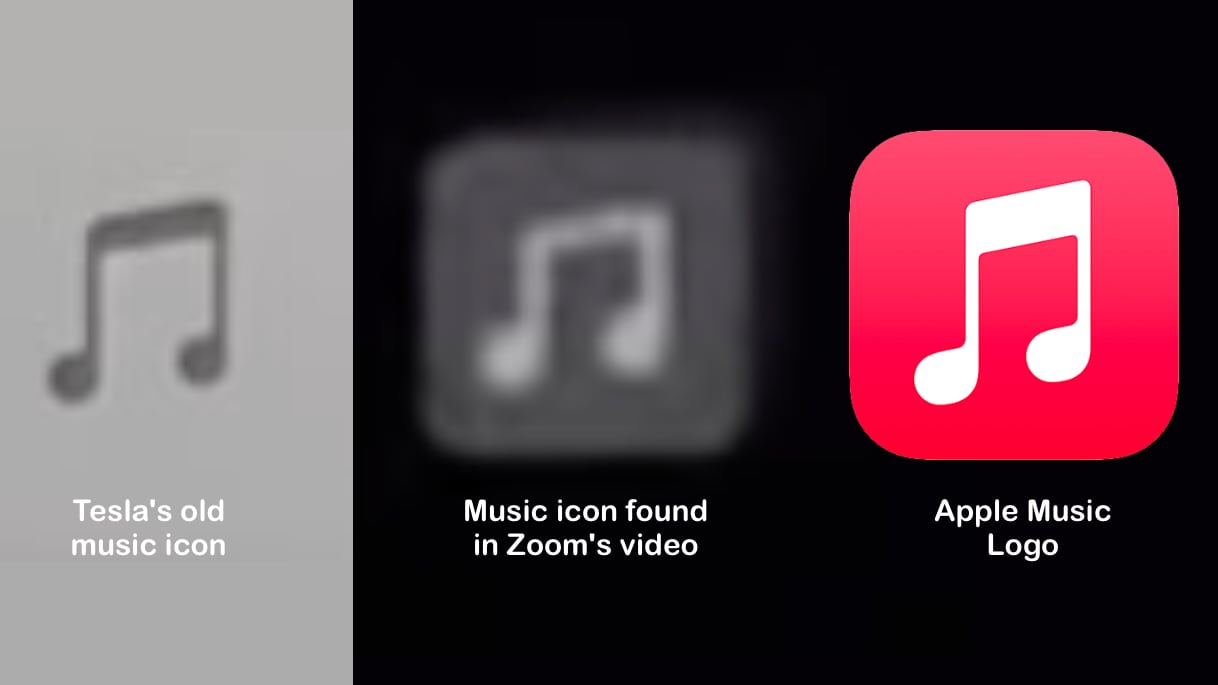 Apple Music is one of the most requested features by Tesla owners.
Tesla already supports a variety of music services, including Spotify, Slacker, SiriusXM (for Model S and Model X), TuneIn and Caraoke (by Stringray). These services are in addition to Bluetooth and FM radio support.
Apple Music is the second largest music streaming service worldwide with an estimated 88 million subscribers. It's currently behind Spotify and ahead of Amazon Music and YouTube Music respectively.
| | |
| --- | --- |
| Service | Subscribers |
| Spotify | 116 million |
| Apple Music | 88 million |
| Amazon Music | 70 million |
| YouTube Music | 50 million |
Apple Music Icon?
When Zoom announced that Tesla will soon support their meeting software in their vehicles, they showed off a video of Zoom being used inside of a Tesla.
The video featured a woman parking her car and joining a meeting in her Model Y. When Zoom displayed the Tesla screen it also showed off the Tesla app launcher, which looked exactly how we'd expect, except for one small icon.
The new icon looks very similar to Apple Music's logo. The new icon was only displayed during the first segment of the Zoom demo, as when they cut back to the Tesla screen a second time, the icons in the launcher had changed.
What Does This Mean?
Although the icon displayed in the Tesla launcher is very similar to Apple Music's logo, it's not a perfect match.
Besides the color being in grayscale, the top bar connecting the music notes is also thinner than what Apple uses in the Apple Music logo.
A music icon in the Tesla launcher isn't completely new. Before Tesla's launch of its v11 software late last year, Tesla used a single music icon in the launcher. Whenever someone wanted to play any music they'd first have to tap Music and then choose their music service.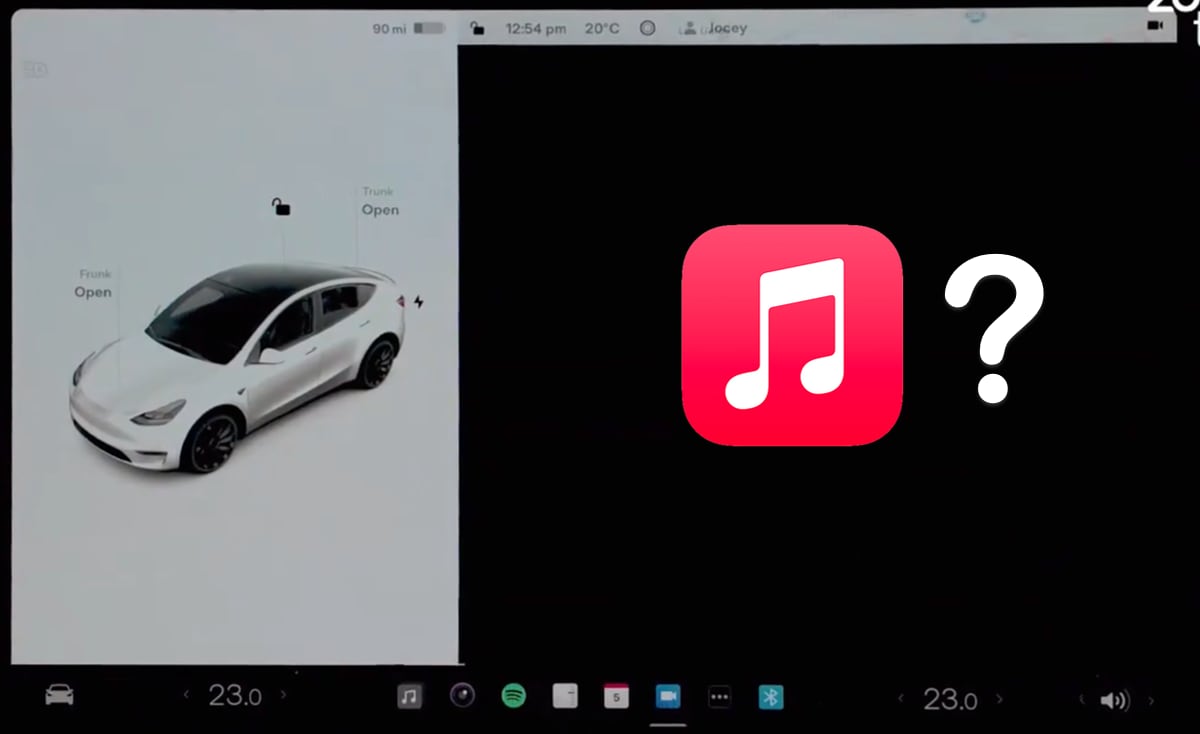 Although Tesla's old music icon is similar to what's displayed in the Zoom video, it's not a perfect match either. Tesla's old icon had musical notes with a smaller head and it didn't include a rounded square background like Apple Music does.
Interestingly, the music icon in the launcher is not only grayscale but also misaligned when compared to the other icons. This could mean that it's either a teaser or a mock and not something that would appear in production.
One possibility is that Tesla is indeed adding Apple Music and this is an early version of it that was either added as an easter egg or left in accidentally.
However, there are other possibilities. According to sources Tesla is expected to launch another holiday update later this year with new features.
It's possible that Tesla is giving us more flexibility with the launcher, enabling us to have a single music icon instead of having to pick individual music services.
Did we just receive a hint that Apple Music is arriving on Teslas? We're not sure. The new icon seems like a placeholder, and since it doesn't match Apple's logo perfectly, it's hard to determine whether this will actually be for Apple Music. Whatever it is, the logo is awfully close to Apple's logo and if it's not intended for Apple Music, Apple may not be thrilled with its use.
Elon Musk has talked about his disapproval of Apple's AppStore fees numerous times in the past. It's clear the two companies don't have the best relationship and that could be one reason why Tesla hasn't implemented Apple Music, AirPlay or CarPlay in their vehicles, but at the same time, customers are demanding Apple Music integration. What will Tesla do? We're hoping they're listening to their fans and adding Apple Music.