By Gabe Rodriguez Morrison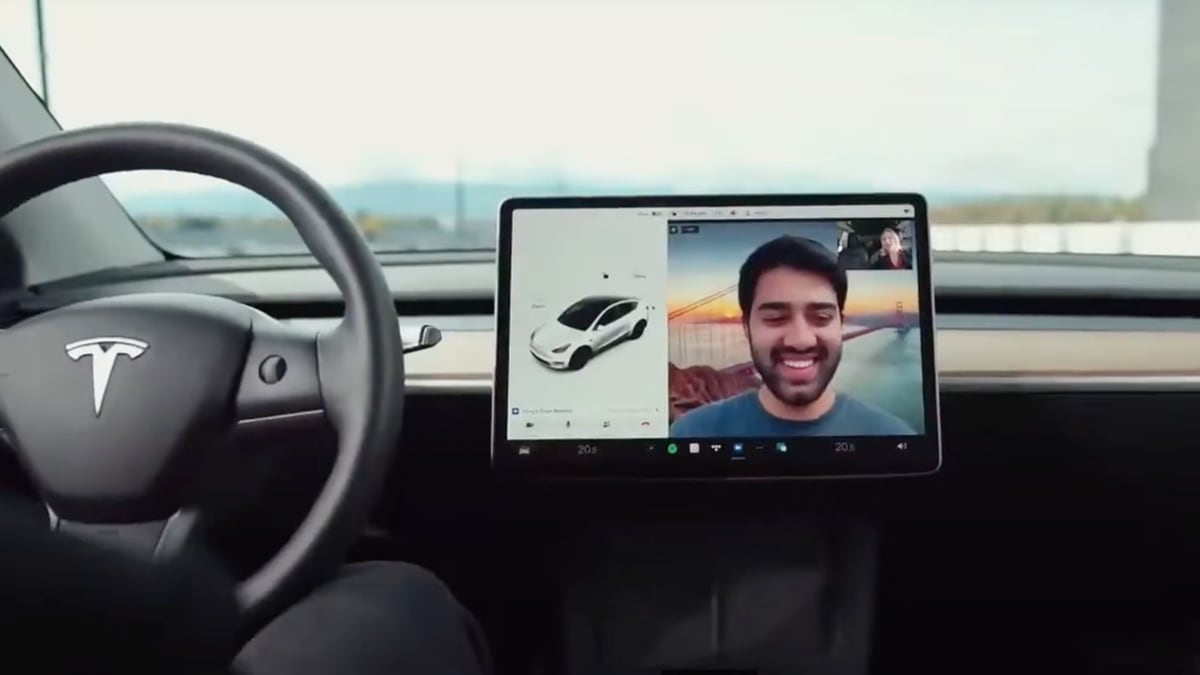 Elon has previously announced that video conference capabilities will be available in Teslas, but Zoom has now officially announced its video conferencing software will be available in Teslas soon.
Zoom made the announcement during its annual 2022 event, Zoomtopia.
Although Zoom made the announcement, it looks like the integration is being developed by Tesla.
Tesla looks to be leveraging Zoom's popular web interface for this new feature. This means that Zoom will function much like Netflix and Youtube currently do in the vehicle, where it's run in a chromeless browser and Tesla essentially builds on top of this.
The Zoom app is expected to become a part of Tesla Theater when it's released and is largely expected to function the same way, such as requiring Premium Connectivity and only being available while the vehicle is parked.
Camera and Resolution
Instead of requiring a separate camera, the Zoom app appears to utilize the vehicle's interior camera, which means it'll be the first time we have direct access to the cabin camera video stream, although hacks by GreenTheOnly have previously shown the capabilities of the camera.
The vehicle's cabin camera has a resolution of 1280x960, which is a 4:3 aspect ratio. However, Tesla may be cropping this camera feed to 16:9, which means it'll end up with a resolution of 1280x720, or 720p.
The only remaining cameras that will not be directly accessible by the driver will be the b-pillar cameras and two of the front-facing cameras.
Controls
The new Zoom controls are similar to those when on a phone call. In a Model 3 and Model Y, the controls will appear on the bottom left corner of the display and feature options to toggle the video and mic on and off.
The last two buttons appear to be used to view the participants on the call and end the meeting.
In the video, it was also shown that Zoom meeting links will now appear on your vehicle's calendar if available. Tapping on the link will automatically launch Zoom and start the meeting.
Vehicle Support
Since this new feature will likely rely on the vehicle's cabin camera, it will most likely be limited to the Model 3, Model Y and the new Model S and Model X.
During the announcement, Zoom said the feature was coming to "all new Tesla models soon."
It's not clear whether this means Zoom will only be offered on MCU3-based vehicles, or older models with Atom processors as well. However, given the similarity to other streaming apps, we expect this feature to be offered on MCU 2 and MCU 3 cars.
Elon previously alluded to video conferencing being added back in 2020 and the first MCU 3 vehicle was introduced in June 2021.
App Store
When a Zoom icon was found earlier this year in a Tesla interface video it sparked rumors of an app store coming to Teslas.
However, we don't believe that's what's happening here. While an app store may be an idea that is being developed at Tesla, we think this Zoom integration will simply be another app that is offered in addition to YouTube and others.
Release Date
Zoom and Tesla haven't shared an official timeframe for release of this feature, but Zoom did mention the feature would be available soon during its keynote.
It's possible Zoom let the cat out of the bag with this announcement and that it was planned as one of the surprise features in Tesla's upcoming 2022 Christmas update.
Zoom in Action
Watch Zoom's segment on its Tesla video conferencing integration below.