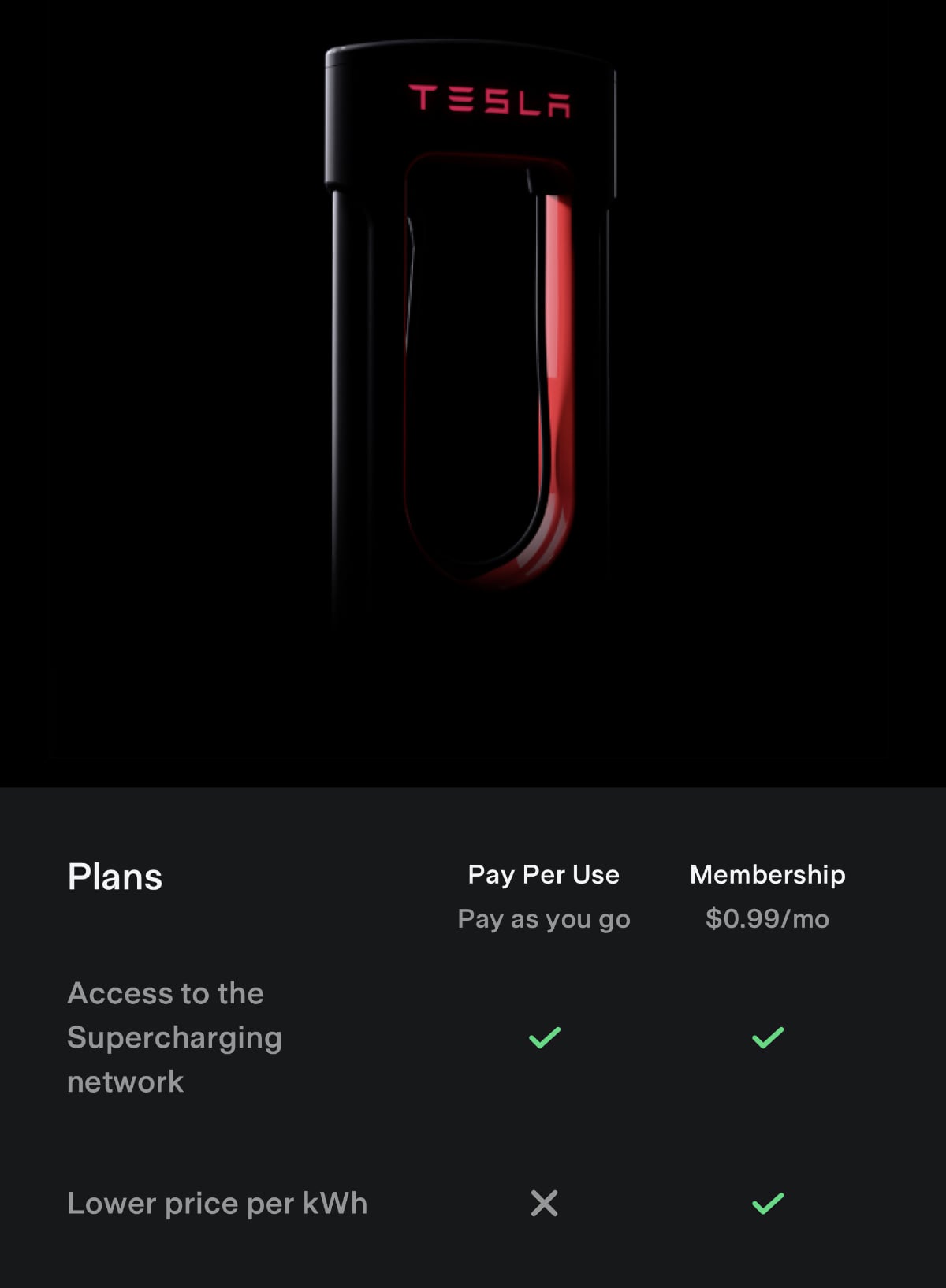 If you've bought an electric car, you know by now how frustrating it can be to find somewhere to fast-charge it. That's why Tesla initially rolled out its Supercharger network of high-voltage chargers, and now they seem to be getting ready to allow other US electric vehicles to take advantage of the widely available network.
Although there haven't been many specifics on how the company would do this in the US, Tesla has made it clear that its intention is to make the global network of high-voltage Level 3 charging stations available to non-Tesla EV owners, and it has been running test programs abroad for several months now. According to Twitter user Sawyer Merritt, on the evening of August 16, 2022, Tesla offered a brief glimpse into how the program would work, by temporarily providing non-Tesla owners with membership options on the Tesla App.
It's unclear whether the company made a mistake by briefly providing access to the program or they were just trying it out, but the membership options remained available through the app from around 9:30 PM to just before midnight, according to Merritt.
It seems like Tesla will be making a "pay per use" option and a membership advertised at just $0.99 per month available to non-Tesla EV owners. Merritt said that each account requires a separate subscription, and there is a daily charge cap of five sessions.
Merritt highlighted the cheap $0.99 monthly membership charge, especially when compared to the $4 per month that Electrify America charges, suggesting that Tesla's price of about $1 may be an effort to undercut its competitors.
We know Tesla is getting ready to launch the network in North America by creating a new CCS adaptor for non-Tesla EV owners after launching the network in Europe, where Superchargers use the industry-standard CCS plug. Although recently there has been a push by Aptera for Tesla's connector to become the charging standard.
The shift, which is anticipated to take place before the end of the year, is necessary in order to access additional federal funds intended to hasten the development of EV charging stations.As electric cars become increasingly popular, a higher priority will be placed on making sure drivers have easy access to charging stations for their cars. Tesla has a dominant market share in the electric car space, so it makes sense that they'd offer up the Supercharger network as a service to drivers of other electric vehicles.
This decision won't be without criticism, though, as the network is one of the biggest benefits of owning a Tesla and is significantly larger than any other fast-charging network in the US. However, the network can get congested at times, and it's unclear what will happen if more EVs are added to it.
Tesla is expected to upgrade Superchargers to include the CCS connector in addition to Tesla's proprietary connector.
Tesla's upcoming Supercharger redesign is also expected to be out later this year.