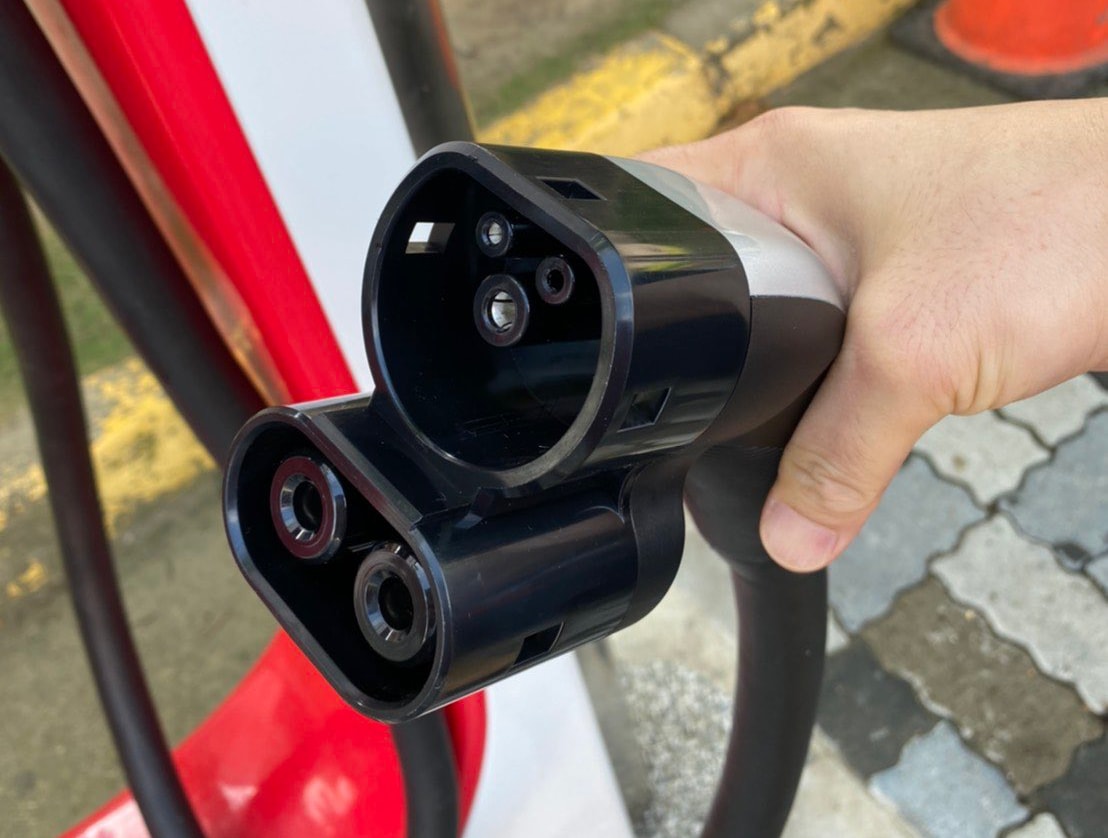 The CCS (Combined Charging System) has become the standard for electric vehicle charging over the last few years.
When Tesla first debuted the 2012 Model S, the CCS charging connector didn't exist. In fact Tesla developed its proprietary Tesla connector because there wasn't anything capable of fast DC charging.
Today, the CCS connector supports charging speeds up to 350kW.
For comparison, Tesla's latest v3 Superchargers can currently charge at speeds up to 250kW, although Tesla plans to update v3 Superchargers later this year to support up to 324kW.
Tesla already offers Superchargers with CCS connectors in several regions, but they will now begin adding CCS connectors to Superchargers in the United States.
Tesla will add the CCS connector in addition to Tesla's own connector. This will give non-Tesla owners access the extensive charging network, Elon Musk said.
This announcement follows the path announced by the CEO to eventually open its Supercharger network to all-electric vehicles globally.
Non-Tesla electric cars have been allowed to charge at select Tesla Supercharger locations in France, the Netherlands, and Norway since November.
Allowing Superchargers - which account for more than half of all fast chargers in the United States to charge all electric vehicles would be easier and less expensive for everyone involved, and it would substantially improve the landscape of the current fast-charging infrastructure.
CCS is the obvious charging standard to go with, given that Tesla, like many other manufacturers, has already accepted CCS standards in Europe and its Supercharger stations are already equipped with CCS connectors.
Tesla's cars and Supercharger stations in North America use its own proprietary connector, which has rendered Non-Tesla owners unable to use Tesla's fast-charging infrastructure.
It also prevents Tesla owners from charging at other DC charging stations, unless they spend a considerable amount of money purchasing a CHAdeMO or CCS adapter.
Speaking at the Financial Times Future of the Car summit, Musk said they will add the connectors even if it lessens their competitive advantage over other automakers.
"It's a little trickier in the US because we have a different connector than the rest of the industry, but we will be adding the rest of the industry connectors as an option to Superchargers in the US. We are trying as best as possible to do the right thing for the advancement of electrification, even if that diminishes our competitive advantage," Musk said.
This is comparable to Tesla's approach in Europe when the Model 3 was originally introduced with the CCS standard. Both Tesla and CCS connectors were installed at new Supercharger stations, and the carmaker also began retrofitting some existing stations.
Last year, the Taiwan EV Charger Equipment Supplier and Manufacturer Advancement Alliance declared that CCS should be the country's charging standard, forcing Tesla to retrofit CCS connectors to all Superchargers.
Tesla upgraded Superchargers with CCS connectors in addition to their proprietary connectors a few months after the decision.
Tesla's CEO gave no indication of when the company planned to begin installing CCS connectors at stations in the United States.
Is Your Vehicle Compatible?
The connector the US is using differs slightly from the CCS connector in Europe. In the US it's known as CCS combo 1, or CCS1 for short. This is the connector that Tesla will support in the US and it is not interchangeable with CCS2 that is used in Europe.
Tesla is already selling an adapter to go from CCS1 to Tesla's plug, but it is currently only available in South Korea. Tesla is likely to make this adapter available for sale in the US in the future.
However, your Tesla will need to specifically support the CCS adapter. If your Tesla was built after May 2019, then it likely supports the CCS adapter. If it was before then, then it will need to be retrofitted if you plan to charge using the CCS 1 adapter.
You can check whether your car supports the CCS adapter by going to Controls > Software and tapping Additional Vehicle Information.
You can also find more information about how to check whether your car is supported, the cost of a retrofit, and the cost of the adapter in our CCS adapter article.