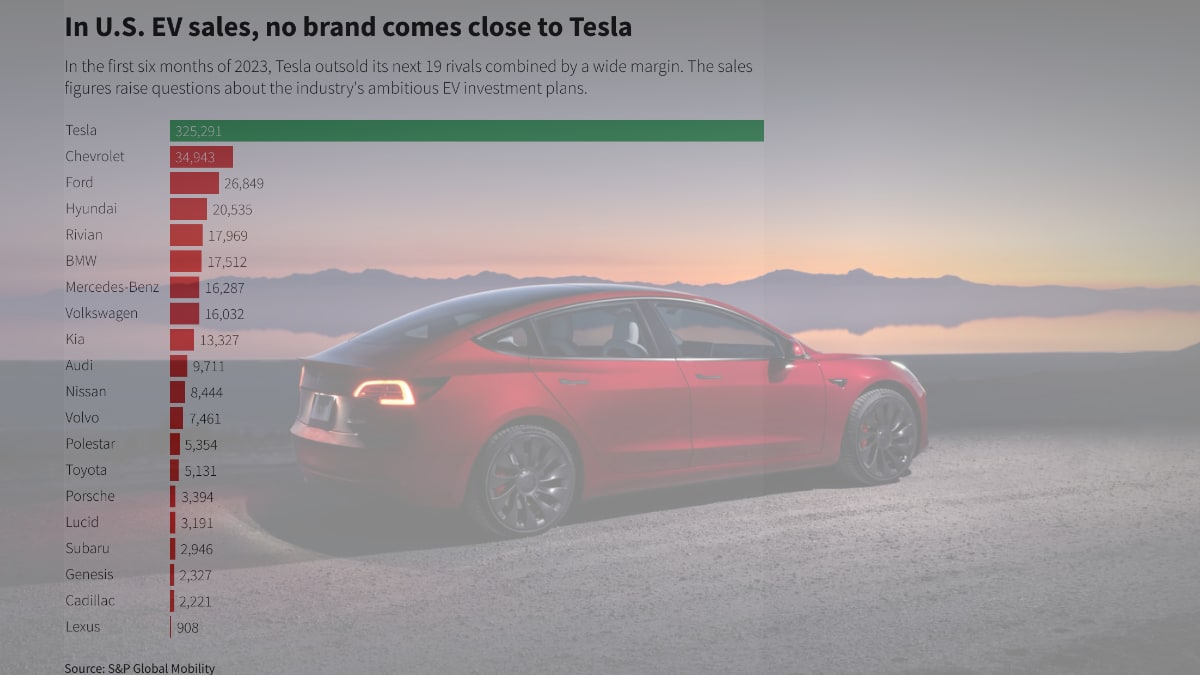 Elon Musk responded to the newest staggering EV sales numbers with a sarcastic yet realistic post: "The competition is coming." The Tesla CEO has heard that for years, but the latest numbers from Reuters show that no manufacturer is even close in the EV race; in fact, all of the others could combine, and they still can't match Tesla's dominance.
Between January and June 2023, Tesla sold a whopping 325,291 electric cars in the U.S. That's way more than any other company. General Motors' Chevrolet sold the second most, but only 34,943 vehicles. Ford, Hyundai, and Rivian sold even fewer. Tesla's Model Y and Model 3 cars are the most popular, selling 200,000 and 160,000 each.
Other Companies Are Having a Hard Time
While Tesla sells many cars, other companies like Ford are struggling. Ford had to stop building a big $3.5 billion battery plant in Michigan because they were losing money. They expected to lose $4.5 billion on their electric cars in one year. They are also facing labor strife, with the union demanding a 30% pay raise and a reduction of hours.
Many car companies are spending a lot of money to make electric cars and batteries, but they're not selling enough to make a profit. They need to figure out how to make their cars more popular.
More People Are Buying Electric Cars, But Mostly Teslas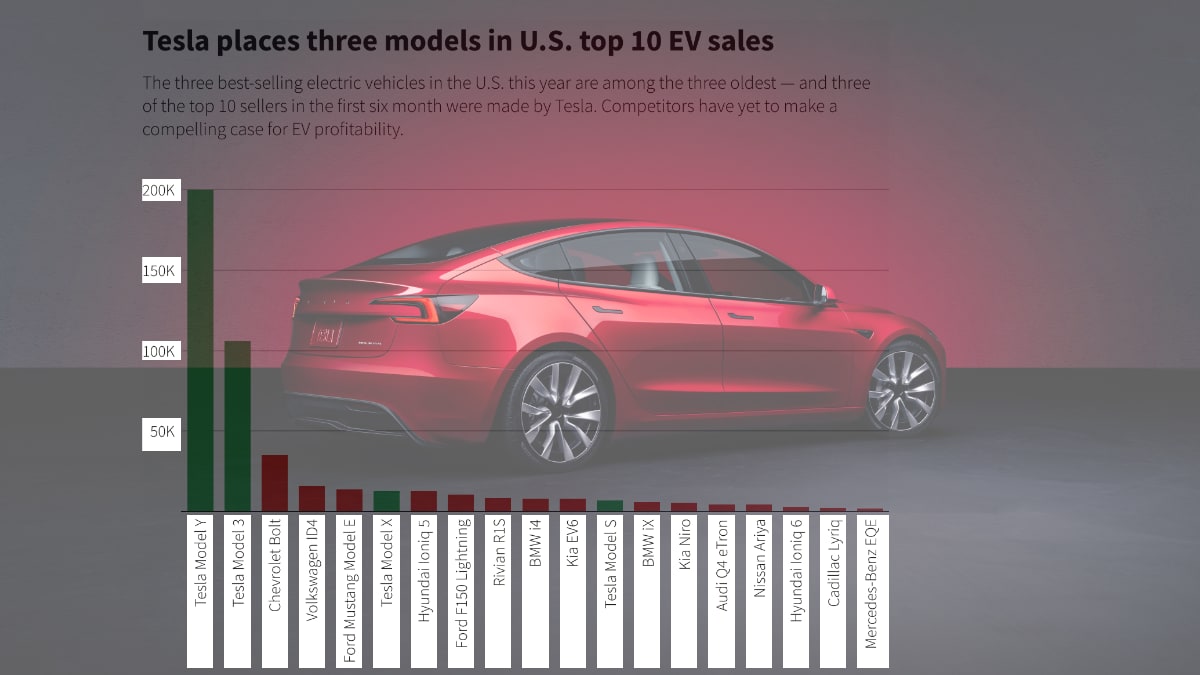 More and more people are buying electric cars. They made up 8.9% of all vehicles sold in the U.S. in the first half of 2023. That's almost 1 in 10 vehicles. But, there are 103 different models of electric cars, so the sales are spread out among many brands.
Tesla is also helping to make electric cars more affordable. They used their profits to lower prices and sell more cars. The average price of an electric vehicle dropped to $53,376 in July 2023, down from nearly $70,000 the year before. This makes it easier for more people to buy electric cars and join the green movement.
Globe Appeal
While the latest numbers looked at just the U.S., there are stories from around the world showing Tesla's dominance. The company marked a significant achievement by having over 50,000 vehicles on the roads, with 20,000 of them being Model Y crossovers, as shared by Tesla Regional Lead Kim Gaba Jensen on LinkedIn.
This growth is noteworthy, considering the number of Teslas in Denmark was just above 4,000 when Jensen joined the company in 2018 and around 12,000 at the end of 2020. This rapid increase in Tesla vehicles reflects the brand's growing popularity in the country, constituting nearly 2% of all cars on Danish roads. This milestone was confirmed and celebrated on social media platforms, including X, with Tesla Europe expressing gratitude to its Danish customers.
Tesla's ongoing supremacy in the electric vehicle sector remains unchallenged, as it sets unprecedented sales records and experiences monumental growth globally, with Denmark being a prime example. The struggle of competitors like Ford exemplifies the challenges other automotive companies face trying to find a foothold in this Tesla-dominated market. Remember, the company hasn't even introduced the vehicle it believes will be the best-selling EV.