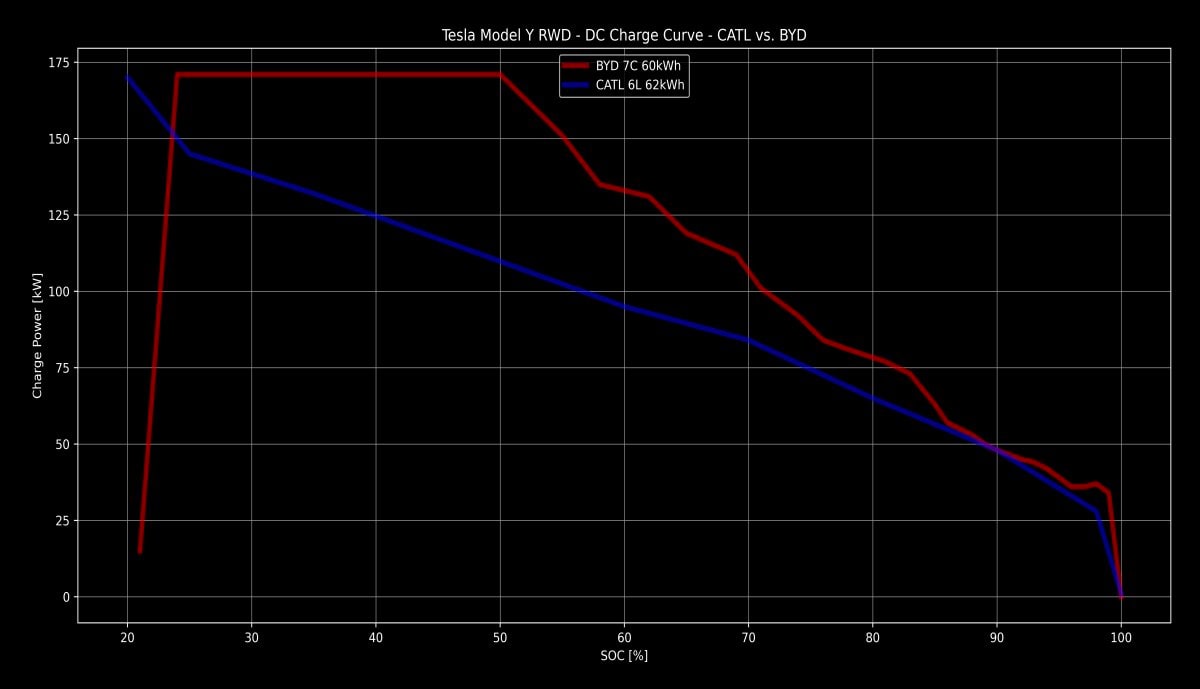 Tesla's latest variant of the Model Y, recently produced in Gigafactory Berlin, showcases a promising charging curve, marking a notable improvement for Tesla's fleet. A selection of customers has already had the chance to experience this new model, replete with a cutting-edge BYD battery, indicating an upgrade in charging capacity that could prove a game-changer for the electric vehicle market.
The entry-level versions of Model Y, equipped with rear-wheel drive and sporting a lesser battery capacity than the Long Range and Performance versions, were delivered earlier this week. However, a slight hitch in the form of registration paperwork issues caused a temporary pause in deliveries. A handful of German customers, who could register their Model Y RWD, wasted no time examining the charging capabilities of the new BYD battery.
Early Hiccups in Model Y Deliveries from Gigafactory Berlin
Gigafactory Berlin has started production of the Model Y on an impressive scale, with several customers announcing their receipt of vehicle identification numbers, a clear indication of their Tesla's German origin. However, the delivery process encountered unexpected delays, reportedly due to discrepancies between the type of approval and the engine Tesla has used in these vehicles, necessitating a swift solution.
Earlier this week, Tesla's inventory suggested a substantial stock of German-produced Model Y RWD vehicles "ready for immediate delivery." As of Thursday, though, only China-made models were available. Despite the same exterior appearance and listed tech specs, the German and China-made versions differ significantly under the hood.
BYD Battery Replaces Tesla's In-House Batteries in German Model Y
German-produced Model Y uses a structural battery pack initially manufactured by BYD, contrasting with the in-house batteries used in Gigafactory Texas. Interestingly, the basic Model Y variant from China comes with a battery from CATL, akin to the BYD battery used for the German version, as both use robust LFP chemistry.
Tesla Mag spotted one of the first, if not the only customer, to receive and register a German Model Y RWD before the delivery halt was TFF forum member 'ingolfernst.' The data he gathered from the first charging test showed that the BYD battery began charging at a little above 20%, reaching an impressive output of 172 kW, and consistently maintained this up to a 50% charge.
In comparison, the CATL battery, while starting at the same level, experienced a significant drop, managing only around 110 kW at the 50% mark. The BYD battery's charging curve descended after the halfway point, converging with the CATL curve at around 90% but never dipping below it.
These preliminary tests point to a promising future for the BYD battery within Tesla's German Model Y. Once the type approval issue is sorted, further testing will likely bring us a more comprehensive understanding of the BYD battery's true potential. With continuous improvements and cutting-edge advancements, Tesla once again proves its commitment to transforming the electric vehicle landscape.