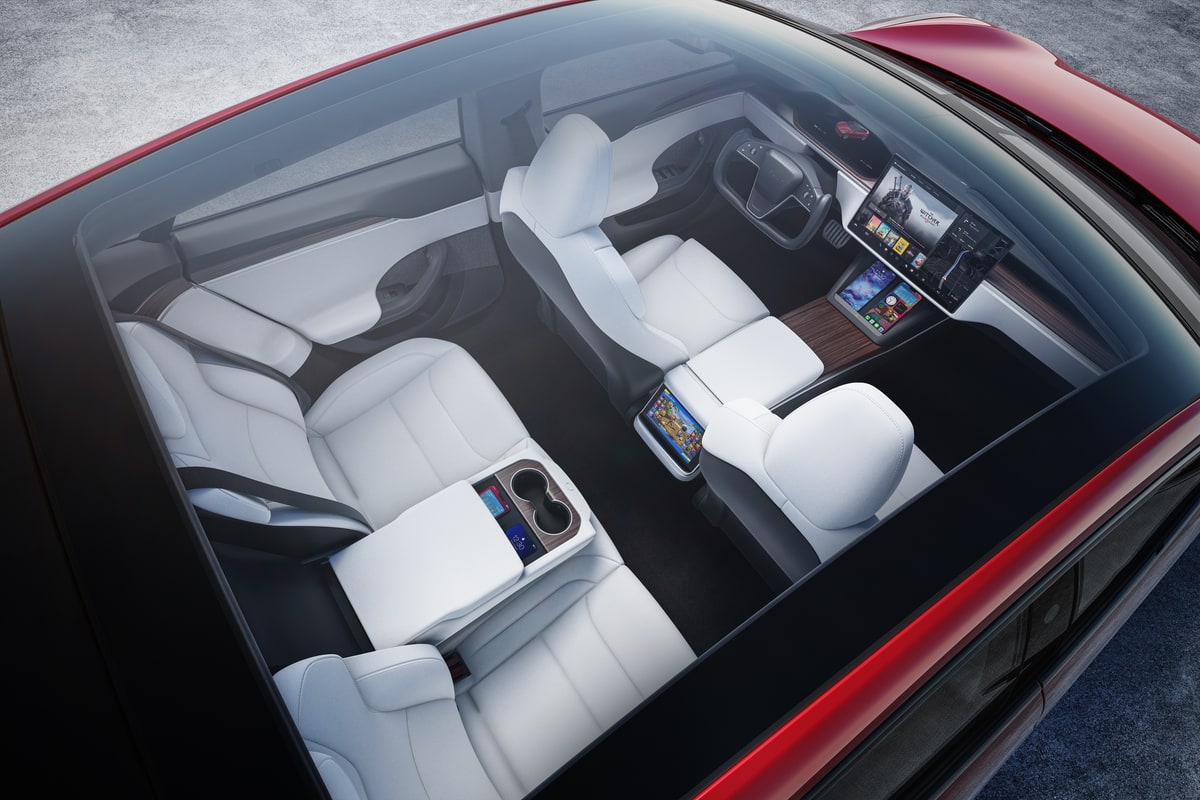 Tesla has quietly refreshed its Model S vehicles, introducing a new "high-visibility glass roof," improved brake pads, and many other features. In an email to owners, the company lists several new tweaks to the latest Model S.
The new, Ultra Red paint grabbed all the attention. Tesla unveiled its high-chroma color and multi-layered paint process, delivering an exceptionally vibrant finish. But several other features in that Ultra Red launch video (below) are worth just as much attention.
Let the Sun Shine in - Not the UV
The new and improved panoramic roof for the Model S lets in more light and provides a clearer view of the sky, day or night, according to the message from Tesla. The new glass roof weighs less than the previous version and lets in five times more light, while still providing the same level of heat and UV protection. According to Tesla, the new roof also improves handling by lowering the center of gravity.
In addition, Tesla has integrated its new hardware 4 computer for Autopilot and self-driving capabilities, and the Model S now offers a free option of a round steering wheel.
New Brakes Put to the Test
Tesla's vehicle updates are always highly anticipated; the latest refresh is no exception. The improved brake pads with higher thermal capacity are designed to improve the Model S Plaid's braking performance.
Tesla announced the Carbon Ceramic Brake Kit in late 2021, but it is still not available for purchase. Tesla says they will be available in "early 2023." The kit costs $20,000 and is said to make the Model S Plaid a true monster on the track.
Although the ceramic brake kit isn't available to the public yet, test driver Sebastian Vittel raced a Model S Plaid taking on the Circuit de Bresse race track in France with the new performance brakes (video below). Despite the track being best suited for small, nimble cars, the Model S Plaid with the Carbon Ceramic Brake Kit was able to set a track record for street-legal cars on non-semi-slick tires with a lap time of 1:33.610. This record was set with the vehicle's original tires, indicating that the brakes were a significant factor in the vehicle's impressive performance.
Tesla's latest refresh of the Model S includes new features like a high-visibility glass roof, improved brake pads, and the integration of hardware 4 for Autopilot and full self-driving capabilities. The Carbon Ceramic Brake Kit's impressive performance on the track demonstrates Tesla's dedication to enhancing the vehicle's driving experience. Tesla remains at the forefront of the electric vehicle industry with their continuous improvement and innovation.