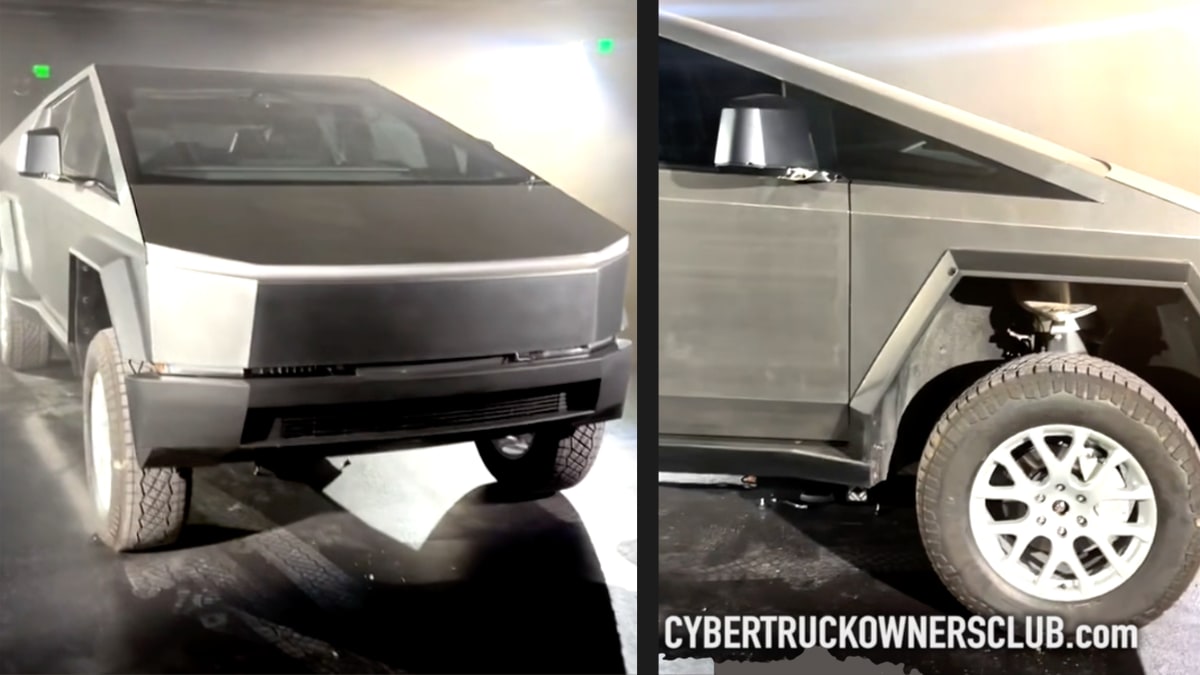 Tesla's CEO, Elon Musk, tweeted a short video showing the vehicle he will soon be driving — the Cybertruck. This unique vehicle has already been the star of the show when it appeared on The Simpsons, but it also got to be in the spotlight during the opening of Tesla's newest facility. Millions of people have viewed Musk's eight-second video (below).
Cybertruck at Tesla Engineering HQ pic.twitter.com/2xo9Hjgfk9

— Elon Musk (@elonmusk) February 23, 2023
However, it doesn't give us any further details on the highly anticipated vehicle. While Musk's video only showed off the futuristic headlights, a trio of other videos confirms that the suspension will be incredible.
Cybertruck Gets Air
As previously speculated when a video surfaced showing the four-wheel steering system, Cybertruck will have an advanced air suspension system. The Kilowatts were outside the new Tesla Engineering Headquarters in Palo Alto when Cybertruck made its way up a small embankment. The stainless-steel vehicle is considerably higher, showing a lot of clearance between the tires and the wheel wells.
Cybertruck spotted "off-road" at Teslas new Engineering HQ in Palo Alto ? @Tesla @elonmusk pic.twitter.com/NK2IoWuu44

— The Kilowatts ?⚡️ (@klwtts) February 23, 2023
A few days ago, a distorted video was shared by Trucky on the Cybertruck Owners Club forum showing Cybertruck on the move at Giga Texas. Trucky later posted a nice clear video of a walk around the Cybertruck, again revealing the body significantly off the massive wheels. It's unknown how much the Cybertruck can adjust the suspension. The Model X can have a ground clearance as low as 5.4 inches or as high as 8.1 inches.
? Photoshoot with Cybertruck?

New video! pic.twitter.com/K6UrLpLKch

— The Cybertruck Guy (@cybrtrkguy) February 22, 2023
Where is the Wiper?
You can't tell from the Musk video, but the video posted by Trucky shows us that the giant windshield wiper was not on the Cybertruck that was on display at the new facility. However, the wiper may have just been removed for demonstration purposes. In fact, Musk has talked about a removable wiper blade as an option but said it would be complex.
Musk's New Daily Driver
There are millions of Cybertruck reservations, and on that list is Musk, of course. During the fourth quarter earning calls, he said, "it's an incredible product. I can't wait to drive it personally. It will be the car that I drive every day… it's just one of those products that only comes along once in a while, and it's really special."
Tesla's chief designer, Franz von Holzhausen, recently admitted that Cybertruck was almost "normal" as the design team looked at what's currently available. But they decided to go with something unique, "we have an opportunity to do something different, an opportunity that nobody else would have the balls to do, and Elon's like yeah, we've got to do it," said von Holzhausen.
Production of Cybertruck is expected to begin this summer, with the full ramp-up to start in 2024.