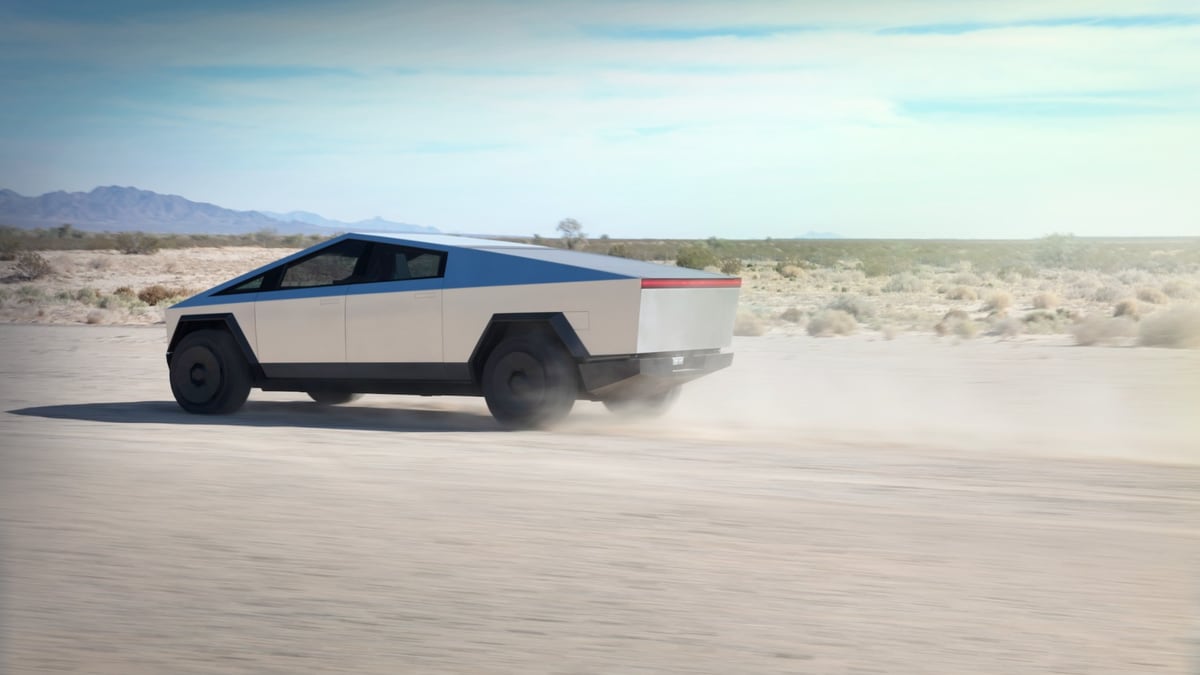 Tesla's Cybertruck is ready to go into production, said the company's Chief Designer Franz von Holzhausen during an interview on the Ride the Lightning podcast. However, the designer admits it's always a work in progress on all of Tesla's vehicles as the team continuously looks for ways to refine and improve the process.
The 55-minute interview covered several topics, but much of the conversation focused on the highly anticipated, Cybertruck. Listeners were teased with what could be in the final product and reminded of how we go to this point.
More Unknown Extras
Despite all the eyes on Tesla at all times, von Holzhausen says some brand-new features are coming with Cybertruck. "I'm not going to talk about them, but I think they'll be pleasant surprises, and I think they are the right things for the product, and they're the right kind of competitive things for the product as well.
When asked about including vehicle-to-grid charging, the function that allows energy to go back to the grid from the battery, or vehicle to home, von Holzhausen said, "I won't comment." Cybertruck being able to act as a boat was not discussed.
Different Logo on Cybertruck
There are no logos on the Cybertruck except inside the charge port. Tesla owners are familiar with the "T" logo that lights up when charging. The prototype Cybertruck has an 8-bit logo in that spot, "in those development days when we were designing the truck, it was such a like a low-resolution, low-bit idea in its kind of simplicity as a form we thought this 8-bit concept. So we did an 8-bit version of the T."
While von Holzhausen says we will have to wait to see if it appears on the production vehicle, he did agree that the 8-bit logo design should be added to shirts in the Tesla store.
More Details on the Unique Exterior
There are so many rare aspects of the Cybertruck, from the design to the stainless steel exterior shell, "We spent a lot of time developing a finish… the stainless is incredibly hard." But how will it hold up against scratches? "In the event that there is a scratch, we do have a process that you could basically buff it or remove the scratch and return to the basic finish."
It appears there won't be any color options available for Cybertruck. It will be stainless steel, "we experimented with some finishes. There is always the opportunity to wrap. The thing we wanted to do is preserve the hardness, and anytime you put something softer like a clear coat or a painted finish on the material, it just then... basically takes away from the idea of putting the hardest thing on the outer surface," said von Holzhausen.
Steering Wheel and Door Handles
Tesla recently made some changes when ordering a Model S or Model X. Buyers can now choose a conventional steering wheel or the yoke. But von Holzhausen is confident about what the Cybertruck will use, "the yoke makes a lot of sense. You know once you experience it, it's a great driving experience combined with Autopilot. It makes the whole kind of user experience in the interior cockpit simpler and cleaner." Last year there were rumors that Tesla may implement steer-by-wire in some of their vehicles, so it'll be interesting to see if the Cybertruck comes with this new feature.
The door handles will also be the same as what is on the Model X with the "chauffer" auto-present doors. However, when asked if that would be the same for both front and back doors, von Holzhausen said, "possibly on the back, there are also buttons."
Cybertruck was Almost Normal
It's been in the works for over half a decade, but von Holzhausen acknowledges that Tesla was considering something more mainstream, even working off silhouettes of what's on the road. "we have an opportunity to do something different, an opportunity that nobody else would have the balls to do, and Elon's like yeah, we've got to do it," said Von Holzhausen.
The designer confessed he wasn't sure about Cybertruck, "I didn't 100 percent know what to expect… It's so different it needs a moment to grow on you. It's like the first time you hear a song. Sometimes it can be grading, or like you're not sure if you like it, you listen to it three or four or five times, and suddenly it's your favorite song. You just need to... because it's so new and fresh you need to get comfortable with it, and I think this like it just is so radically different than expectations."
Finally, von Holzhausen says it's great that other manufacturers have produced electric trucks. He believes Tesla has "moved the needle" and will continue to do so.
Franz on Ride the Lightning