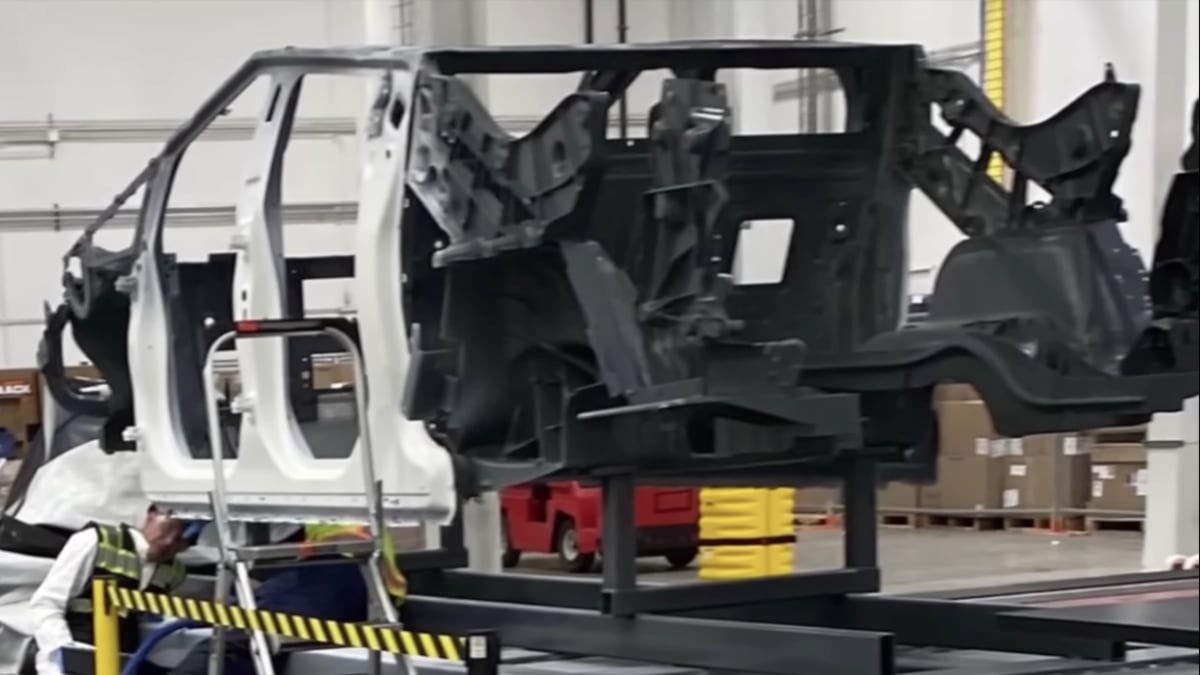 Another image of what appears to be Tesla's long-awaited Cybertruck has appeared on YouTube. Kim Java, a YouTuber with nearly 40 million views, told her viewers that someone sent her an image that looks like a big piece of Cybertruck.
You may recall a couple of months ago, YouTuber and drone pilot Joe Tegtmeyer posted video of two large, wrapped items, which could've been Cybertrucks, outside of the Gigafactory in Texas. But in the latest image, the covers are off, and we are given a lot of information about Tesla's newest vehicle.
Java says the picture was taken in early December. The image appears to be inside a Tesla factory, presumably Texas, at a Powder Coating station. The company did report that Cybertruck was at the tooling stage in Texas during the third quarter earnings call.
No New Camping Experience
While it's just one image, there is a big spoiler. The midgate, a rumored gate behind the back seats that would fold down does not appear to be happening. That spot is all megacast, making it next to impossible to add in at this stage. Not only would that allow for much longer items to be placed in the bed, it also eliminated what many were hoping would be a pretty unique camping experience.
Details on Materials
Java had to do a follow-up video after so much attention was given to the leaked image. She used information from Teslarati to give viewers more details that can be gathered from the picture. It appears to be two main parts put together, "one looked like a megacast and the other looked like it was hydroformed stainless steel," reports Teslarati. It's also pointed out that the megacast is much larger than the Model Y. Elon Musk has said that the Cybertruck would require the largest casting machine used to date.
Battery Issues
Java also said that a source told her, "the truck was designed to use the 4680 battery cells, but they've struggled with scaling up production in-house with those batteries," that it could add more delays by the end of next year if they have to switch to 2170 cells to ramp up production."
Finally, images like this from inside Tesla are very rare. Certainly, the company will be looking into it, and the worker seen in the image is looking directly at whoever is taking the photo. Hopefully, the leaked image doesn't result in job losses as it has provided the Tesla community with much to talk about and proof that the Cybertruck is in production.