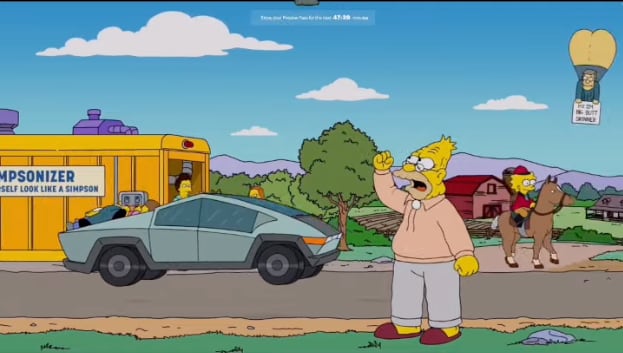 The Simpsons, one of the longest-running TV shows of all time, have had some epic cars in Springfield; now Tesla is on that elite list. The Cybertruck and Model X appeared in this past weekend's Simpson's Halloween special. The Teslas now join the Canyonero, which smells like a steak and seats 35, the Canyonero Hybrid, which gets 11 miles to the gallon, and The Homer, a car designed by Homer Simpson, as classic Simpson rides.
Treehouse of Horror XXXIII has the animated family in a version of Westworld where the amusement park staff use a Cybertruck to take the malfunctioning robots to a repair facility. Monorail Homer gets stuck in a catchphrase loop, and the humanoid robot is shut down by flicking a switch in his nose. He is then tossed into the back of a Cybertruck.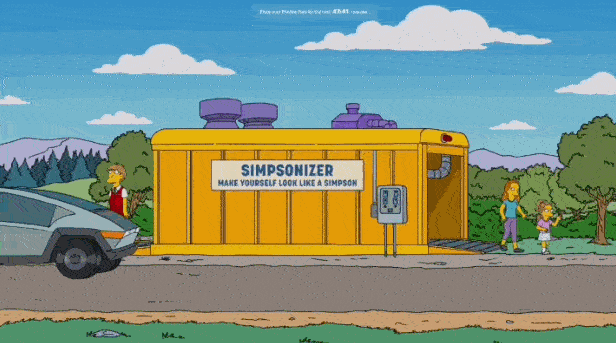 Interesting placement of the killswitch; Elon Musk did say that Optimus, Tesla's humanoid robot, would have a switch to shut down the unit. So it could be up Optimus' nose.
Tesla's time in Springfield continues in the next episode, Not It. The show has a hilarious take on Stephen King's IT, and appearing on screen for just a few seconds is a white Model X. The vehicle belongs to Comic Book Guy, who is married to Marge. It may be the second time the Model X has appeared in the Simpsons. In episode 716, released in December of 2021, Fit-Fat Tony becomes Maggie's Godfather and leases the Simpsons a "Luxus" SUV. Bart is later seen playing with the Falcon Doors.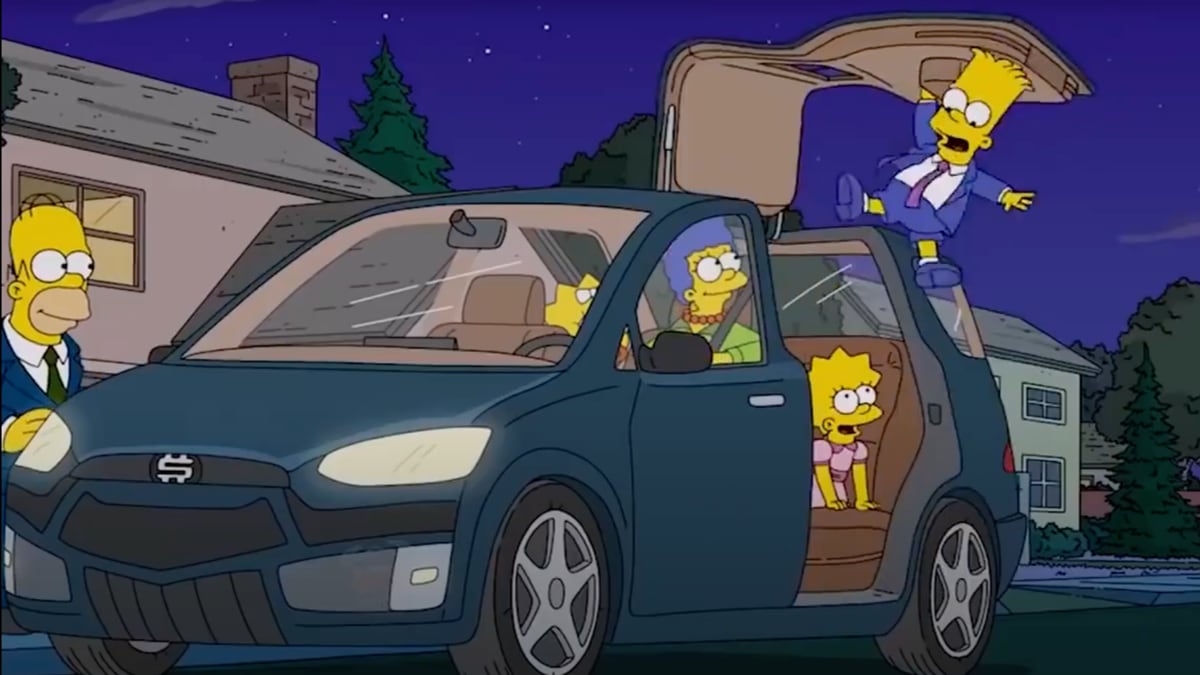 The Tesla Roadster has also appeared in the Simpsons. In the fifth episode of season 32, a red Roadster is parked in front of Leonardo DiCaprio's mansion. Although there was a glaring error, the car was plugged in on the right side. The Model S has been in the show as well. Mr. Burns has a Model S that he charges at Richard Branson's house to avoid paying for electricity. Krusty the Clown also has a Model S. He uses Autopilot to hang out the window and attack Homer.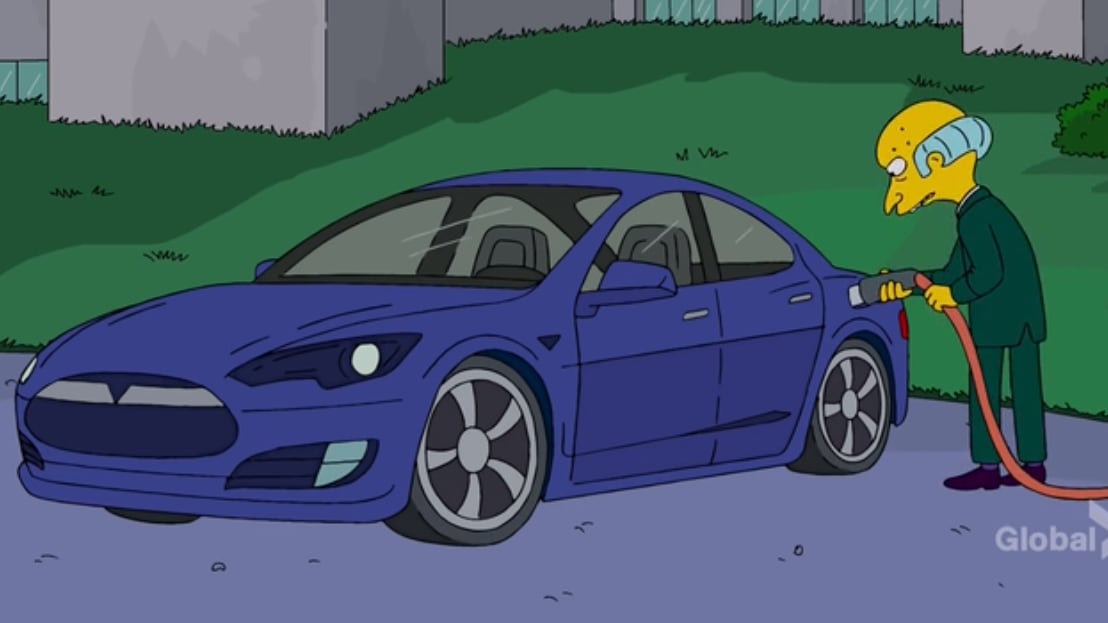 Who can forget the episode The Musk Who Fell to Earth? Tesla's CEO voiced himself during the episode in season 26 where he lands in Homer's backyard, and the two become fast friends. Bart and Lisa go for a joyride in Elon's car, using the password MUSKRULEZ to disable FSD. However, the show takes a turn when Mr. Burns plans to kill Musk.
The Simpsons is notorious for predicting the future, so now that Cybertruck has been spotted on the streets in Springfield, it has to be coming to the real world soon.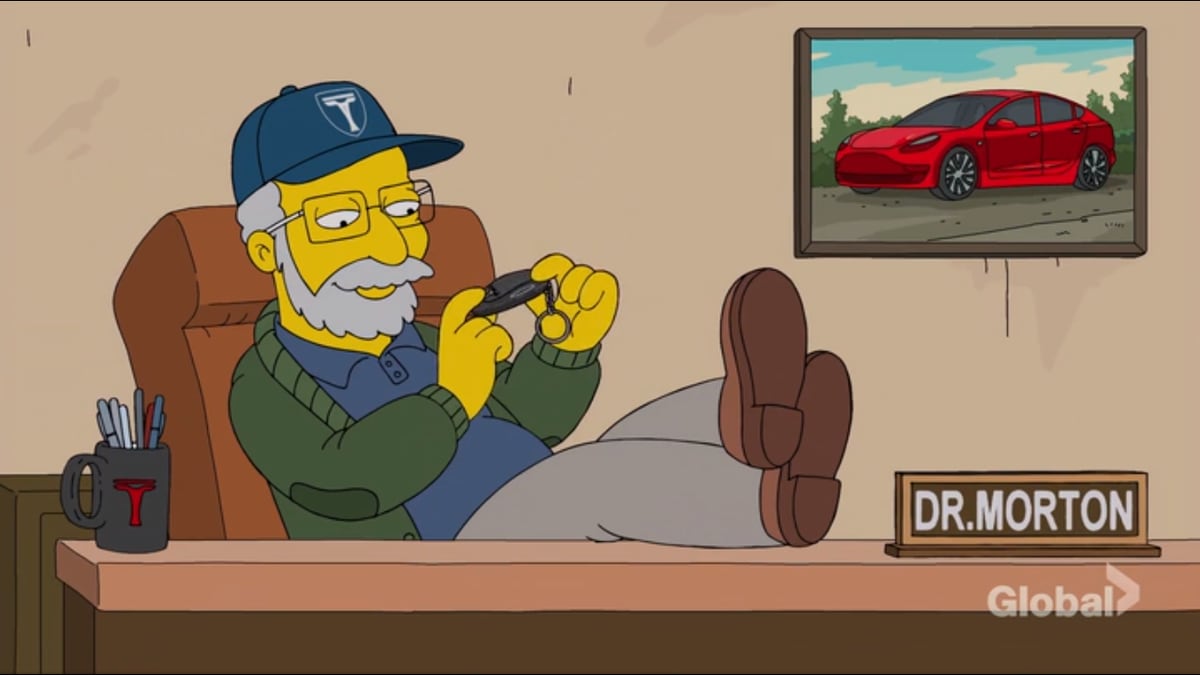 Kent Brockman, the news reporter on The Simpsons uses Tesla's Summon feature to call his Tesla.