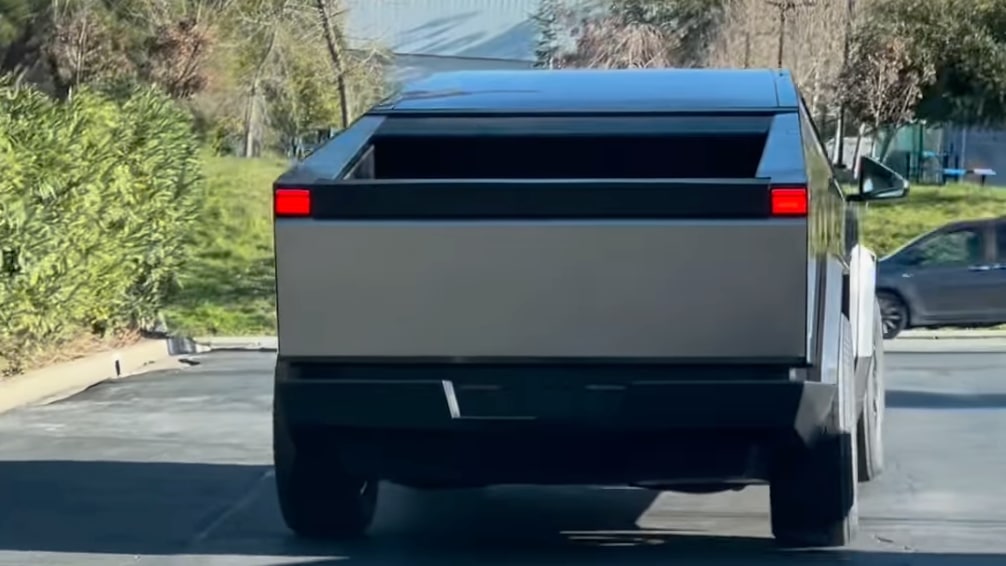 Tesla's highly anticipated Cybertruck has been spotted driving around Palo Alto, and it has a few improvements since the last sighting.
Tesla expects volume production of the Cybertruck to be in 2024. The company's chief designer, Franz von Holzhausen, appeared on the Ride the Lightning podcast mentioning the vehicle's design has been practically finalized, among other things.
A video shared on Instagram by user Flavio Tronzano (ftronz) shows a close-up of the Cyberpunk-looking vehicle en route. The video shows off the rear and side of the Cybertruck, but unfortunately, that front wasn't captured.
Side View Mirrors
Social media users were quick to point out the newer triangular side view mirrors. The original Cybertruck prototype Tesla didn't have side-view mirrors. And later prototypes of the futuristic vehicle included large, rectangular mirrors. This new prototype features much smaller, triangular mirrors that better fit the overall aesthetic of the vehicle. Tesla has also teased the idea of utilizing cameras for the side views, but regulations in the US prevent vehicles from shipping without side-view mirrors.
No mirrors would increase the aerodynamic performance of the vehicle — or any vehicle for that matter — so hopefully we'll see US lawmakers amend this as cameras and large screens become more commonplace in vehicles.
Musk confirmed in a response on Twitter that the side mirrors will still be easily removable by the owner after delivery. He also added that the Cybertruck in the video is "very close" to the production design, but there are still some small tweaks to make it better.
"Yeah. Still many small tweaks to make it better (and the side mirrors are removable by owner), but this is very close to production design."
Lights
In Tronzano's video, when the brakes are pressed the brake lights do not light up the entire light bar. Instead, they light up in squares on the corners.
It's not clear whether the rear or front light bars still exist, as the video only shows off the back and passenger side of the vehicle. It's possible the rear light bar is only lit when the vehicle's lights are on. At least we hope that's the case.
Shortened Bed?
Another user pointed out that the bed of the truck may be shortened, but this could be due to distortion in the picture.
Windows
Unlike the Model 3, the Cybertruck's rear seat windows roll all the way down. The Model 3's windows only roll halfway down, due to the rear wheel well.
"It Is Incredible"
A few days ago, Tesla CEO Elon Musk responded to Twitter user cb_doge, adding that the production beta of Cybertruck is "incredible."
I was just reviewing the production beta Cybertruck. It is incredible.

— Elon Musk (@elonmusk) February 1, 2023
As Tesla produces and tests additional Cybertruck prototypes we'll get better looks at other features of the upcoming vehicle.
The Cybertruck is expected to start deliveries this summer.