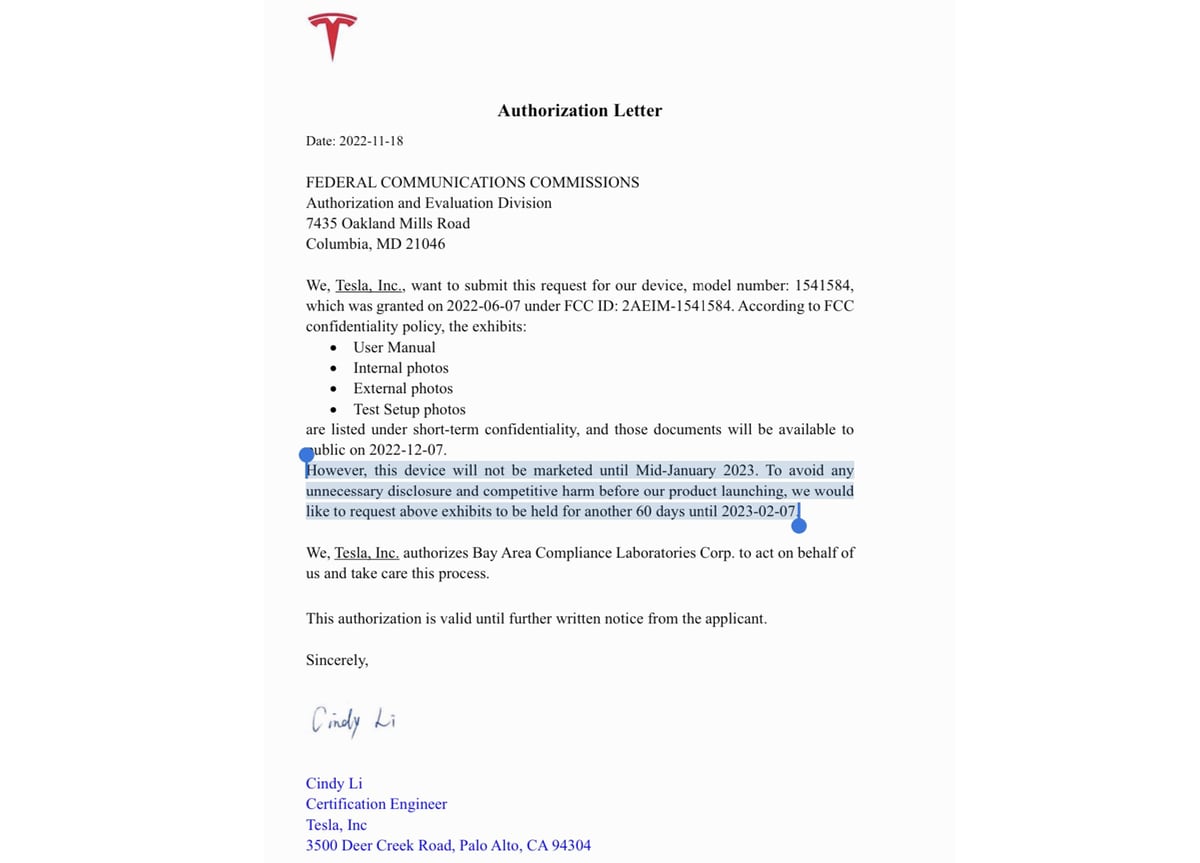 Tesla requested more time for details to be kept confidential, and in doing so, everyone now knows something is up. A document dated November 18, 2022, appeared on Twitter on December 6. It's from Tesla Inc. and addressed to the Federal Communications Commission. In the brief letter, Certification Engineer Cindy Li requests a 60-day extension of a previous agreement to keep a device secret. This mysterious letter set the Tesla sphere on fire with speculation to find out what is the secret device.
All we know from the letter is that model number 1541584 includes a user manual, internal photos, external photos, and test setup photos. Whatever this device is, it was going to be made public by the FCC on December 7, 2022. Tesla asked for an extension because the device will not be ready until mid-January 2023. The company wants to "avoid any unnecessary disclosure and competitive harm before our product launch…"
The poster of the letter, Twitter user @Taka87 reached out to well-known Tesla hacker @greentheonly, for some insight. The response: … something potentially major planned for mid-January which is just a bit over a month away... Like something that coincides with a sensor suite change.
That opens the door for the return of radar, which was removed last year and/or ultrasonic sensors, which Tesla just scrapped in October when it made the call to go completely with Tesla Vision. At that time, Tesla said in a statement: With today's software, this approach gives Autopilot high-definition spatial positioning, longer range visibility and the ability to identify and differentiate between objects. As with many Tesla features, our occupancy network will continue to improve rapidly over time.
There has also been a lot of speculation about HW4, where a high-resolution radar is believed to be part of the full self-driving sensor suite. HW4 goes as far back as the 2021 A.I. Day when Elon Musk said a new FSD computer would come out with the Cybertruck. This upgrade is now reportedly being developed by the Taiwan Semiconductor Manufacturing Company Limited (TSMC). It is expected to be much more powerful than the current hardware by as much as four times.
Elon has also previously commented on HD radar, saying "A very high-resolution radar would be better than pure vision, but such a radar does not exist. I mean vision with high-res radar would be better than pure vision."
An unidentified part, closely resembling a new radar was found on Tesla's Parts Catalog back in September by @GreenTheOnly. This mysterious item was marked but suspiciously not given a name, a part number or a description. However, given Green's experience with the inner workings of these vehicles, Green believes it is a new Tesla radar. In a follow-up tweet, he doubled down on his stance, saying the part matches the high-resolution radar Tesla registered with the U.S. Federal Communications Commission in June.
Fans recently spotted multiple Model 3 vehicles that had parts of the front and rear of the vehicle covered up. If Tesla is planning to add HD radar or change some of the vehicle's sensor suite, these vehicles may be testing exactly this.