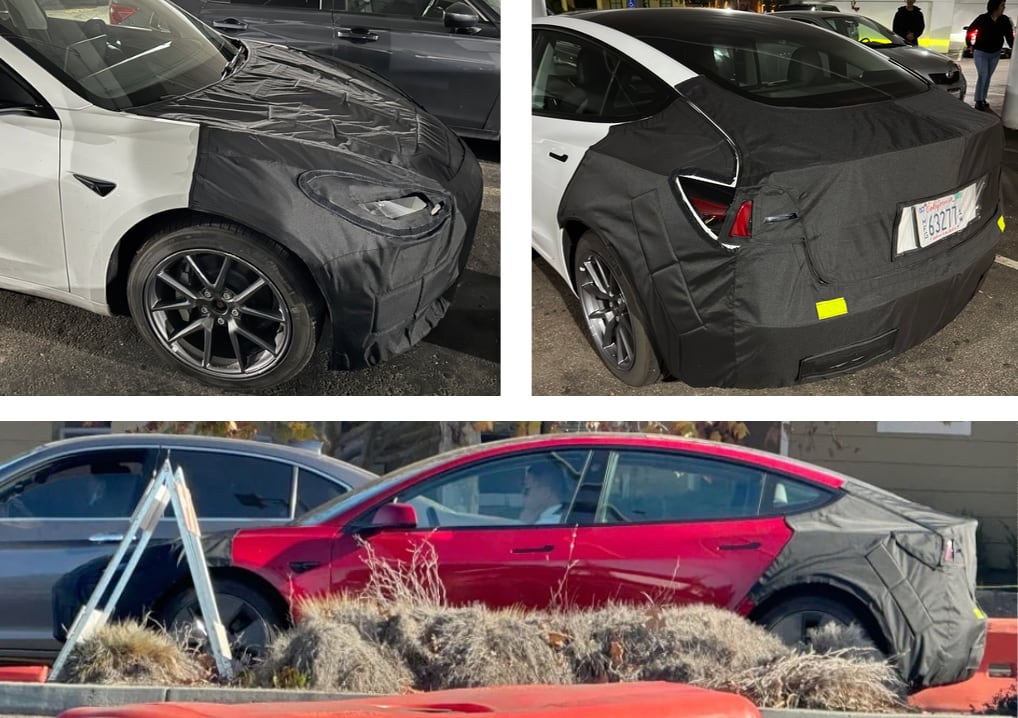 If it isn't the worst-looking LeBra ever made, then what is it? This oddly covered-up Model 3 appeared in the wild just days after Reuters reported Tesla was revamping the popular car. The plot thickens as Teslarati reports the license plates to indicate the vehicle is from Tesla. But what is the biggest secret under the horribly fitting covers?
Twitter user @omg_tesla spotted the car in a parking garage in Santa Cruz, California. Twitter users filled the replies with a lot of speculation. But of interest, the cabin of the car is wide open and visible. This eliminates a lot of conjecture that this is a revamped version. There is a belief the company is trying to cut costs to get the Model 3 under $55,000 to qualify for the US tax incentive in 2023. However, some cost savings will be found in the Model 3's interior.
That would lead us to believe that the only secret things on this car are some design changes in the front and back. However, on close examination, it doesn't appear to be different than the current Model 3. The headlights look the same if you follow the lining and the taillights look identical to what is in production as well.
Reddit user CloudWalking, found a different Model 3 similarly covered up a couple of days later.
Twitter user @Aiaddict1, who's a former Tesla employee, tweeted: Tesla policy requires employees who use certain eng fleet cars in public to always use a car cover when parked in public if the vehicle is equipped with hardware not known or available to the public. I know this as I used to drive the eng fleet prototypes. This looks to be one.
Whatever is under those odd covers remains a mystery. Reuters reported that the Tesla revamp, called Project Highland, would start to roll off production lines in the third quarter of 2023. They also quoted Ed Kim, president of AutoPacific Group, who said, "consumers still tend to equate visual changes with newness. Tesla knows visually tangible changes are in order. The upcoming changes that potential customers can see and feel will be very important in ensuring that EV customers still have Tesla at the top of their minds as truly excellent alternatives to Tesla are starting to flood the market."
Nevertheless, Twitter "detectives" joked that this is the newest Tesla paint protection, bug screen or perhaps automotive underwear. Personally, I think if the covers were off, it would've drawn far less attention as there are a lot of Teslas in California, but none sporting these covers.
It's not clear what Tesla is testing with these vehicles, although it doesn't appear to be related to the "revamp" of the Model 3. However, it very likely includes some sort of changes that haven't been publicly announced yet.