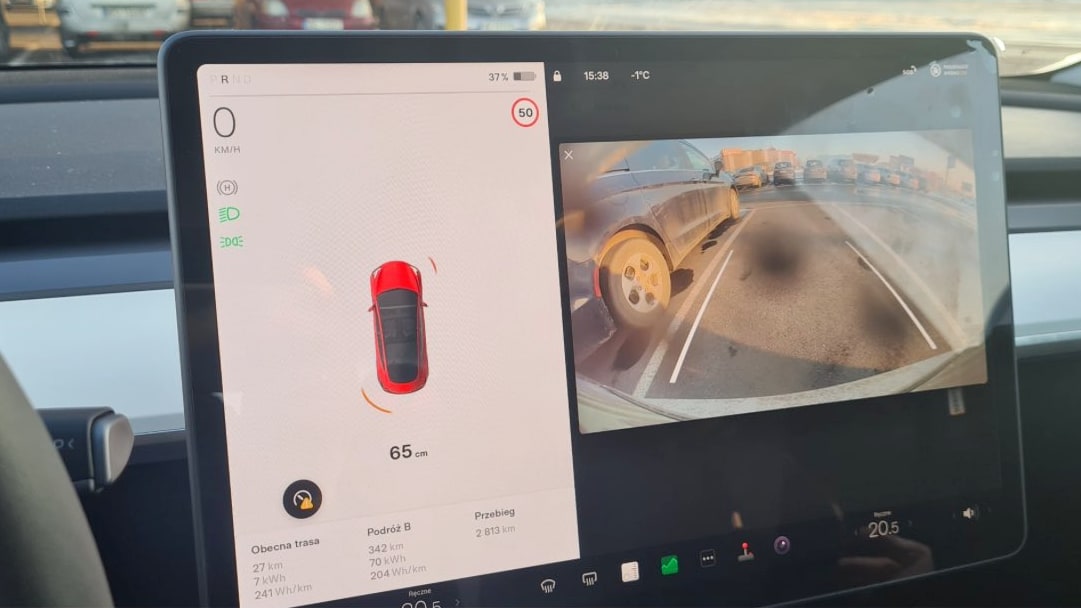 A Tesla Model 3 used for test drives in Poland has been found displaying distances without ultrasonic sensors (USS). The prospective owner who did the test drive of the Model 3 without USS noticed it was detecting distances and snapped a photo. Tesla replaces demo vehicles every three months, which means that this vehicle wouldn't have ultrasonic sensors. The odometer in the photo shows that this vehicle only has 2,800km. The driver also provided the VIN to the vehicle which confirmed it was a 2023 Model 3.
We previously reported on a video shared by Occupy Mars of their salvaged 2018 Tesla Model 3 detecting distances without USS. In the 10.5-minute video, Occupy Mars shows the vehicle displaying distances from objects with its USS and radar sensor unplugged. The Model 3 was running version 2022.28.2, which was released in September 2022.
Occupy Mars' Model 3 only detected distances while in reverse, despite a large portion of the car having been taken apart. They further tested their findings by covering up the front-facing and B-pillar cameras with tape. Once the cameras were covered, the vehicle immediately stopped displaying distances and arcs from nearby objects.
Tesla Vision May Be Close
Based on Occupy Mars' video and now this demo vehicle, an update to display distances to close-by objects may be arriving soon.
We don't know what software version this new vehicle was on, but it's unlikely that it was running an internal build. The vehicle may have been on new factory firmware, which Teslas are usually delivered with. Tesla could also have a configuration that enables this new feature, and that may have been enabled on this vehicle.
Will Ultrasonic Sensors Stop Working On Current Vehicles?
We don't know if Tesla will eventually transition vehicles that include USS to its vision system, but that is unlikely to happen soon. Instead, Tesla may continue to use the data from ultrasonic sensors to continue to improve their vision system. If there are any plans to transition to vision only, Tesla will hopefully wait until the new detection is on-par or better than what ultrasonic sensors provide.
When Tesla launched Tesla Vision for vehicles without radar in 2021, it didn't transition vehicles with radar until more than a year later. A similar transition could happen with ultrasonic sensors as Tesla's vision replacement improves.
360-Degree Measurements
If Tesla continues to improve its replacement for USS, Tesla Vision may eventually exceed the capabilities that ultrasonic sensors provide today - at least in some areas. One area where this could happen is with additional coverage around the vehicle. All Teslas, except for the Model X, which also has sensors on its doors, include ultrasonic sensors only in the front and rear of the vehicle. With vision, Tesla can theoretically increase its coverage to a full 360 degrees, letting the vehicle detect and display distances to the side as well.
Update: Tesla has officially started to roll out update 2023.6.9, which has support for vision-based Park Assist. We took a look at its availability and accuracy in several videos.
Ordering a New Tesla?
Consider using our referral code (nuno84363) to help support our site. Model 3 and Y buyers will receive credits toward Tesla Merch, while Model S and X buyers will receive $1,000 off and 3 months of FSD for free.