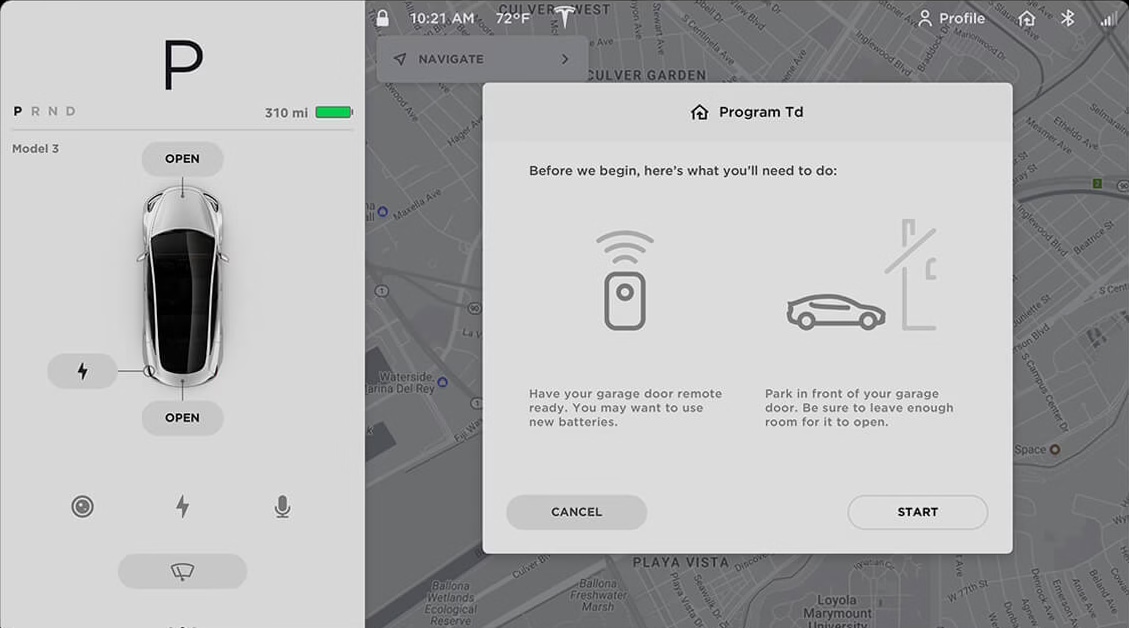 Christmas is almost here, so Tesla's holiday update will soon be here. While many are still guessing what may be under the tree in this update, we now have word that Tesla will include support for MyQ accessories.
MyQ lets you control supported garage doors, gates and lights over WiFi. Until now, users could only control MyQ devices from their smartphones, but Tesla is adding support for it to their vehicles.
Tesla Rumors Start Small
The information was shared with us through an anonymous source, but it was also leaked on Twitter. Twitter user @DirtyTesla, who is also the President and Founder of the Tesla Owners Club of Michigan, posted: Looks like MyQ support is coming to Tesla vehicles with software update 2022.44.25 :) I don't have any more detail than that.
If MyQ is indeed included in the holiday update, it will not only allow users to open or close their garage from the screen in the Tesla. MyQ also tells users if the garage is left open, it can control lights, access cameras, lock and unlock doors and use home intercoms. MyQ can also be scheduled to automatically close the garage every night at a certain time. The MyQ system is much more than a garage door opener.
MyQ is Considered the Best Garage Door Control
So why would this be better than HomeLink? That was a question repeated several times. MyQ is WiFi based so you can check in on it anywhere. There is also no need for the antenna. HomeLink is included with the Model S and Model X, but it's a $350 USD add-on for the Model 3 and Y.
Add MyQ Support to Existing Garage Doors
If you have an older garage door opener but still want to get in on MyQ, there is a MyQ device that, according to the company, makes any garage door opener a smart garage door opener. These are available at various retailers including Amazon, for roughly $20.
Elon Musk confirmed WiFi garage door support was coming back in 2020.
Integration
Tesla's integration of HomeLink into their vehicles is beautifully executed. You can have the vehicle automatically open or close your garage as you approach, never needing to touch a button. The vehicle uses your garage door's location and the vehicle's current position to determine when to open or close your garage door.
It's not clear whether Tesla will similarly integrate MyQ devices, but it certainly would make sense to have the ability to automatically trigger specific devices based on the vehicle's location. It could potentially open your garage door and turn on your hallway lights as you begin driving down your driveway.
Advantages Over HomeLink
MyQ support could have several advantages over HomeLink, besides being included for free. HomeLink currently requires proximity to the device to send the wireless signal, while MyQ could theoretically be executed anywhere in the world that has an internet connection.
HomeLink is also limited to a maximum of three devices, while the limit for MyQ will likely be much higher. However, the last improvement is actually the biggest deal. HomeLink is somewhat of a 'dumb' system, meaning it will send a signal to open/close your garage door, but it doesn't actually know the state of the garage door.
This can sometimes cause issues. For example, if you're arriving home and your garage door is already open, then your vehicle will still send the command to "open" the garage door, which in turn causes it to close.
Connection
Since MyQ requires an internet connection, we're not sure whether it'll only work on WiFi or over cellular. In all likelihood, it'll send the signal over cellular if it needs to, but it's not clear whether Tesla will require subscribing to their Premium Connectivity package in order to use it.
Update: Additional details have been discovered about Tesla's MyQ garage door support. Check out the latest information related to its integration, cost and supported vehicles.