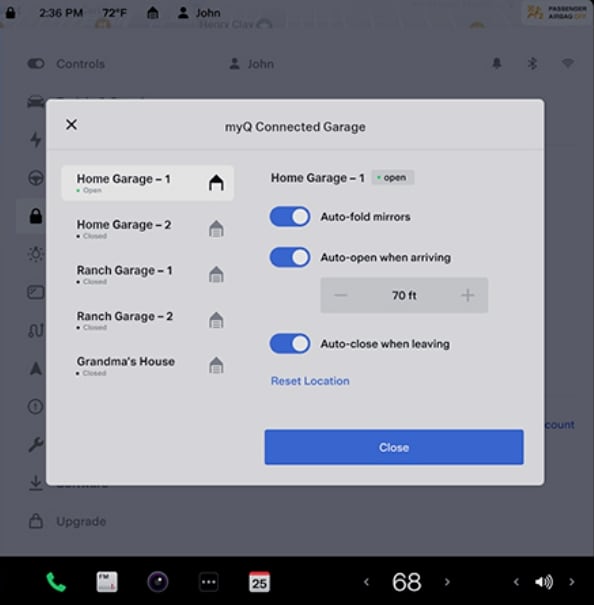 Update: Be sure to check our article on how myQ integration works, what features it offers and how it compares to HomeLink.
Tesla is getting ready to introduce WiFi garage door support to their vehicles through MyQ.
Since our article yesterday additional details have emerged about how MyQ will operate, which vehicles will be supported and whether there will be a cost to use the service. This information is based on a page that appeared briefly on MyQ's website but has since been removed.
Vehicles Supported
MyQ's website stated that support for their garage door openers would be coming to the Model 3 and Model Y. While this makes a lot of sense because those vehicles don't include a HomeLink module, we'd be surprised if Tesla didn't also add support for the Model S and Model X.
Cost
Let's get cost out of the way. Although MyQ does not charge a fee today to remotely open and close their garage doors, they do plan on charging a fee to use their devices in vehicles. This could be looked at similarly to how some services are free to use on a PC but require a subscription to use on your mobile phone.
The price posted on MyQ's website was a five-year plan for $179, which is still cheaper than Tesla's $350 installation cost for HomeLink.
Unfortunately, this removes a big benefit we thought MyQ would have over buying a HomeLink module for the Model 3 or Model Y. For Model S and Model X owners who already have HomeLink included in their vehicles, it may not make as much sense.
However, MyQ does provide some advantages over HomeLink.
Integration
The good news is that MyQ integration will be very similar to HomeLink, and better in some ways. What appears to be a rendering of the feature working in a Tesla was also posted to their website which shows off a screen very similar to HomeLink.
On the MyQ settings screen, you'll have a list of supported devices on the left side, such as garage doors, gates and possibly lights, but we haven't see any evidence of the latter yet.
On the right side, you'll see options pertaining to the device selected, such as its current state, whether the garage door should auto-open or close and the distance when the device should be triggered.
You'll also be able to have the vehicle fold in its mirrors when reaching the target location.
If you've used HomeLink, this should all look very familiar since it's almost exactly the same. However, there are a couple of differences that give the advantage to MyQ.
The first is that MyQ is a smarter system and it knows the state of your garage door. So if you're arriving home and the garage door is already open, it won't try to close it on you.
The other advantage is distance. Since MyQ works over the internet you'll be able to trigger the garage door or gate from further down the driveway, giving the door plenty of time to fully open before you arrive.
MyQ supports an array of devices, but it waits to be seen whether there will be support for these additional devices such as lights and door locks.