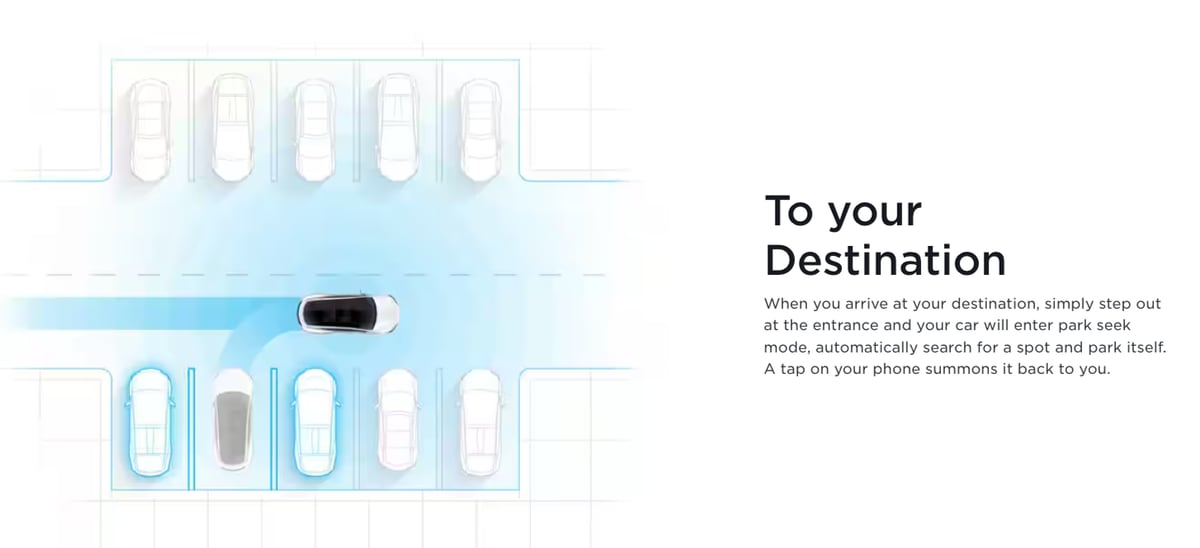 Tesla's team of Autopilot engineers is validating significant advancements to Full Self Driving Beta, including parking lot improvements. While Smart Summon and Reverse Summon were not specifically mentioned during the 3.5-hour AI Day 2022 event, parking lots were discussed, and Elon Musk gave a timeline of when enhancements are expected.
Reverse Summon or 'Park Seek' as Tesla appears to be calling it, is the opposite of Smart Summon. Whereas Smart Summon drives to you from a parking spot, users who activate Reverse Summon would have their Tesla drop them off at a location, perhaps closest to the entrance of a mall, and then find a parking spot. This feature was described by Musk on July 1, 2020, when he gave it a two to a four-month timeline.
Ashok Elluswamy, Tesla's director of the Autopilot program, started the FSD portion of AI Day, saying, "FSD beta software is quite capable of driving the car. It should be able to navigate from parking lot to parking lot, city street driving, stopping for traffic lights and stops signs, negotiating with objects at intersections, making turns and so on."
Several team members described how FSD has advanced and soon will be an integrated stack, meaning one code base that includes everything the program needs to navigate the car in a parking lot or on a busy highway. Musk is currently using this new stack, "it works quite well for me, but we need to validate it in all kinds of weather, like heavy rain, snow, dust and make sure it is working better than the production stack across a wide range of environments."
Paril Jain, the Manager of Autopilot Motion Planning, expanded on what else will be included in the integrated stack, "we do expect to also include the parking lot stack as a part of the FSD stack before the end of this year. So, that will basically bring us to you sitting in the car in the parking lot and drive till the end of the parking lot, at a parking spot, before the end of this year."
It has been previously reported that Reverse Summon would have three different modes to find parking spots that the owner prefers. The methods would include closest to the entrance, nearby a cart return, and the end of the parking lot for those who like to avoid tight spots that cause door dings. Musk said that the integrated stack is on track for release before the end of the year and maybe as early as November.
Tesla has also updated it's website to reflect this news, although no timeframe is given. The Autopilot section of Tesla's site now has a section titled "To your Destination." The description reads "When you arrive at your destination, simply step out at the entrance and your car will enter park seek mode, automatically search for a spot and park itself. A tap on your phone summons it back to you."