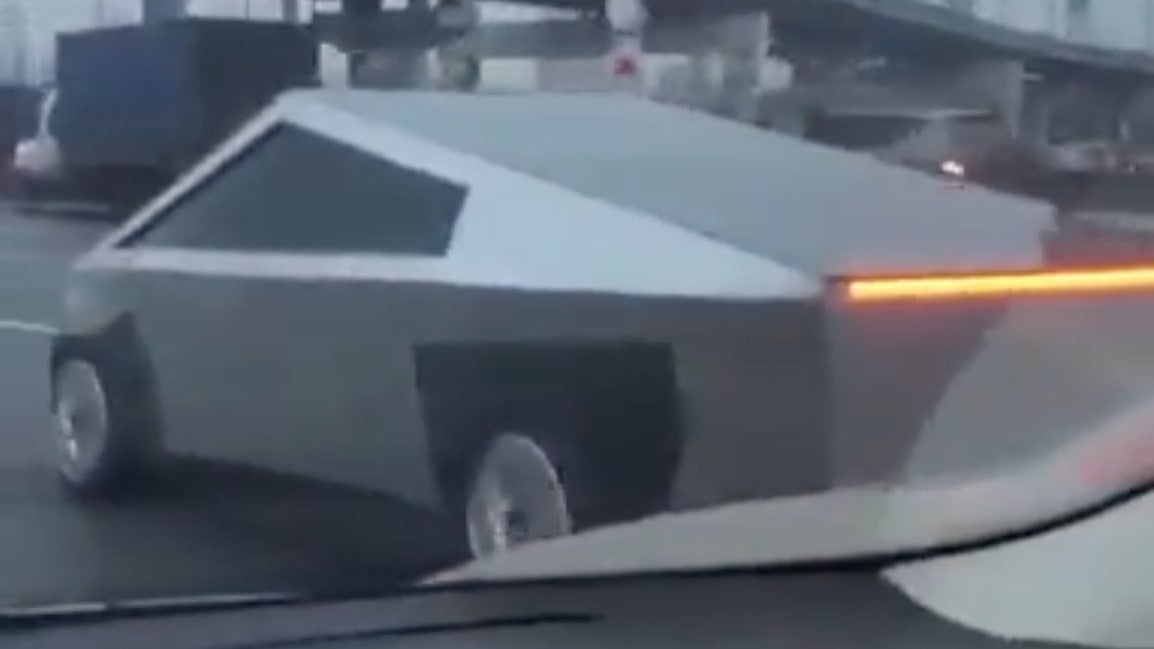 A video posted on X.com displayed what seemed to be a bizarre imitation of the famed Cybertruck. The vehicle, appearing as a cardboard cutout attached to a car, has shown us that the internet never fails, but also highlights that people have been waiting a long time for this vehicle. So long, they've taken matters into their own hands.
One Twitter user, @Beuks605, humorously remarked on the video, "Not bad for $3,500.00," suggesting the surprisingly low budget behind the amusing spectacle.
Watch Out for Knock-Offs
Taking a jab at online shopping platforms known for imitation products, @TJCusackGaming quipped, "Cybertruck - Wish version," drawing parallels between the comical vehicle and less-than-authentic items found on websites. The sentiment was echoed by another user, @MicahGreaney, who chimed in with, "I think bro ordered his on wish dot com." @nextdoornurs3 added, "Cybertruck from Alibaba," while @B00KERJR exclaimed, "China starting to make cyber trucks now!?!!" These comments highlighted the internet's fascination with knock-off products and their origin stories.
Twitterati couldn't help but throw in some pop culture references, with @Sipowicz1042 comparing the imitation to an episode of The Simpsons where Homer designs a bizarre car, reminiscent of the eccentricity seen in the video. This analogy captured the essence of the comedic absurdity witnessed by viewers.
Tesla's Cybertruck looks weird… pic.twitter.com/DbEMlN2SmM

— Creepy.org (@CreepyOrg) September 27, 2023
Giga Texas Glimpse: A Beacon of Anticipation
Amidst the laughter, Tesla enthusiasts have not lost sight of the genuine anticipation for the real deal. Drone pilot Joe Tegtmeyer's recent footage of Giga Texas painted a contrasting picture of excitement and anticipation, revealing glimpses of what could be the production-ready Cybertruck. His showcasing Tesla's progress rekindled excitement among Cybertruck reservation holders.
Tegtmeyer's exploration highlighted the crucial role of the Master Candidates in refining the production process. His commentary and the unveiled images fueled anticipation, reminding the Tesla community that the real Cybertruck is inching closer to rolling off the production line.
Not all reactions were centered around mockery, with some users like @EvelynE04265048 expressing genuine admiration, "My son loves the way it looks." Nonetheless, the majority found the spectacle amusing, with @ramseyboltin confessing, "I've wanted one of these since I saw them, but this video ruined it; it looks like a toy car."
Don't worry; we are sure the real deal will look much better, and we expect those stainless steel beasts to start rolling out before the end of the year. Until then, cardboard will have to do.