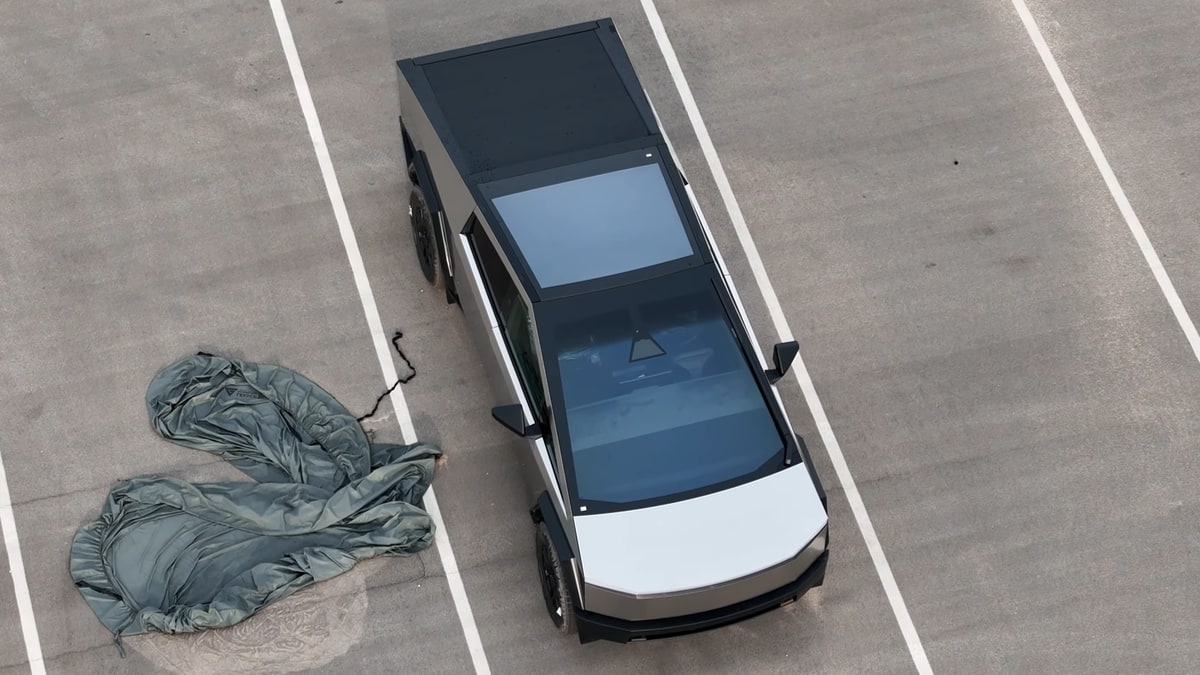 Joe Tegtmeyer, a drone pilot who has been providing aerial footage of Giga Texas for more than three years, posted more footage that will make Tesla Cybertruck reservation holders happy.
The latest insights paint a picture of revitalized activity at Gigafactory Texas, revealing that "most of the employees have come back to work." The busy parking lots and lines of employees awaiting transport, unseen for the past three weeks, underscore a renewed momentum.
Crafting the Master Candidates
Tegtmeyer's coverage goes all around the factory, but he caught a rare glimpse of what could be the unicorn, the actual production-ready Cybertruck. Weather conditions the night before had left the covers off what are believed to be two Master Candidates. "I was fortunate to capture these images while the car cover was off because of some storms that came through last night," he shares, showcasing the Cybertrucks' refined state and readiness for production.
"These are the final candidates being produced to ensure all the tooling is correct, all the training is correct," explains Tegtmeyer, highlighting the crucial role these units play in ironing out the nuances of production.
This series, also known as the 800 series, is notably closer to the final production version than the earlier release candidates of series six that we spotted around the country over the last couple of months. Insights suggest that Tesla's leadership was set to conduct a final evaluation of the Cybertrucks, a decisive step before giving the green light to official production.
Identifying these vehicles as Master Candidates has sparked online speculations and noticeable changes for reservation holders on Tesla's platform. "It's great to see," remarks Tegtmeyer, discussing the anticipation surrounding these vehicles, pivotal in validating the production line's final changes and operations.
Ensuring Precision and Final Adjustments
Tegtmeyer sheds light on Tesla's meticulous approach with the Master Candidates, emphasizing their significance in ensuring tooling precision, thorough training, and making last-minute adjustments. "These Master Candidates are great to see," Tegtmeyer stated, signaling the culmination of extensive preparation and refinement ahead of full-scale production.
Reflecting on the progress and the visible refinement of the Cybertrucks on site, Tegtmeyer observes, "It really looks great and it does look like it's probably a Master Candidate," we could not agree more! The detailed exploration at Gigafactory Texas has given potential customers and us a closer look at the much-anticipated Cybertruck. The revealed images, insider information, and Tegtmeyer's commentary collectively build anticipation as Tesla inches closer to officially rolling the Cybertruck off the production line.