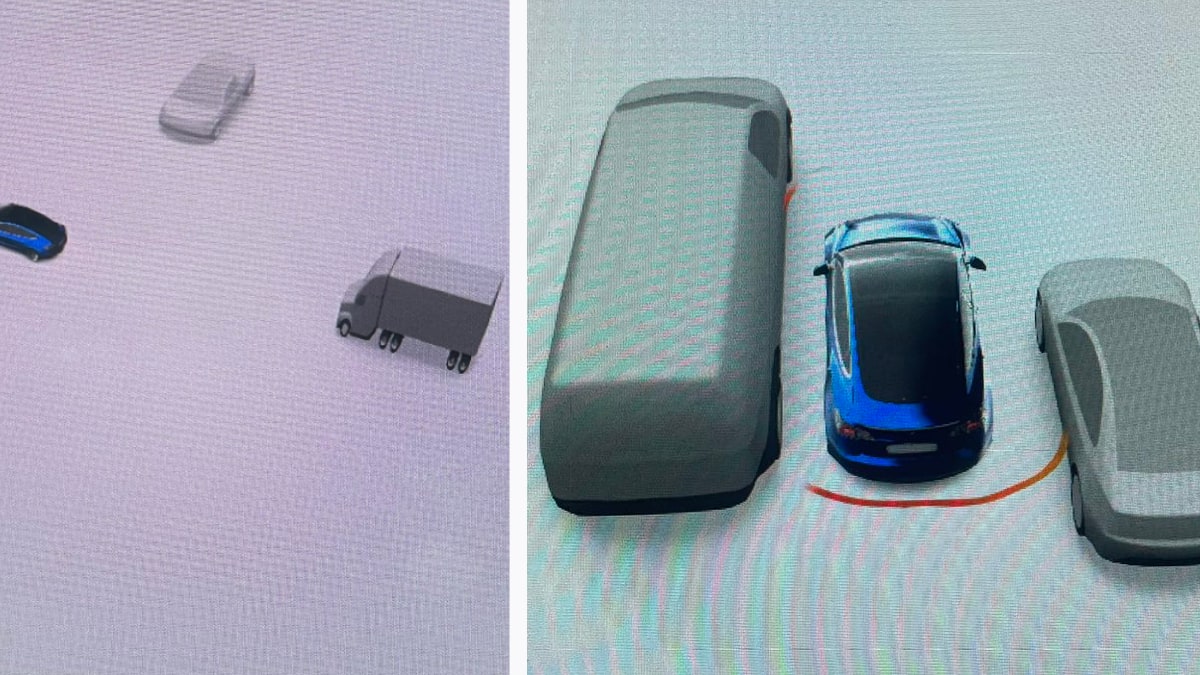 In Tesla update 2023.32.4, Tesla has improved Autopilot visualizations, bringing a host of enhancements that were once exclusive to Full Self-Driving (FSD) Beta.
New Visualizations Introduced
In order for Tesla to achieve FSD, the vehicle will essentially need to create a 3D representation of the real world, similar to a video game. To create a more accurate representation of the real world, Tesla introduced dynamic vehicle resizing in March 2022 for FSD Beta. This visualization improvement is now making its way over to standard Autopilot. The vehicle will now determine the width, height and length of each vehicle in its surroundings and size the 3D model appropriately in the visualization. Initially, Tesla employed static 3D models to depict other vehicles, which, although informative, didn't match their real-world dimensions.
Whether the vehicle is distinguishing between a full-length bus and a shorter one or identifying the accurate size of small cars, the enhanced visualization lends a deeper insight into the car's situational awareness, thus bridging the gap between the real world and the on-screen depiction.
Although this could lead to some strange looking visualizations, such as a vehicle that is scaled way down to represent a baby stroller, or a truck that's 'squished' to represent its actual dimensions, these are limitations in Tesla's 3D models, as the actual size represenations are much more accurate.
Open Door Visualization
Unfortunately, Tesla hasn't added all the visualizations that are present in the FSD Beta feature in the US and Canada yet, but they did incorporate the ability to display when a vehile has an open door. The door will be displayed in the vehicle's standard gray color, unless Autopilot determines the door is in the vehicle's course, which it will then highlight it in orange.
While Tesla has achieved remarkable milestones, extending the vehice's visualizations will help build trust in the vehicle's capabilities, assuring users of a reliable and safe driving experience. In addition to bringing more visualizations over from FSD Beta, such as road edges, we will hopefully see more objects commonly encountered during driving. We are looking at the potential inclusion of additional traffic light configurations, diverse crosswalks, and even barriers and other road elements, painting a richer and fuller portrayal of the real world.