Hebrew Language Added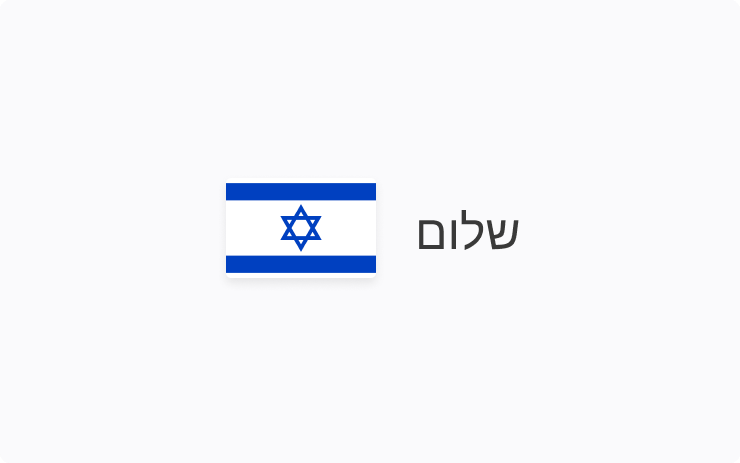 You can now choose Hebrew as your touchscreen language.
To change the language, shift into Park, and go to Controls > Display > Touchscreen Language.
FSD Beta v11.4.4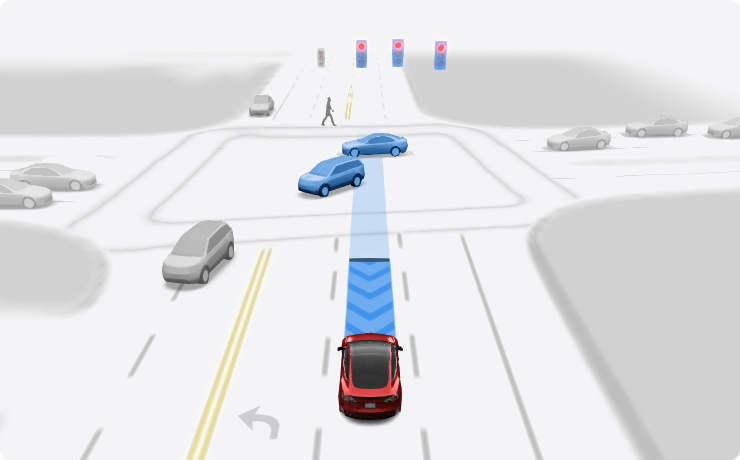 - Improved short-deadline lane changes, to avoid going off-route, through better modeling of target lane vehicles to improve gap selection assertiveness.
- Improved offset consistency when controlling for static obstacles. Also improved smoothness when changing offset direction by adjusting speed more comfortably.
- Improved handling of oncoming cars on narrow unmarked roads by improving prediction of oncoming car's trajectory and leaving enough room for them to pass before re-centering.
- Improved Occupancy Flow prediction from the Occupancy Network for arbitrary moving obstacles by 8%.
- Expanded usage of the new object ground truth autolabeler for the NonVRU detection model, improving distant vehicle recall and geometry precision for semi-trucks, trailers, and exotic vehicles.
- Improved VRU control by expanding planning scope to control gently for low-confidence detections that may interfere with ego's path.
- Improved handling for VRUs near crosswalks by predicting their future intent more accurately. This was done by leveraging more kinematic data to improve association between crosswalks and VRUs.
- Improved ego's behavior near VRUs by tuning their assumed kinematic properties and utilizing available semantic information to classify more accurately their probability of intersecting ego's path.
- Improved Automatic Emergency Braking recall in response to cut-in vehicles and vehicles behind ego while reversing.
Improved Autopilot Visualizations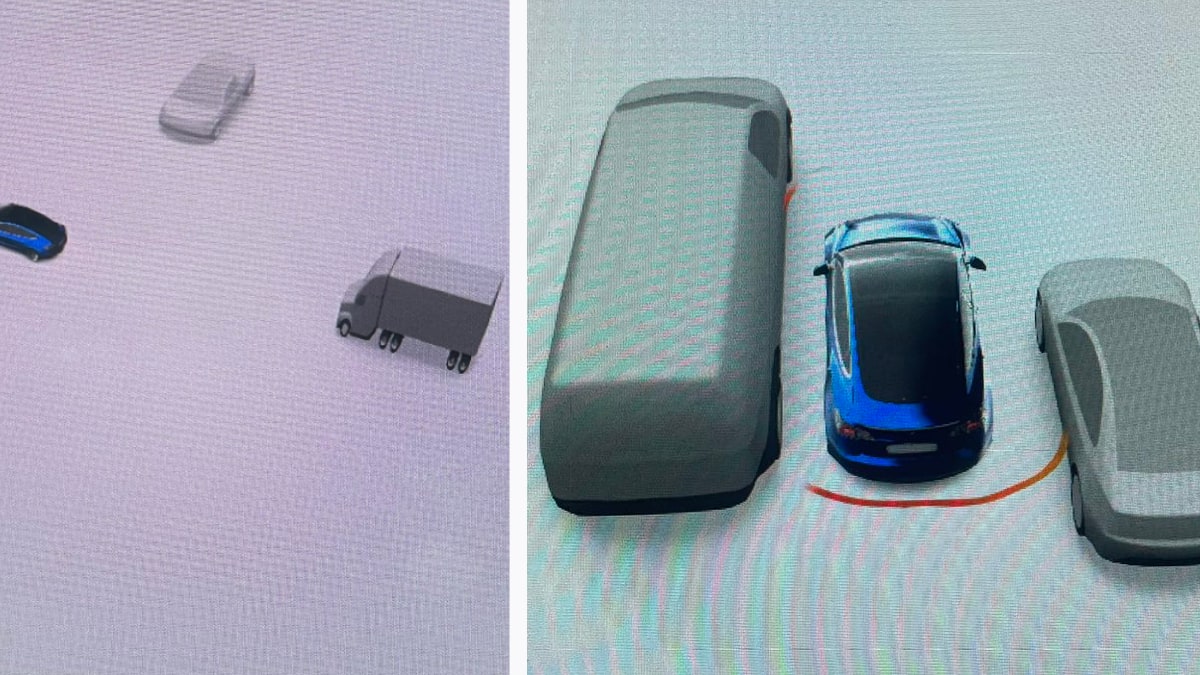 Credit Felix Wepunkt
Available Worldwide
Undocumented Change
Autopilot visualizations (non-FSD) now include some features that were previously only available on FSD Beta.
Improvements include dynamic vehicle sizing and open door visualizations. The vehicle will now determine the width, height and length of each vehicle in its surroundings and size the 3D model appropriately in the visualization. Open doors will also be displayed in gray or orange, depending on whether they're in the vehicle's path.
Improved Reverse Camera View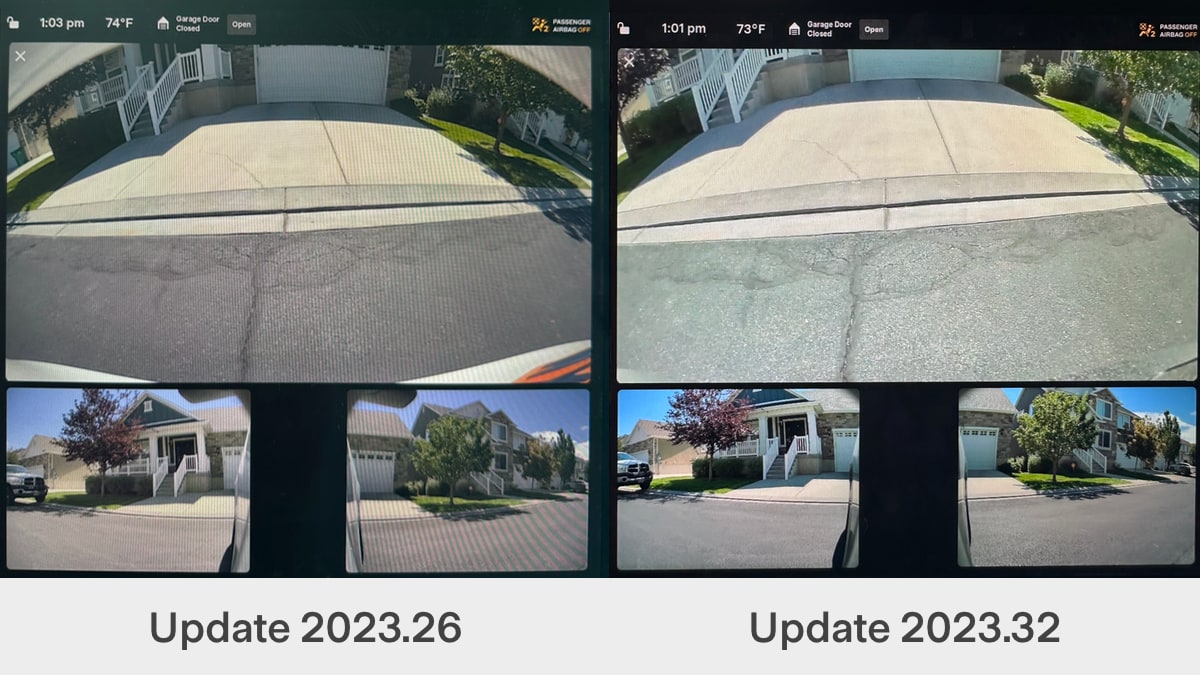 Available Worldwide
Undocumented Change
HW 4
The reverse camera view has been improved by cropping parts of the video to minimize distractions. The top portion of the video feed no longer shows the vehicle trunk and the bumper is now hardly visible along the bottom of the reverse camera.
Service Mode Release Notes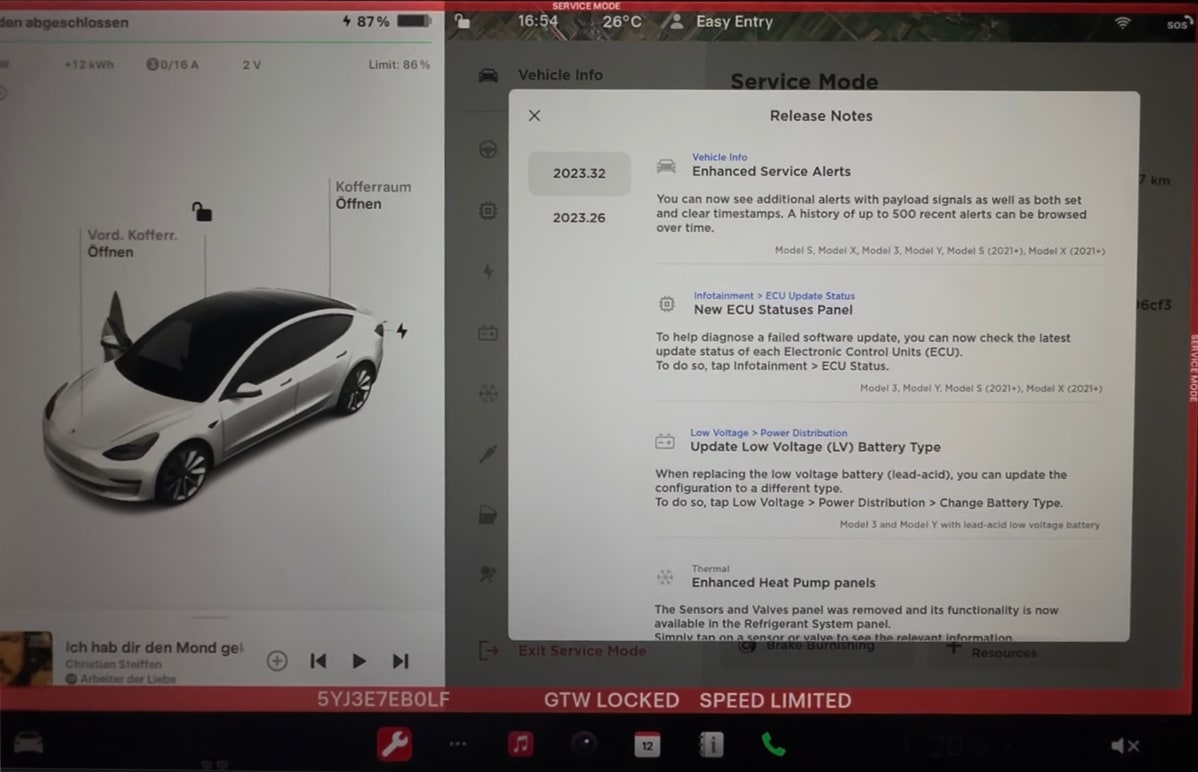 Credit Niner
Available Worldwide
Undocumented Change
Service Mode specific release notes have been added with this update. When entering Service Mode, you can now tap on 'Release Notes' near the top of the screen to view any improvements to Service Mode in this vehicle update.
Each new feature is listed with a description and which vehicles it applies to. You can also tap the Service Mode section name in blue to jump directly to that area in Service Mode.
Improved Camera Clarity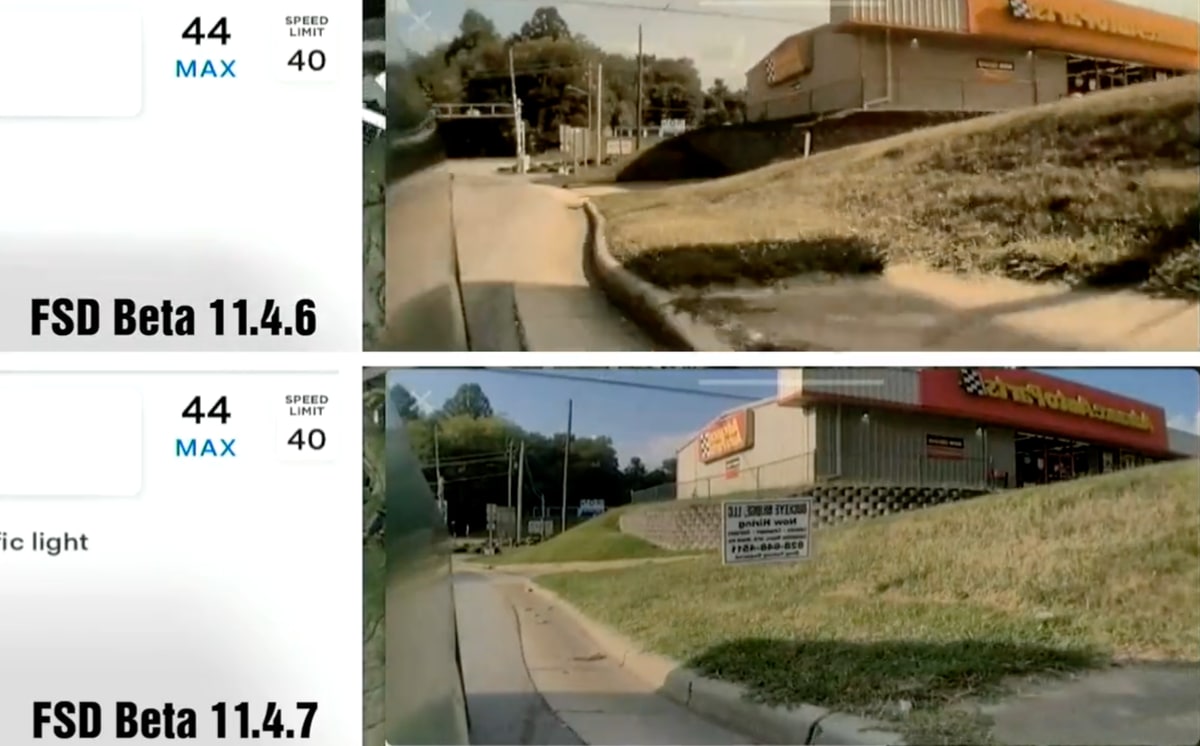 Credit TeslaTruckClub
Available Worldwide
Undocumented Change
Video post-processing has been improved by providing white and color balance to the vehicle's camera feeds.
This results in more natural-looking videos when using the vehicle's cameras on screen and when utilizing Sentry Mode or the Dashcam.
The clarity of the videos is also notably improved in this update, resulting in clearer video when using the vehicle's reverse or repeater cameras.
Service Mode ECU Status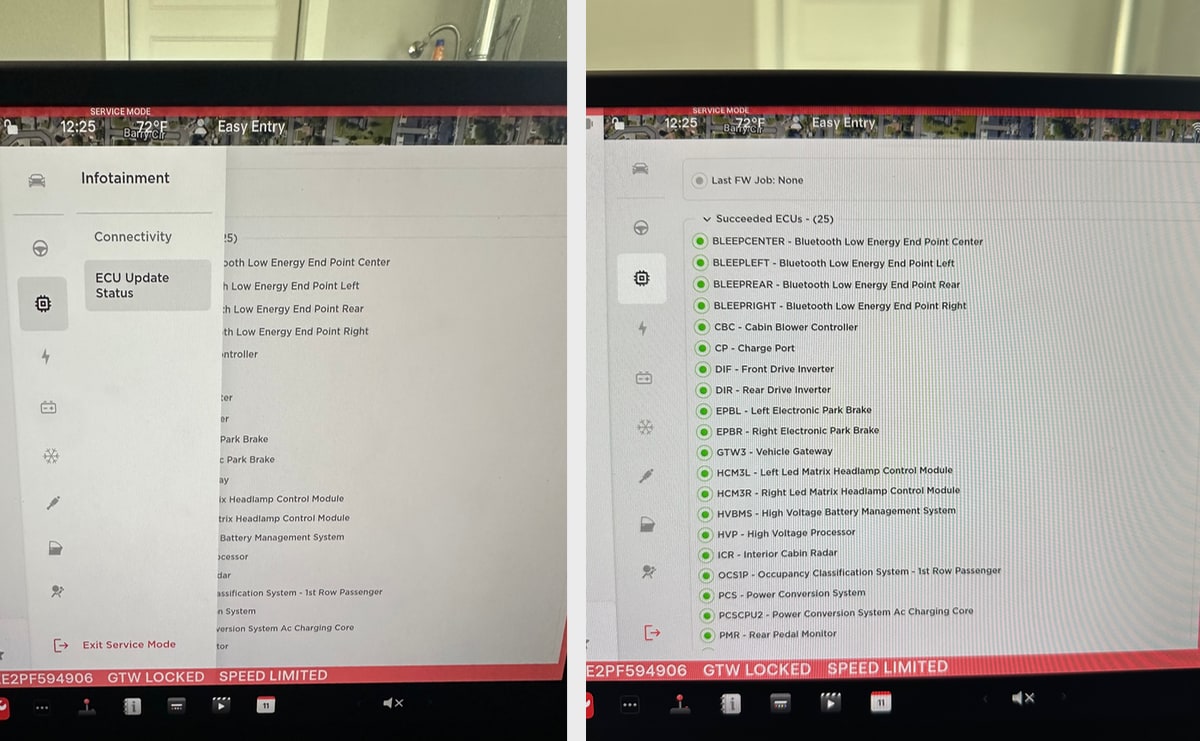 Credit Niner
Available Worldwide
Undocumented Change
Tesla's Service Mode now lets you view the status of the vehicle's Electronic Control Unit (ECU). Under Infotainment > ECU Update Status, you can now view the status of a variety of sensors and vehicle sub-systems.
Service Mode is a special vehicle mode that's typically reserved for service technicians, although it can be accessed by anyone. It is used to view information and test various aspects of a vehicle.
Volume Indicator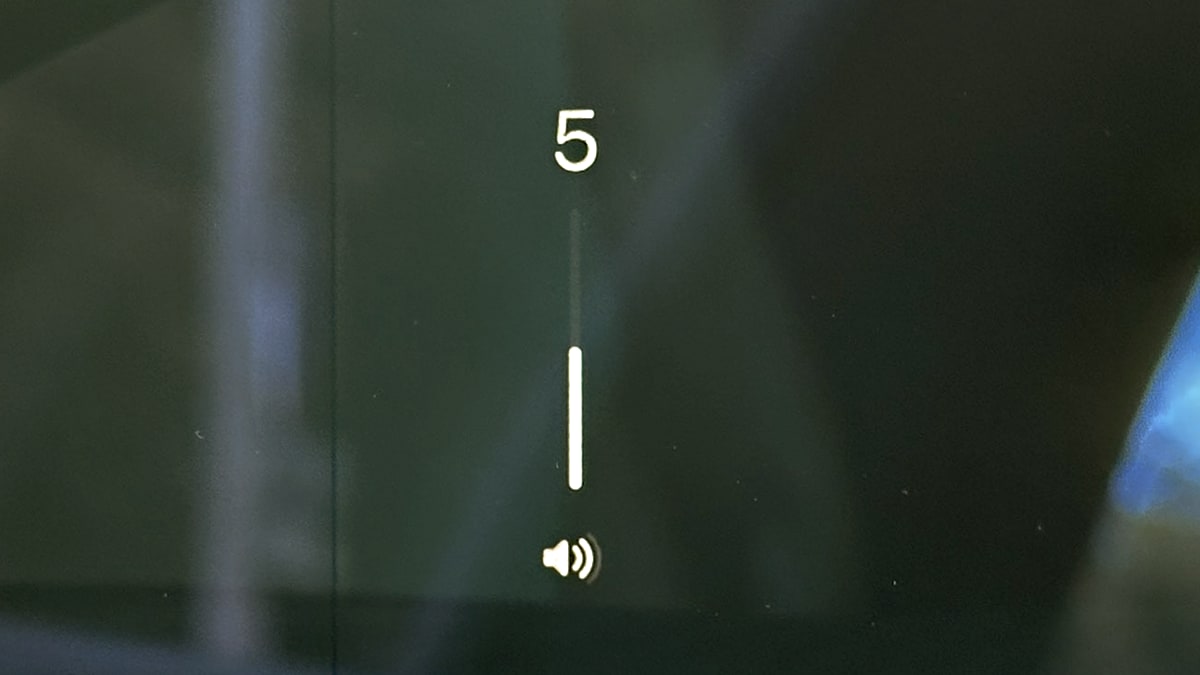 Credit kermit_1704/X
Available Worldwide
Undocumented Change
Tesla has updated the volume indicator on the instrument cluster to be vertical instead of horizontal.