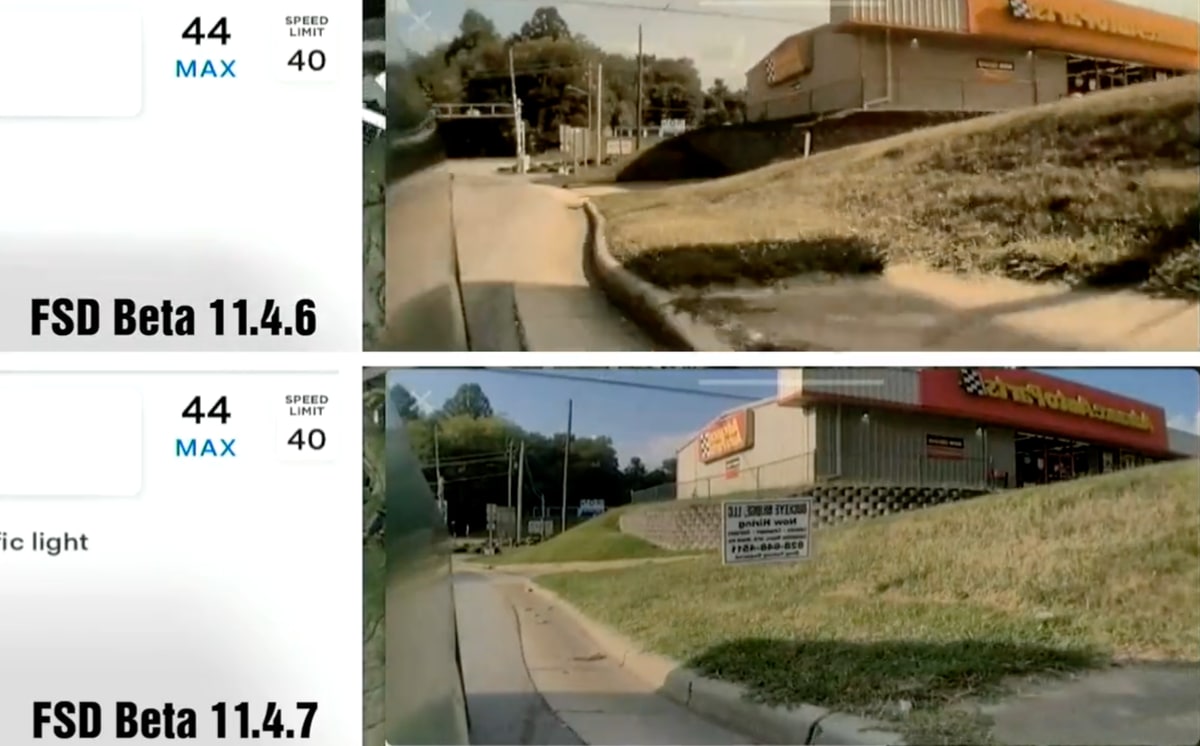 Tesla has recently released the FSD Beta version 11.4.7 to a broader range of customer testers, and many Tesla owners are already observing notable enhancements in the side repeater cameras. The interesting twist to the story is that many believed the new images that were surfacing were produced by newer vehicles equipped with HW4's higher resolution cameras, but that is not the case.
Musk Confirms Enhancement
@WholeMarsBlog questioned Elon Musk on whether advanced post-processing was integrated into the improved camera views in FSD Beta 11.4.7 (release notes). During a conversation on X Spaces, Musk confirmed that software had been employed to enhance the camera previews. The FSD 11.4.7 update brought with it refined post-processing, resulting in a more precise white balance, color balance and much sharper images when drivers view the side cameras while on the road. This is a marked improvement compared to the previous FSD Beta 11.4.6 version.
Before & After Video Comparison
Everything Looks Better with Update
Mike, a Tesla enthusiast from CyberOwners.com, underscored the substantial improvements he noticed in his 2019 Model 3 after updating to FSD beta 11.4.7. He enthusiastically described the update as an "amazing improvement" in the performance of the turn signal cameras compared to the earlier version.
Although Mike did not review the dashcam, he mentioned that the rear camera performance, which was already satisfactory, has been further refined. "Rear looks great... of course, rear already looked good compared to the repeaters," Mike stated during a discussion on platform X. He also lauded the software update for rectifying the "proper color balance," a recurrent issue with the older cameras.
This progress is especially significant considering Mike's Model 3 is a 2019 version equipped with older cameras, notorious for their "light bleed at night." Tesla has since rectified this hardware issue in recent models. This suggests that Tesla's software development team concentrates on enhancing new models and is dedicated to optimizing the performance of older vehicles.
Chuck Cook, another tester, also demonstrated the camera enhancements of FSD beta 11.4.7. While acknowledging that the locations and lighting in his comparison were slightly different, Cook noted additional processing was evident.
This is an incredible software enhancement for cameras that have a resolution of 1.2 megapixels. The new cameras are 5 megapixels, which means that advanced hardware mixed with the new software will make for crystal clear images. This makes sense. The car must have the best visual inputs, considering that Tesla is moving toward "nothing but nets" FSD, relying solely on what the car sees and not how it is coded.
Update: A big question on everyone's mind was whether these camera feed improvements would roll out to non-FSD updates. Since they weren't explicitly related to FSD Beta, it would be likely that they would eventually be merged into Tesla's main branches, but the question remained — when? We're now seeing several reports that these camrea improvements are included in Tesla's latest update, version 2032.32.1.