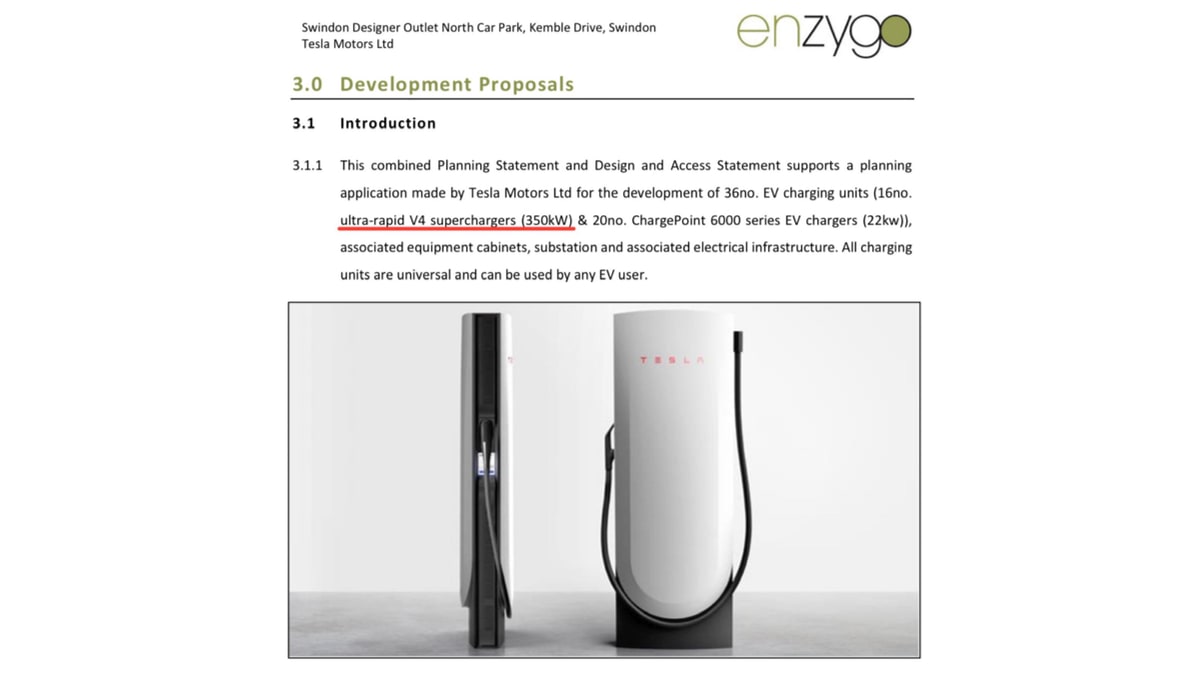 Tesla has confirmed its V4 Superchargers will be capable of 350kW. Currently, V4 Superchargers are limited to 250kW, the same as its V3 counterparts.
Tesla confirmed this information in a planning submission for a charging site in Swindon, UK. The submission also contained images of the charging stalls, which confirmed a payment screen and an oval base. The submission also states, "All charging units are universal and can be used by an EV user." EV owners that want to use Tesla's "ultra-rapid" V4 Superchargers will be able to take advantage of them, despite not having the Tesla app or account.
Maximum Charging Speeds For V4
V4 Superchargers are currently limited to 250kW, but with the increase to 350kW, we'll see much higher burst speeds. Charging at 350kW could allow Teslas to charge at up to 1,400 miles per hour, or 115 miles in just five minutes. While these are tremendous speeds, your vehicle will not charge the entire time at these high speeds.
To achieve the full 350kW speed, your battery will need to be pre-conditioned and at a low state of charge. For Teslas, this is between about 5 to 30 percent. If those criteria are met, your vehicle will ramp up to its maximum charging speed for a short period of time.
As your vehicle gets closer to finish charging, the speeds will slow down to preserve battery health and longevity.
Faster Future Charging
Tesla doesn't plan to stop at 350kW. At the Tesla Semi unveiling event, CEO Elon Musk and Dan Priestley, Tesla Semi program manager, confirmed that the Cybertruck will use the same charging technology as the Tesla Semi, allowing it to accept 1MW of DC fast-charging. This will apparently be possible because of Tesla's innovative "immersion cooling technology."
V4 Superchargers Make Appearance at Goodwood Festival
A few weeks ago, the V4 Superchargers were on full display at the Goodwood Festival of Speed in the UK. The Tesla Owners UK Twitter account shared close-up images of the new Superchargers, which interestingly had space for a screen and contactless payment terminal.
Tesla allows owners to seamlessly pay for their charging sessions. Their car is linked to their Tesla account and credit card, which is charged upon the completion of a session. When Tesla started opening Superchargers to non-Teslas, these owners needed a way to pay for their EV juice. They added the "Charge Your Non-Tesla," which guides non-Tesla owners to create a Tesla account and add their payment information.
However, the addition of the contactless payment device in V4 removes the need for an app entirely. Non-Tesla owners may be able to simply pull up to a Supercharger, swipe their card, and charge.
First V4 Supercharger Opens
Tesla opened its first V4 Supercharger in Harderwijk, Netherlands earlier this year. The site has 16 stalls and includes longer charging cables to make it easier for non-Teslas to charge. The first V4 site was originally going to be in Danvers, Massachusetts.
European regulations state that an app shouldn't be required to use an EV charging station, which is likely why V4 stations will have the contactless payment terminal.