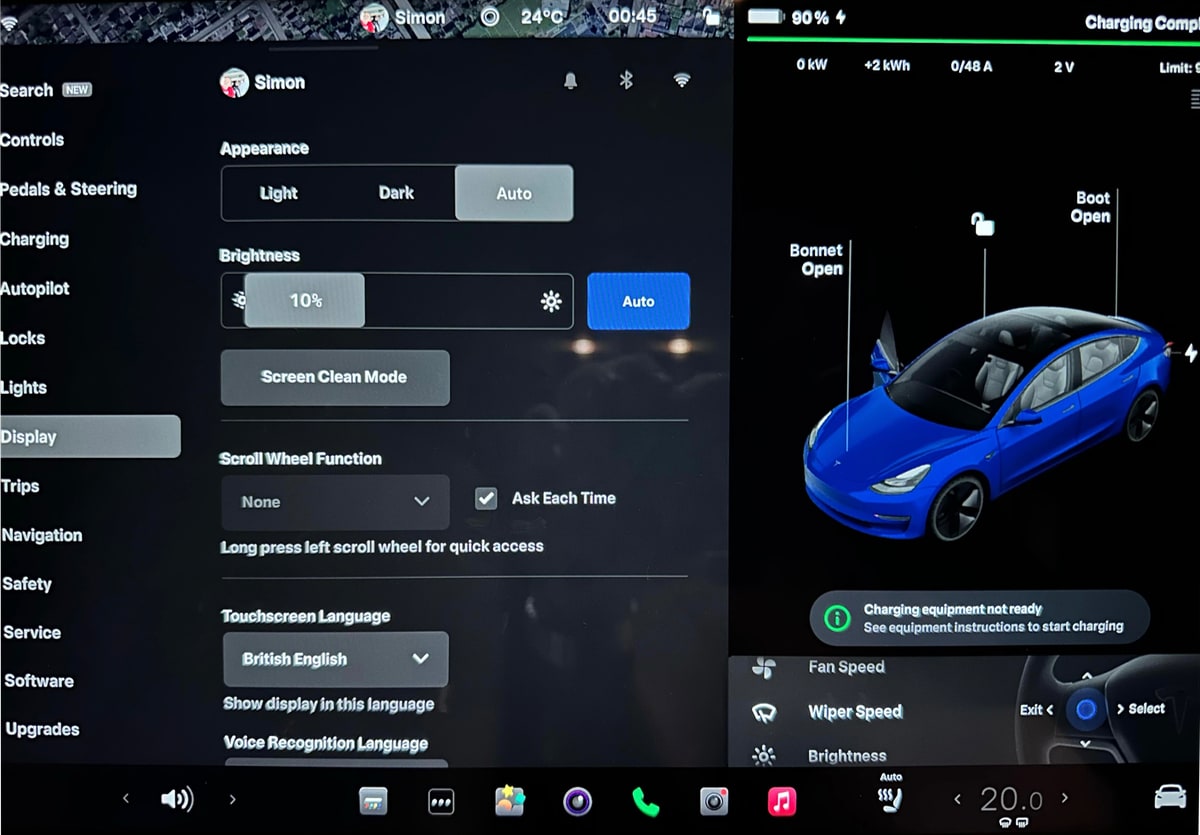 Tesla's latest 2023.20 software update brings an addition that fans have been eagerly anticipating - the ability to control windshield wipers from the steering wheel. This latest enhancement adds another layer of convenience.
When Tesla introduced its steering wheel customization feature in the 2023.12 update to the Model 3 and Model Y, many were puzzled at the omission of windshield wiper controls. The initial setup offered many features, including controls for the glovebox, defrost, dome lights, climate temperature, HVAC fan speed, display brightness, dashcam video, acceleration mode, steering wheel heat, and the backup camera. Surprisingly, the ability to control wipers from the steering wheel was not included.
The Finer Details: Exploring the New Wiper Controls
The newly added wiper controls allow drivers to adjust the speed of their windshield wipers directly from the steering wheel, without having to activate the wipers first.
In the 2023.12 update, Tesla added the ability to adjust the wiper speed by tilting the scroll wheel left and right, but this only worked after pressing the left stalk button to activate a single wipe of the windshield.
With this update, Tesla is bringing full wiper control to the steering wheel, letting you adjust the speed of the wipers, turn them off or set them to auto.
As with the other steering wheel controls, customizing the wipers feature can be done by navigating to Controls > Display on the touchscreen interface.
Unveiling the Future: Auto Wiper v4 System
While our focus is primarily on the windshield wiper controls on the steering wheel, it's worth highlighting another significant improvement that Elon Musk has tweeted about for the upcoming Auto Wiper v4 system. Musk mentioned, "Actually, smart auto wiper software releases in about three weeks." That was about three weeks ago. While Musk's timelines are often optismistic, it looks like we may have an improved wiper system to look forward to.
Breaking Down Auto Wiper v4
Auto wipers v4 is set to overhaul Tesla's current wiper system by integrating video from all of Tesla's onboard cameras into a single 360-degree view, according to Musk. This innovative approach will provide the system with a better understanding of weather conditions, leading to a more accurate and responsive wiper system. Musk acknowledges the need for improvement in this area, referring to it as "one of the last neural nets Tesla is updating from a single camera, single frame NN to surround video."
The 2023.20 software update, features many lesser known improvements, where the new windshield wiper controls are just one of the many improvements that didn't appear in the release notes for the update. Check out the full list of unlisted changes in Tesla's 2023.20 update.