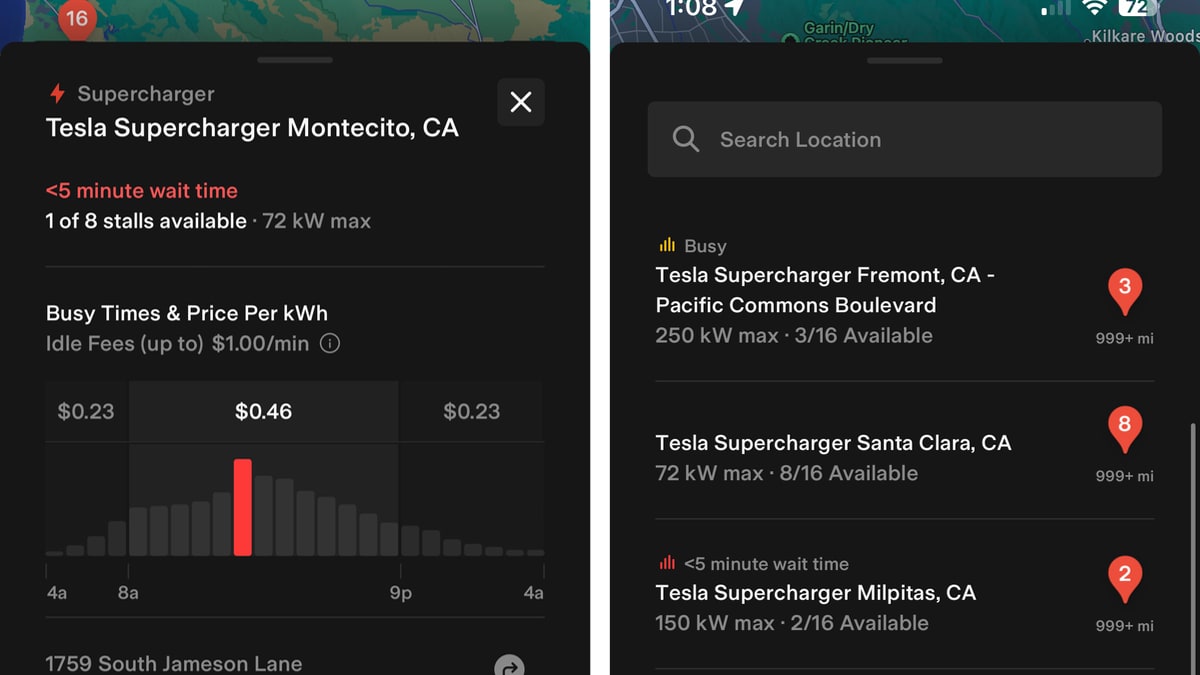 Tesla recently updated its app to provide users with real-time information on wait times at Supercharger stations. The app displays whether there is no wait, an estimated wait time, or the station is simply busy. This new feature is designed to help Tesla owners plan their charging stops more efficiently and reduce wait times at popular charging locations.
Know Before You Go
In addition to wait times, Tesla has now updated its app to provide users with a graph displaying the expected congestion at a specific Supercharger station based on the time of day. This predictive feature can help drivers plan their charging sessions during less busy times, further streamlining their charging experience and minimizing downtime.
Implementing this feature is expected to improve customer satisfaction, allowing Tesla owners to make informed decisions about when and where to charge their vehicles. It also addresses a long-standing concern among electric vehicle (EV) owners — the uncertainty and inconvenience surrounding charging station availability.
Tesla App Now Displays Supercharger Prices
Tesla has also introduced a new feature that displays Supercharger pricing information within the app. Users can now easily view the cost of charging at a particular station, as well as any variable rates depending on the time of day. This update aims to provide greater transparency and help users better understand the costs associated with charging their vehicles.
Supercharger prices can vary based on local electricity rates, demand, and regional pricing strategies. By offering this information within the app, Tesla owners can make more informed decisions about which Supercharger stations to use and potentially save money by selecting stations with lower prices or charging during off-peak hours.
Unfortunately, Supercharger prices are only shown when you're viewing a specific charger. If you're viewing the list of nearby Superchargers, prices are still absent. However, that may change in a future update.
Availability
These enhancements come with a configuration change on Tesla's end and do not require an app update. As long as you have the latest Tesla app, v4.19.5 you should now be able to view Supercharger wait times and pricing on Android and iOS.
This enhanced pricing transparency is another step towards improving the overall user experience for Tesla owners. With a better understanding of the costs and wait times associated with Superchargers, drivers can plan their trips more effectively, ensuring a smooth and hassle-free EV ownership experience. As the EV market continues to grow, these features will likely become increasingly important to both new and existing Tesla owners.
Ordering a New Tesla?
Consider using our referral code (nuno84363) to help support our site. Model 3 and Y buyers will receive credits toward Tesla Merch, while Model S and X buyers will receive $1,000 off and 3 months of FSD for free.