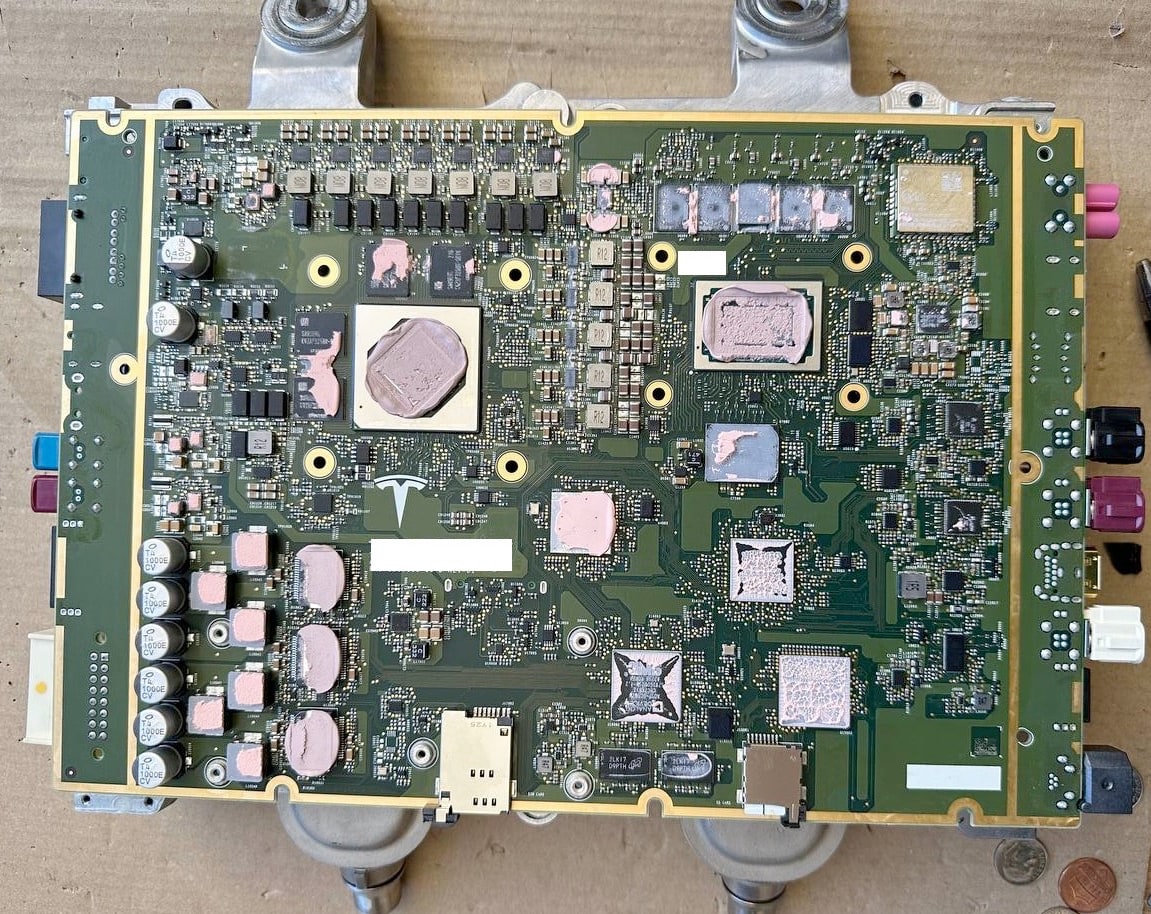 Since its introduction, Tesla's Hardware 4 (HW4), the company's most advanced full self-driving computer, has been shrouded in mystery. Renowned Tesla hacker @greentheonly, or Green, has uncovered more details about HW4, providing valuable insight into its technology.
2-SOC Version and Camera Layouts
Green's analysis of firmware samples led to the discovery of the shipping version of HW4, internally referred to as the 2-SOC (System on a Chip) version. This version supports two possible camera layouts: the current one or an expanded one with added surround-view cameras, such as a front bumper camera and two additional side cameras. These cameras can run at a resolution of 2880x1876 and reach up to 45 frames per second. The main and backup cameras have unique specifications, with the vendor yet to be determined.
The new Global Navigation Satellite System (GNSS) is reportedly based on the Teseo V platform, while the radar system connects via Ethernet and operates on an internal IP address of 192.168.90.110.
Initial HW4 Camera Connectors and New Cameras
Initially, Green revealed HW4 with 12 camera connectors, and new cameras were expected to be used in HW4 vehicles. However, the first vehicles with HW4, specifically the Model S and Model X, have the new hardware but do not include the new cameras. As previously reported in our Project Highland article, Tesla plans to add a new camera to the bumper and one more to each side of the vehicle.
Two HW4 Setups and the 3-SOC Version
Green's latest findings show two HW4 setups: one with additional cameras and one without. Additionally, Green's firmware analysis has uncovered the existence of a 3-SOC version in development. The camera layouts for this version remain the same, but the internal deserializing routing differs.
Increased heat output from the GPU in HW4 has possibily led to limitations in its capabilities. The 3-SOC version could potentially address this issue by offering better heat dissipation or paving the way for new hardware. However, the exact purpose and development of the 3-SOC version remain uncertain at this time.
Tesla Semi Truck-related Findings
In another intriguing development, Green's firmware analysis revealed information related to Tesla's Semi truck, with the Battery Management System (BMS) and all three subpacks accessible over an internal ethernet network.
These discoveries by @greentheonly provide a comprehensive understanding of the advanced technology behind Tesla's HW4. As the most advanced full self-driving computer on the market, its potential applications and capabilities are undoubtedly exciting for the automotive industry and consumers.
As Tesla continues to develop and refine its full self-driving technology, it is crucial to address questions about its safety, functionality, and integration with existing systems. The world eagerly awaits further developments in the cutting-edge HW4 and the autonomous driving experience it promises to deliver.