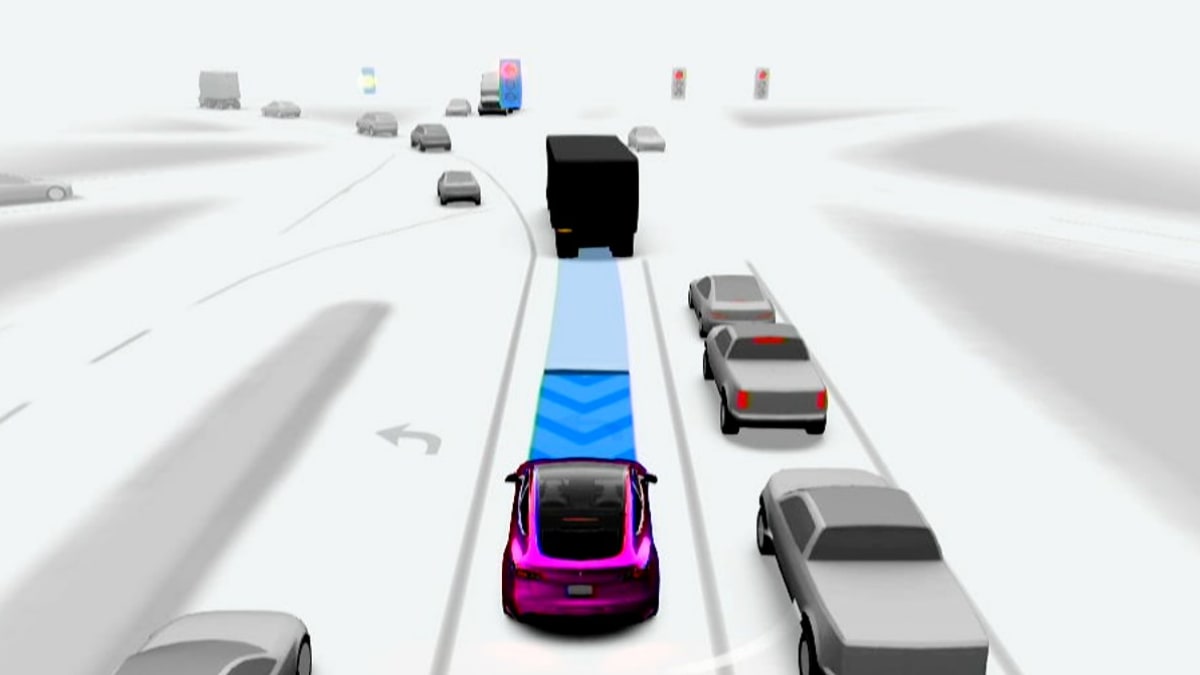 Tesla released FSD Beta 11.3.3, version 2022.45.12 to employees last night. Early this morning Tesla transitioned to a public release and started sending out the beta to various consumers.
This release appears to focus on bug fixes, as the release notes remain the same as beta 11.3.2.
Release
The expansion of 11.3.2 was halted after reaching about 9% of testers. We can only assume that Tesla identified a critical issue that needed to be addressed. The release of 11.3.3 is expected to fix these issues and expand to more users.
Tesla sent out a large wave this morning to update owners that were on beta 11.3.2.
New Visualizations and Feedback Feature
Tesla also introduced new driving visualizations, such as a wider path, blue chevrons, a stop line, and blue traffic lights. Additionally, the update includes the "Voice Drive Notes" feature, which allows drivers to provide hands-free feedback on Autopilot disengagement.
You can also check out our in-depth look at FSD Beta v11.3 visualizations and options.
What's in FSD Version 11
The update includes a myriad of improvements to FSD Beta's features and performance, such as:
Unifying the vision and planning stack on and off-highway replaces the legacy highway stack and integrates multi-camera video networks with next-gen planners, resulting in smoother control and better decision-making capabilities.
Better positioning in wide lanes by biasing in the direction of the upcoming turn to allow other cars to maneuver around the Tesla vehicle more efficiently.
Last updated: Sep 25, 11:54 am
Smoother lane changes in dense traffic scenarios, allowing higher acceleration during the alignment phase for more natural gap selection when overtaking adjacent vehicles.
Enhanced handling during scenarios with high curvature or large trucks, maintaining safe distances to other vehicles on the road and increasing comfort for passengers.
Improved driving behavior next to parked cars in narrow lanes, preferring to offset and staying within the lane instead of unnecessarily lane changing away or slowing down.
New text blurbs on the user interface to communicate upcoming maneuvers and improved visualization of upcoming slowdowns along the vehicle's path.
Chevrons render at varying opacity and speed to indicate the slowdown intensity, with a solid line appearing at locations where the car will come to a stop.
NHTSA Recalls
Moreover, Tesla is addressing specific behaviors within FSD Beta as part of a recent recall. These improvements include:
More natural and human-like yellow light handling by modeling the decision as a tradeoff framework that considers estimated deceleration, time to enter and exit the intersection, and the distance traversed across the intersection before the light transitions to red.
Enhanced speed adjustment when entering certain speed zones by allowing for earlier control for detected speed limit signs and adjusting the assertiveness of the response accordingly.
A visual glow behind the speed limit icon on the user interface alerts the driver when the vehicle's set speed exceeds the detected speed limit by more than 50%.
Updated behavior for certain scenarios where the Tesla may maneuver from a turn lane to continue traveling straight, treating these maneuvers as a lane change with the turn indicator used to alert other drivers of the Tesla's intent.
Another Step Toward Autonomous
With this update, Tesla aims to enhance its Full Self-Driving system's overall user experience and safety. The company is continuously refining the technology through fleet learning, user feedback, and rigorous testing to bring autonomous driving closer to reality.
Tesla has been stressing the importance of driver vigilance even while using the FSD Beta, reminding drivers to keep their hands on the wheel and eyes on the road. The release notes reiterate that the system may not detect all objects and may not brake or slow down for crossing traffic or stationary objects, particularly when moving at high speeds.
As Tesla continues to refine its Full Self-Driving technology, the company faces increasing competition from other automakers and tech companies, such as Waymo, Cruise, and Argo AI, who are all working on developing their autonomous driving systems. Nevertheless, these updates signify Tesla's commitment to the development and improvement of its self-driving technology, inching closer to a future where autonomous vehicles are more commonplace on the roads.
The release of FSD Beta 11.3.3 is a step forward for Tesla in addressing the challenges faced in previous versions and improving the functionality and safety of its autonomous driving system. As the company works on expanding its fleet of FSD Beta testers and gathers crucial data to make further enhancements, the future of autonomous driving becomes closer to becoming a reality for Tesla owners.