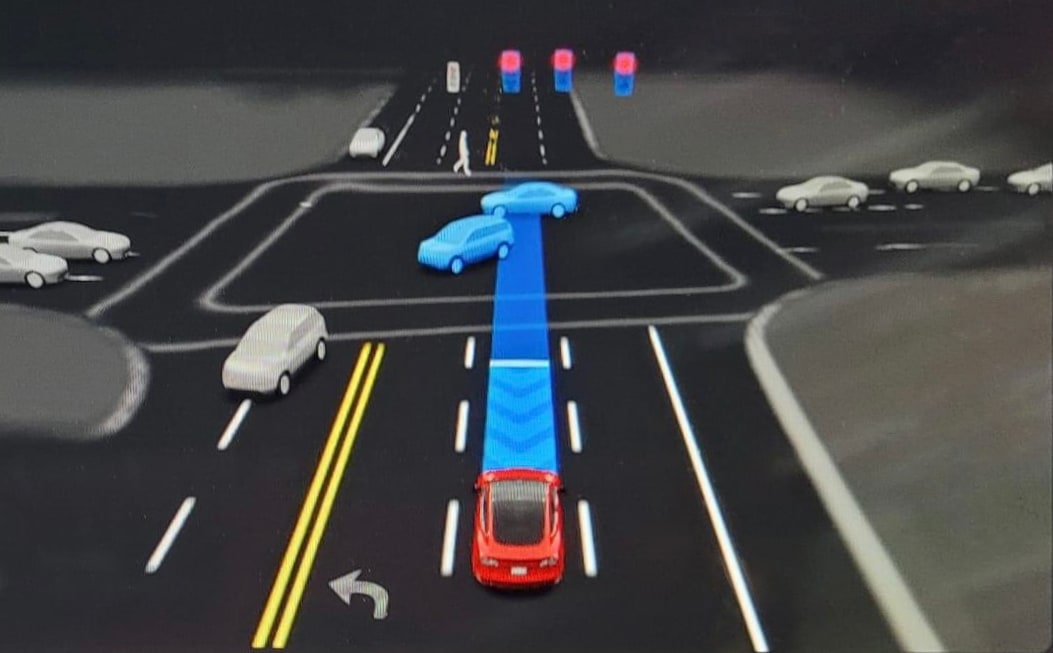 Tesla has released an update to the much anticipated FSD Beta v11, which is currently in internal testing. The update is version 2022.45.10 and it's FSD Beta 11.3.1. This update is going out to employees that were presumably on FSD Beta 11.3 before. Beta 11.3 was version 2022.45.5.
Although complete release notes are not available right now, an employee has released a photo of part of the release notes, which includes a new visualization.
New Visualization
In beta 11.3, Tesla redesigned the blue path so that it would consume the width of the vehicle, making it obvious which objects may be in the vehicle's path.
Tesla also added a red line to show where the vehicle was set to stop. It appears that this line has now been changed to white, to make it match better aesthetically. However, it looks like Tesla has also added chevrons to part of the path.
Our interpretation is that the chevrons will only show up when the vehicle is slowing down, similar to how they appear on the highway when the vehicle is reducing its speed because of slow-moving traffic in adjacent lanes.
Wide Release to Public Testers
Several weeks ago Elon Musk said that he expects Tesla to have several updates to FSD Beta 11.3 before it goes to 'wide release.' He mentioned that Beta 11.3.2 may be the version that finally goes out to most testers. It appears that Tesla continues to make progress and is inching toward that goal.
This update likely includes bug fixes to Beta 11.3, but it also appears to address some of the NHTSA's concerns, such as slowing down before reaching a lower speed limit sign.
We don't expect this update to go out to any public testers given the odd-week version number (2022.45), but Tesla has been releasing some versions that go against what they've done historically lately (2023.6), so never say never.
We should have more information on the update soon.