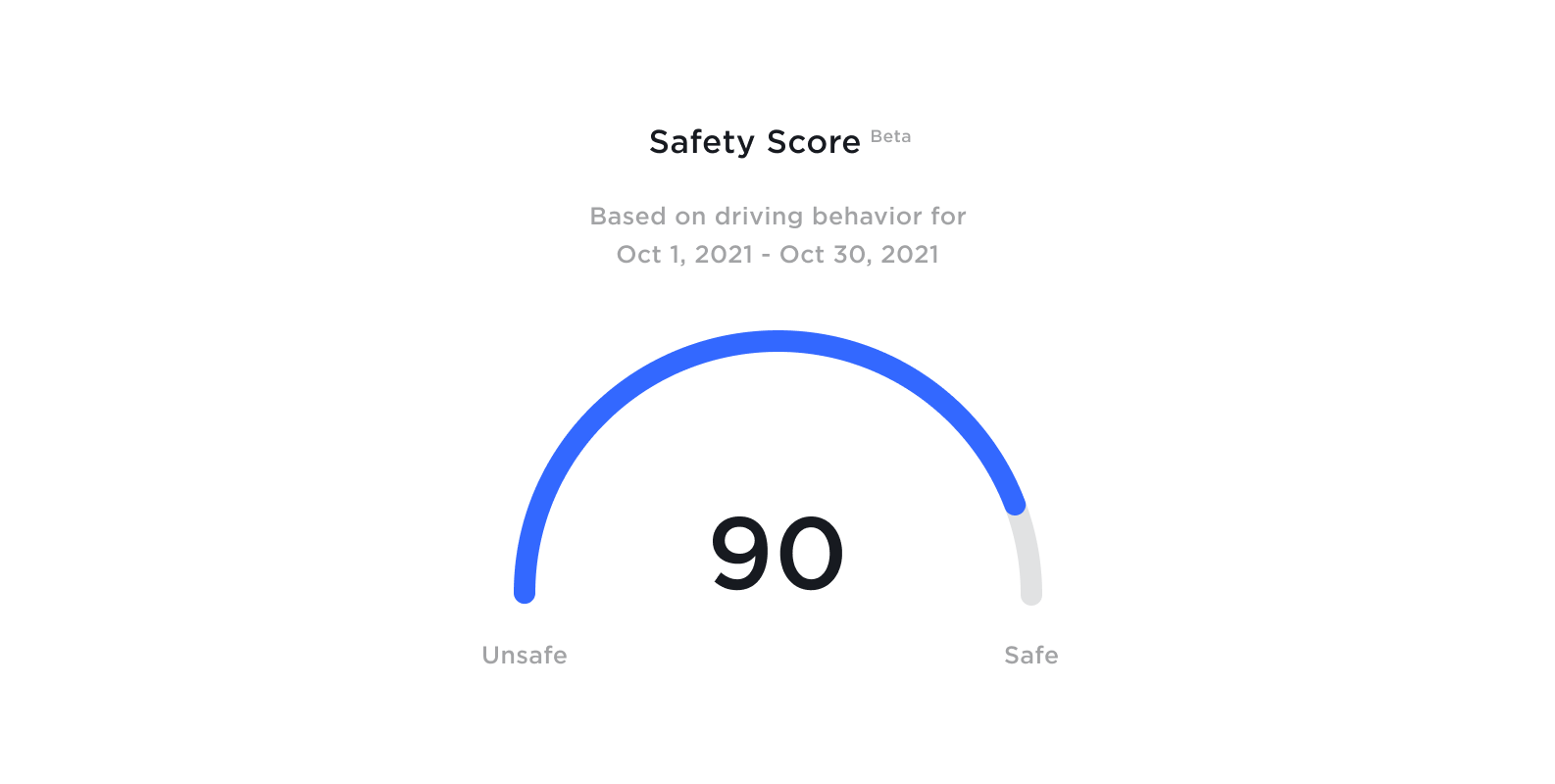 Tesla is updating their Safety Score program to version 2.0, up from v1.2. The Safety Score acts as a driving coach for Tesla owners. It assesses their driving behavior and provides feedback on how they can improve their habits, potentially resulting in lower insurance premiums. And now, with version 2.0, Tesla has introduced two new safety factors and updated the calculation of the Safety Score. Let's take a closer look at what these changes mean for Tesla owners.
The Safety Score is between 0 and 100, with a higher score indicating safer driving. It is based on several metrics called Safety Factors, which are measured by the Tesla vehicle using various sensors and Autopilot software. The Safety Score aims to encourage safer driving habits and potentially result in lower insurance premiums for Tesla owners.
What's New in Safety Score 2.0
The new Safety Factors are Excessive Speeding and Unbuckled Driving. Excessive Speeding is defined as the proportion of time spent driving more than 85 mph, while Unbuckled Driving is defined as the proportion of time spent driving above ten mph without fastening the driver's seatbelt. Late Night Driving, added in version 1.2, has also been updated to be risk-weighted based on when drivers are driving from 10 PM to 4 AM, with the impact on the Safety Score reduced earlier in the night and increased later in the night.
The updates are added to other safety factors, including Forward Collision Warnings, Hard Braking, Aggressive Turning, Unsafe Following and Forced Autopilot Disengagement. The Safety Score is calculated using the Predicted Collision Frequency (PCF) formula, which is based on statistical modeling using 8 billion miles of fleet data.
It is worth noting that yellow traffic light detection is only available on vehicles with FSD hardware 3.0 or later. The Tesla vehicle relies on its cameras and firmware to detect yellow traffic lights, so it may not detect all yellow traffic lights. Examples of situations that could lead to undetected yellow traffic lights include when the cameras are obscured or do not have a line of sight of the traffic signals, inclement weather, or low light environments.
How to Achieve a Safe Score
Unfortunately, Tesla's Safety Score isn't available for everyone, at least not yet. To see your Safety Score, you need to have Tesla Insurance or have requested FSD Beta, but have not received it yet.
To determine which Safety Score version you're on, you can open the Tesla app and scroll to the bottom of the Safety Score screen. It'll show you whether you're enrolled in version 1.0, 1.2 or 2.0.
Tesla owners can improve their Safety Score by improving each Safety Factor, such as maintaining a safe following distance, engaging the brake pedal early, turning gradually, not tailgating, planning trips to avoid driving between 10 PM and 4 AM, and fastening their seatbelts before driving.
It is important to note that miles driven while Autopilot is engaged are not used to determine the Forward Collision Warnings per 1,000 Miles. Additionally, driving on Autopilot (including 5 seconds after Autopilot is disengaged) will not be factored into the Safety Score formula. Still, the miles driven while on Autopilot are included in the total.
Safety Score 2.0 Requirements
Safety Score 2.0 requires the vehicle to be on software update 2023.2.12 or later (2021.24.25 or later for Tegra vehicles) or be enrolled in FSD Beta version 11.3 or higher.
The Safety Score can help drivers identify areas to improve, such as reducing speed or maintaining a safe following distance. In addition to providing feedback to individual drivers, the Safety Score data is also used by Tesla to improve the safety features of their vehicles. The data collected from millions of miles of driving can be analyzed to identify patterns and trends in driving behavior, which can then be used to inform the development of new safety features or improvements to existing features.
Overall, Tesla's Safety Score is a powerful tool for promoting safer driving habits and improving the safety of its vehicles, which are already the safest in the world.