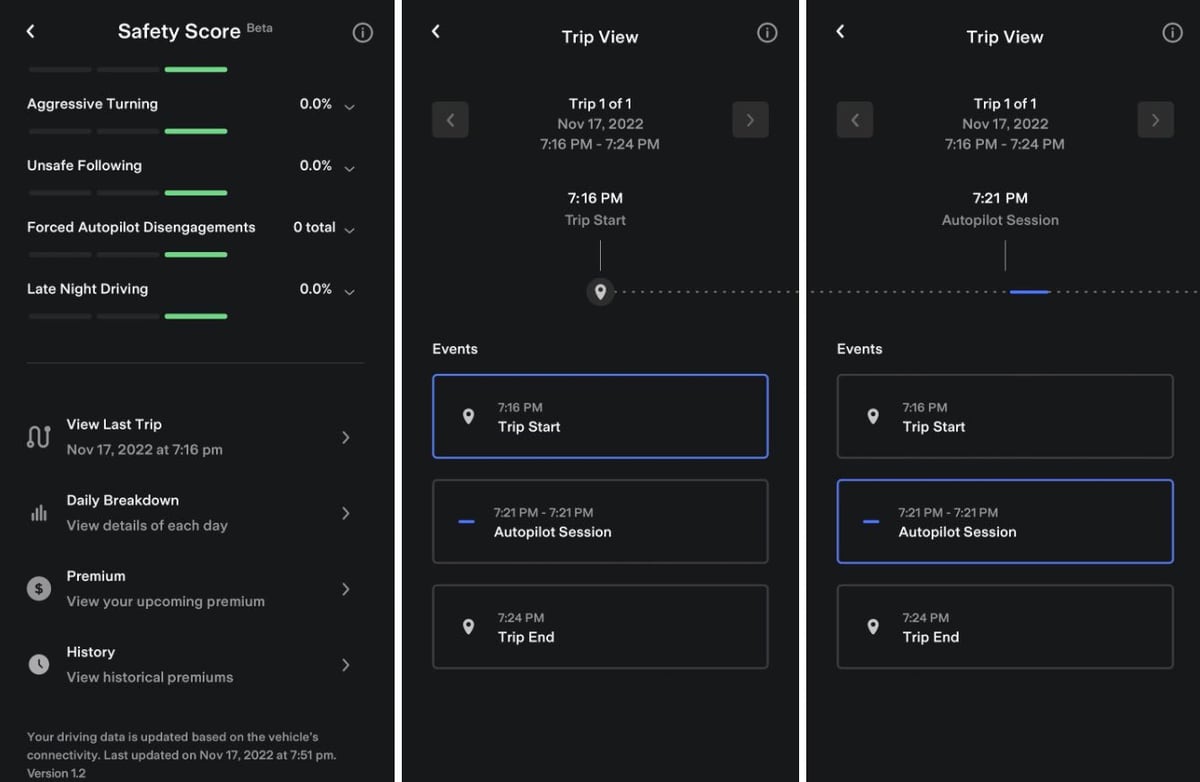 Tesla has updated its Safety Score feature to version 1.2, which adds late-night driving as a factor, among other things.
Since the Safety Score feature launched, Tesla has had a handful of improvements. Version 1.2, however, is the function's biggest update yet. This update will hopefully address a number of the concerns drivers were having before about how the score was calculated.
Tesla uses the Predicted Collision Formula (PCF) to calculate all of the above factors. This formula predicts how many car accidents may happen per 1 million miles driven.
This new version 1.2 adds features like a visualization of your trip (without location data to protect privacy), Late Night Driving and an increased grace period from three to five seconds.
Here is a list of the changes to Safety Score:
Provided a visualization of your trip, as a timeline, to show when specific events that impacted your Safety Score occurred. To protect your privacy, no location data is provided.
Added Late Night Driving as a new Safety Factor. More time spent driving at night will lead to a lower Safety Score.
Increased grace period after Autopilot disengages from 3 seconds to 5 seconds.
Updated hard braking and aggressive turning Safety Factors to count the number of events instead of the duration of events.
Updated Forward Collision Warning rate Safety Factor to calculate the rate of warnings per 1,000 miles driven while not using Autopilot.
Updated Safety Score to use the miles-weighted average of the last 30 day's Safety Scores, ignoring any miles driven on Autopilot.
One of the biggest upgrades to version 1.2 is the addition of Late Night Driving. Tesla notes in their blog post that, "Late Night Driving is defined as the number of seconds you spend driving at night (10pm - 4am) divided by the number of seconds you spend driving total in the day." Although Late Night Driving is capped at 29.3% of your total score.
The reason Tesla has added this as a safety factor is that driving at night can be more dangerous due to reduced visibility, tiredness, and distractions.
According to the National Safety Council, most fatal accidents occur between 4pm and 11:59pm, with Friday, Saturday, and Sunday being the most frequent accident days.
Tesla's new trip visualization feature in version 1.2 is also a welcomed improvement. Previously, drivers were not given detailed feedback about their drives. Instead, they were just given an adjusted score. Trip visualization will show drivers when their trip started, when Autopilot was engaged/disengaged, the time of the infraction (if any), and when the trip ended.
These insights will hopefully allow drivers to reflect on each drive and correct any aggressive driving in order to receive Full Self-Driving beta.
Although Tesla has launched Safety Score v1.2, some drivers will remain enrolled in the original version. You can see which version you're enrolled in by scrolling to the bottom of the Safety Score screen.
These Safety Score improvements come at the same time Tesla Insurance launches in Minnesota.