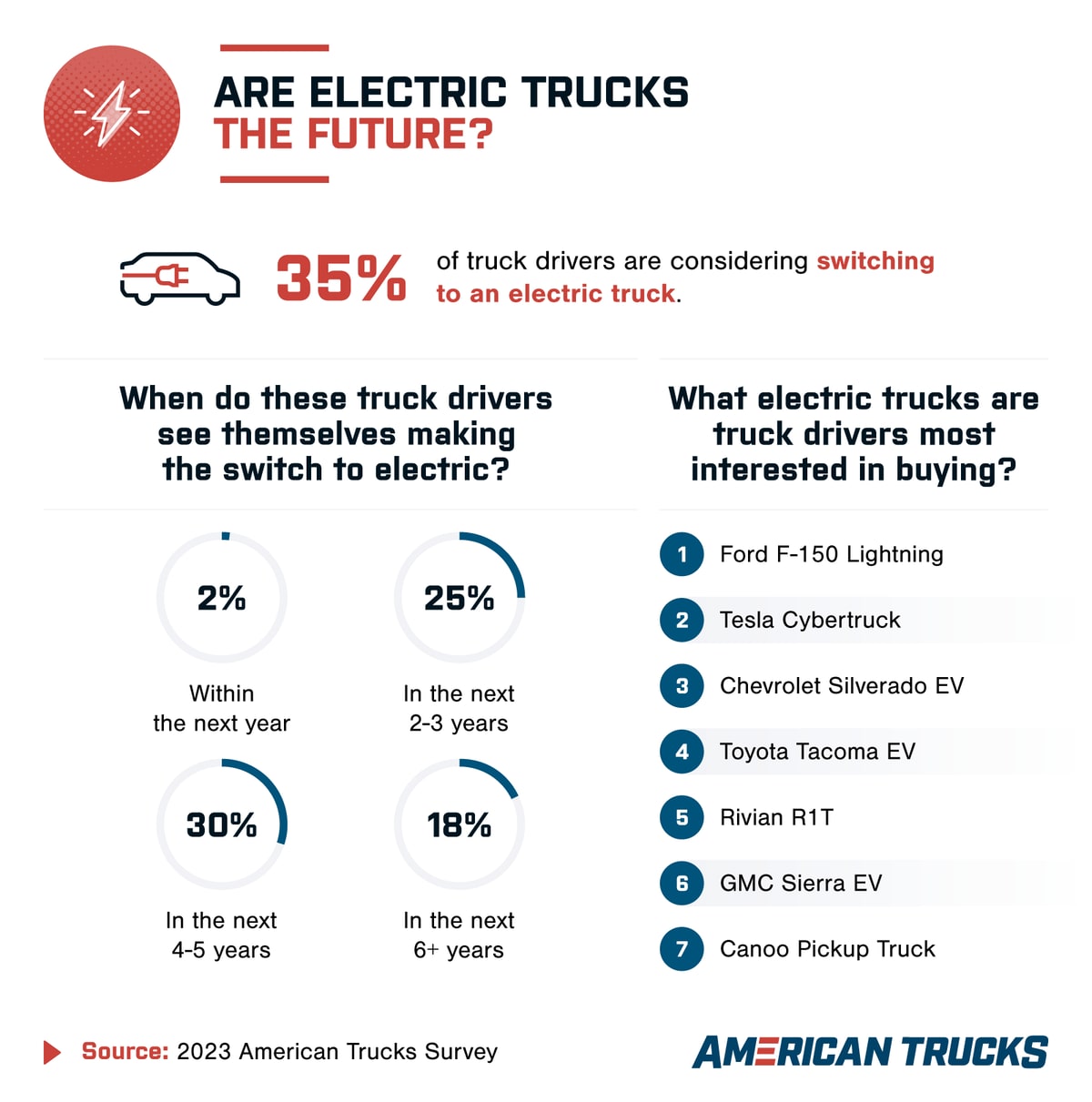 Oh, the irony! American truck drivers are all revved up for electric trucks, yet they can't wrap their heads around the idea that the Tesla Cybertruck is a "real" truck. Sounds like a classic case of a truck identity crisis!
A recent survey by American Trucks delved into the opinions of truck drivers in the United States about electric trucks, revealing a sizable number of them are considering going electric. However, an interesting finding from the survey is that many truck drivers don't see the Tesla Cybertruck as a "real" truck.
The survey aimed to gauge the excitement around electric pickup trucks and understand the preferences of both truck owners and non-truck owners. Electric vehicles have been gaining popularity, but electric pickup trucks have taken longer to enter the market. With more models becoming available, American Trucks sought to identify which ones generate the most interest.
Truck Drivers are Ready for Electric
According to the survey's results, 35% of truck drivers are thinking about transitioning to electric trucks within the next decade, with most planning to do so within the next five years. The electric pickup models that have captured their attention include the Ford F-150 Lightning, Tesla Cybertruck, Chevrolet Silverado EV, Toyota Tacoma EV, Rivian R1T, GMC Sierra EV, and Canoo Pickup Truck.
Drivers' slower adoption of electric trucks can be attributed to valid concerns. While range anxiety is becoming less of an issue for most passenger vehicles, it is still significant for truck drivers who use their vehicles for heavy-duty tasks like towing. Electric trucks' range can be affected under these conditions, leading to driver hesitancy.
Cybertruck Gets the Attention
Interestingly, when the survey shifted its focus to non-truck drivers, the Tesla Cybertruck emerged as the most anticipated electric pickup. This finding suggests a difference in perception between truck drivers and the general public, who might be more attracted to Cybertruck's futuristic design and unique features.
Despite the Cybertruck's popularity among non-truck drivers, 56% of the truck drivers surveyed don't believe it is a "real" truck. The reasons for this perception remain unclear, but it could be due to the unconventional design, the vehicle's specifications, or other factors that might not align with traditional truck drivers' expectations.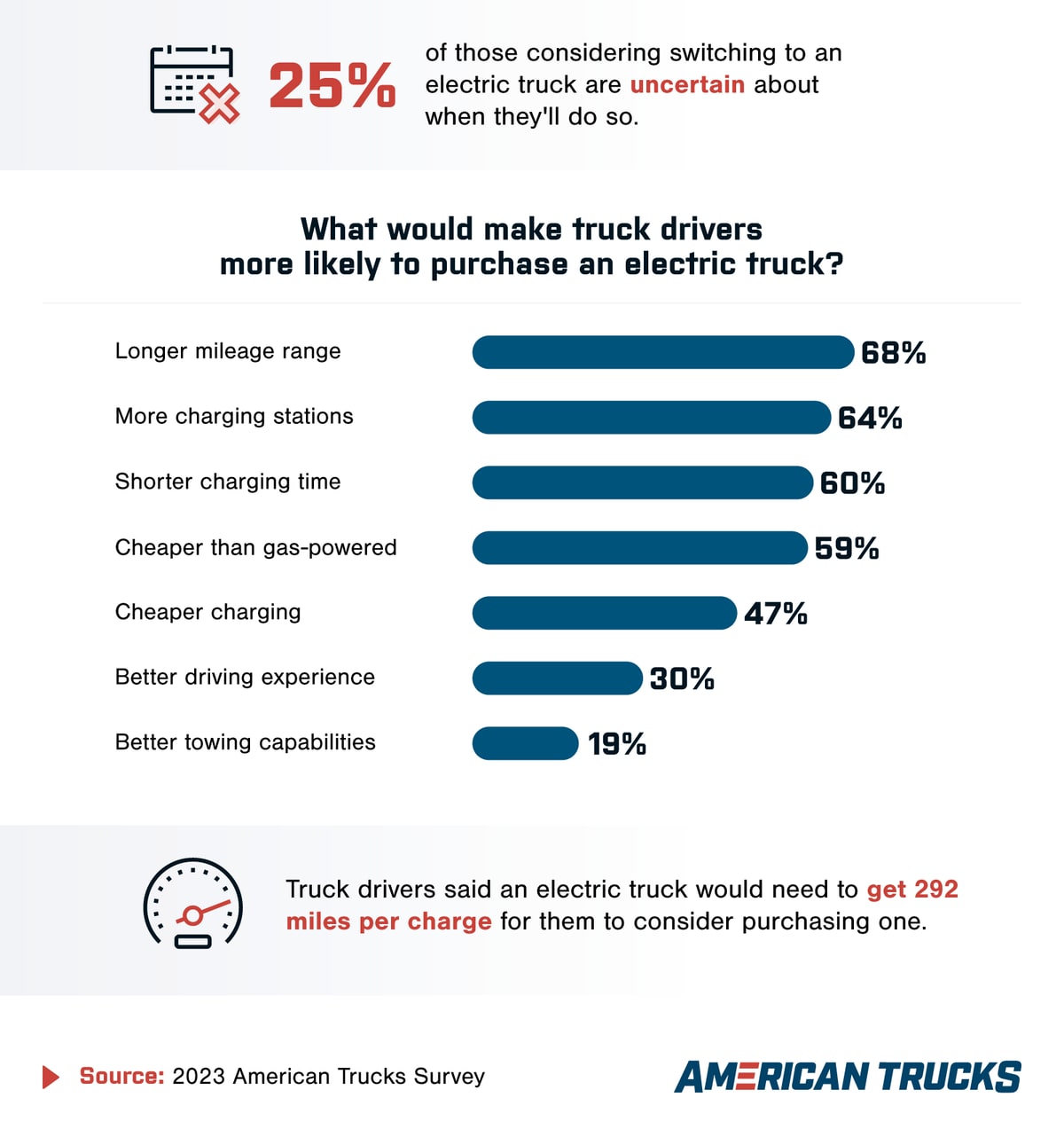 Production Concerns
Tesla has announced plans to begin Cybertruck production this summer, but many truck drivers surveyed believe it will be at least two years before it becomes widely available. Their skepticism might also be influenced by Tesla's track record of production delays and the fact that there are already around a million reservations for the Cybertruck.
Truck drivers are seeking longer ranges, increased availability of charging stations, and faster charging times before they fully commit to switching to electric trucks. These factors play a crucial role in ensuring that electric trucks can be effectively used for work purposes, just as their gasoline-powered counterparts have been for years. It will be interesting to see how perceptions change and whether the Tesla Cybertruck can eventually win over the hearts of traditional truck drivers.
We recently covered how the Cybertruck is expected to have an 18.5" screen, rear-wheel steering and 18" wheels.