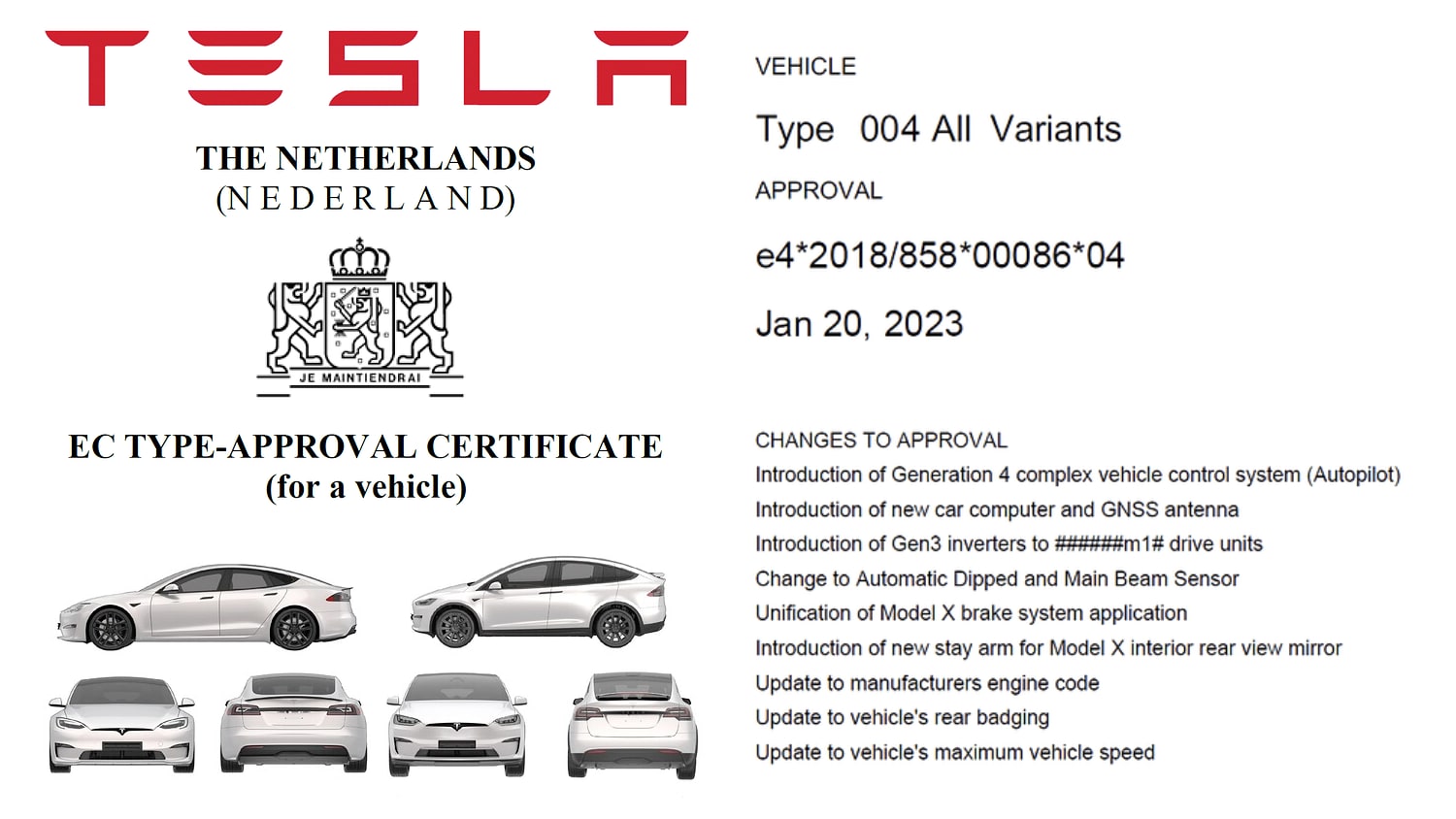 Tesla's highly anticipated FSD hardware 4, also known as HW4, will be installed in new vehicles any day. The company received European approval to sell its latest FSD hardware in the Model S and Model X vehicles.
The timeline for deployment of the new computer that operates the most technologically advanced vehicle in the world has been a mystery. There was some speculation that Tesla may hold off launching the highly advanced system until Cybertruck's release. However, only a limited number of Cybertrucks are expected this year, with full production starting in 2024.
Several Changes Incoming
Several other changes are being made to Teslas according to the European Certificate, issued by the Dutch vehicle authority RDW, dated January 20, 2023. The maximum speed for the Model S is increasing to 174 MPH (280 km/h) from the factory. But owners can tack on even more speed with the optional Carbon Ceramic Brake Kit, which will boost the car to the previously mentioned 200 MPH (322 km/h). It sounds like the Carbon Ceramic Brake Kit option may soon become available.
Hardware 4.0
Unfortunately, the European certificate doesn't reveal any details on what is included in Tesla's 4th generation Autopilot hardware. The system is expected to use 5-megapixel cameras, which will give Autopilot a substantial advantage in determining objects that are further away. The new hardware will also include a new FSD computer which is expected to be about 4x more powerful than the FSD computer in hardware 3 today. Additionally, HW4 is expected to include an HD radar, which could significantly improve FSD. In the same line item as the new FSD computer, Tesla also mentions a new GNSS antenna that is used for GPS. However, GNSS antennas also provide support for other systems such as GLONASS, Baidu, and Galileo.
Other Changes to the Model S and Model X
Other approved European updates are new Gen3 inverters and changes to the automatic headlights. In addition, the Model X will have a unified braking system and a new stay arm for the interior rear-view mirror. Finally, the cosmetic changes that rolled out in North America last month will also be implemented in Europe with the rear badging.
Retrofits will not be Offered by Tesla
It is yet to be known when the new hardware will debut, but Tesla will not retrofit the existing fleet. During the fourth quarter earnings call, Elon Musk said that the "cost and difficulty of retrofitting hardware 3 with hardware 4 is quite significant. So, it would not be, I think, economically feasible to do so."
This could be due to the new HD radar, new power, or space requirements for the new computer or radar, or due to complexities with wiring harnesses. It would also put a huge burden on Tesla Service, which would have to upgrade millions of vehicles. There could also be more to hardware 4.0 that has not been disclosed.
Model 3 and Model Y
It's not surprising that Tesla has decided to introduce hardware 4.0 to the Model S and Model X first. These are lower-volume vehicles and it makes sense for them to slowly roll out these changes. Parts may still be limited or Tesla may want to reduce the cost of a recall if there are any issues with the new hardware. We know the upcoming Cybertruck will also use hardware 4.0, but that still leaves the Model 3 and Model Y out. However, we speculate that Tesla will try to get the Model 3 and Y updated as soon as possible. Once the word is out that the Model S and Model X vehicles include hardware 4.0, many owners may prefer to wait before ordering or taking delivery of a Model 3 or Model Y.
We will likely find out more about FSD hardware 4.0 very soon as these vehicles start being delivered to customers.