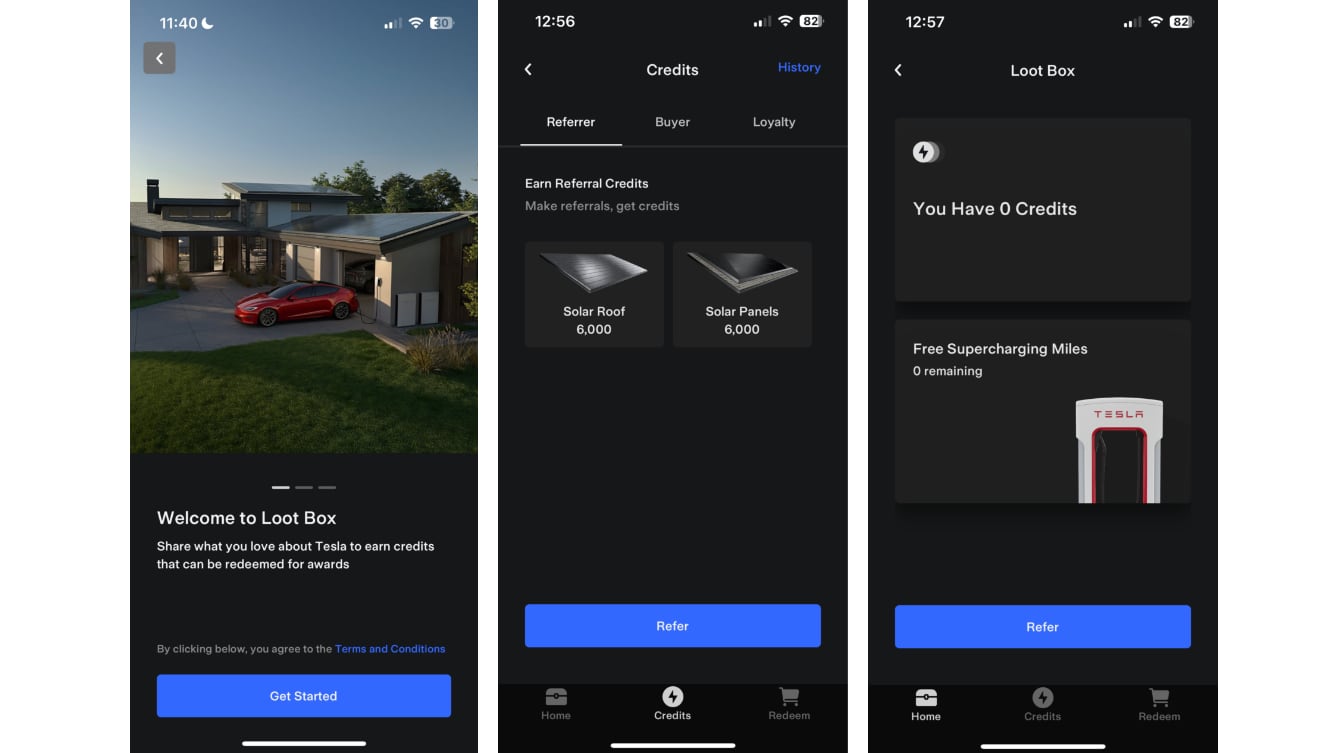 Tesla has filled the Loot Box back up in the app, which now contains Tesla's revamped referral program. The reintroduction comes less than a month after Tesla launched a referral program in China called Treasure Box. We saw this coming in October when Tesla updated some localized strings in its iOS update.
Tesla's updated referral program hands out credits instead of cash or prizes. The credits could then be used to purchase Tesla accessories such as vehicle chargers, t-shirts, shot glasses and other items you'd normally find in Tesla's online shop.
Vehicle Referrals
Although the program has been relaunched in the U.S., it did not bring back vehicle referrals as expected. At this time you are still limited to referring friends and family to Tesla's solar products.
Tesla put its vehicle referral program on hold in September of 2021. We expected Tesla to relaunch that program with its revamped loot box, but that hasn't been the case. It's not clear whether Tesla is going to bring back vehicle referrals at a later date.
Tesla will now list qualifying products in the Loot Box section of the app, under the Credits tab. In the U.S. qualifying products are currently limited to Tesla's Solar Roof and Solar Panels. Given that Tesla lists qualifying products in a separate tab and has room for additional products could mean that Tesla plans to alter qualifying products over time or based on a user's region. Tesla could also add or remove products based on demand.
Tesla's statement on its website leaves the referral system open to all Tesla products, not just solar. It states: "Our goal is to help Tesla owners share their passion for Tesla's products and our mission — to accelerate the world's transition to sustainable energy. As an owner, every time you bring a new friend or family member into the Tesla community, you and your friend both earn credits — you earn Referral Credits and your friend earns Buyer Credits. You also earn Loyalty Credits when you purchase additional qualifying Tesla products, as a thank you for being a loyal Tesla owner."
Prizes
Here are some items available in the Loot Box:
J1772 Wall Connector — 11,000 credits
Wall Connector — 6,000 credits
CCS Combo 1 Adapter — 5,000 credits
2,000 Supercharger Miles — 4,800 credits
Model S/3/Y Pet Liner — 2,900 credits
Men's Raven Lightweight Hoodie — 2,000 credits
Tesla Sipping Glasses — 1,750 credits
Wall Connector Color Matched Faceplate — 1,500 credits
Tesla Short Shorts — 1,469 credits
Powered by the Sun License Plate Frame — 800 credits
Let the Sun Shine Tee — 700 credits
Solar Roof/Powerwall Tee — 700 credits
Solar products earn 6,000 credits and accumulate in your Loot Box under one amount. However, the credits do expire after 12 months unless you add more credits to your account. Each time new credits are added the expiration cycle restarts, giving you one year to use the credits or add more.
Shirts and glasses don't compare to the Roasters that were part of previous referral programs. However, that may indicate how far the company has come. There was once a time when convincing friends to buy Tesla products was so difficult that the company had to offer extravagant prizes. Now, it's a much easier sales pitch, and a T-shirt will suffice.
To access, open your app and tap on your profile image in the top right corner. There you will find Loot Box near the bottom of the screen, and when you tap on it, there is a button to share your referral code.