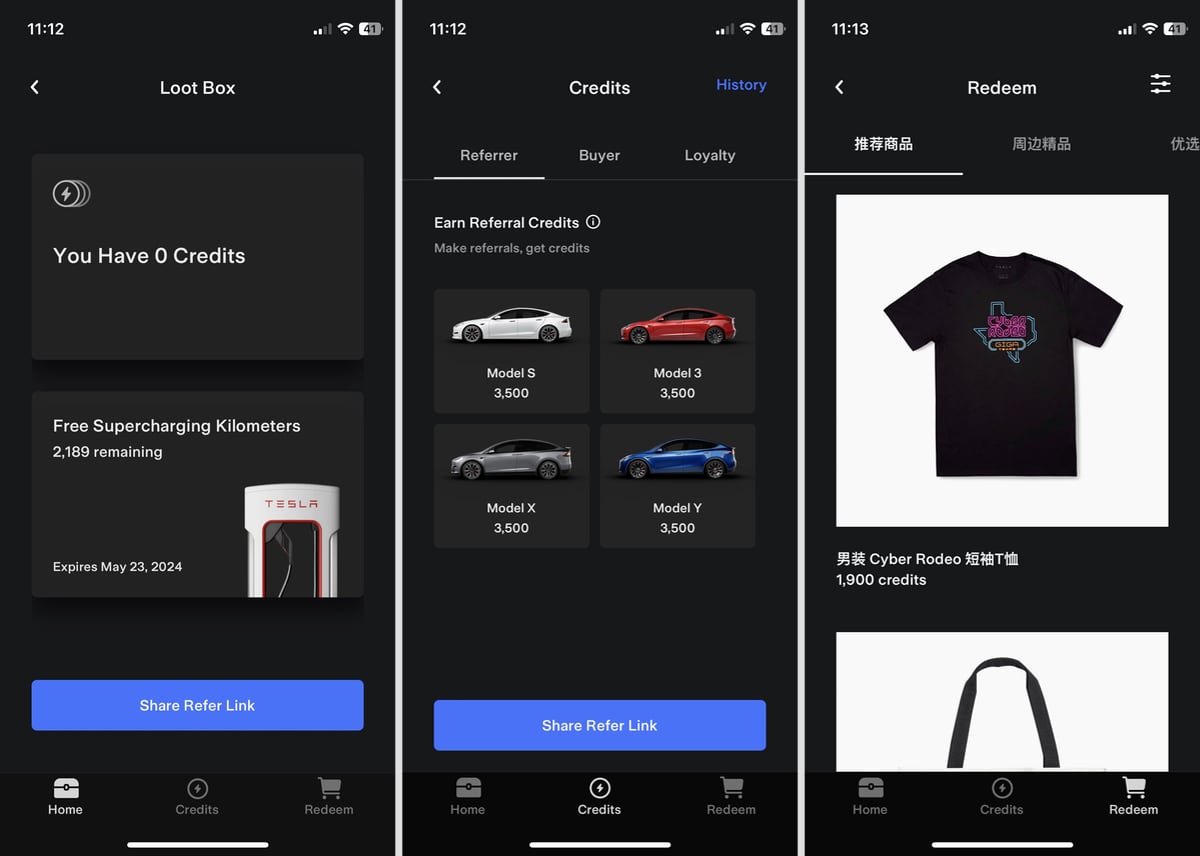 Tesla cancelled the popular Loot Box in 2021, but the referral program may return. Tesla used Weibo to announce the launch of a new program in China — Treasure Box.
The post encourages Tesla owners to recommend the product to friends for the opportunity to open the Treasure Box and win prizes. This move comes just days after references to the new referral program were found in the latest app update.
The buyer and the person who refers them to Tesla get 3,500 credits each. A loyalty program also awards 7,000 credits to current Tesla owners when they purchase another Tesla. Twitter user @Tesla_Mania, located in Shanghai, China, has posted several screen grabs and videos of the Treasure Box.
Referral credits can be cashed in for items like a Cyber Rodeo t-shirt (1,900 credits), Cybertruck socks (1,300 credits), Cybertruck hat (1,400 credits) a Tesla tote bag (500 credits), a Tesla umbrella (2,000 credits), My First Tesla Model Y (6,000 credits), a Tesla Tumbler (1,700 credits), and TeslaMic (12,000 credits) are just a few on the list.
It appears the credits can be used for Supercharger miles as well. Referrals are also entered for annual draws with bigger prizes. These drawings will award people with a VIP Tour of Giga Shanghai, a Model 3/Y RWD for 12 months, or Full Self-Driving for 24 months.
The Treasure Box announcement comes on the same day that Tesla lowered prices and just a few days after introducing incentives to those who bought the company's insurance. Tesla is ramping up efforts in China as it's currently third in electric vehicles behind BYD Motor and SAIC-GM-Wuling.
Loot Box video https://t.co/r33T67Y0ze pic.twitter.com/Q07tWxV96i

@Tesla__Mania October 24, 2022
A similar referral program may also start to show up in the North American market. Perhaps that is why there is a reference to it in the latest Tesla mobile app. As we reported, @TeslaAppUpdates iOS found some interesting code, "Okay one string that may provide some insight referral_share_sheet_refer_text': 'Use my referral link to purchase a Tesla product and get free credits you can redeem for awards like Supercharging miles, merchandise and accessories.'"
Elon Musk used his experience at X.com to reward users with cash cards for signing up and more cards for referring new users. That method translated to Tesla's referral program awarding an estimated eighty yet-to-be-produced Roadsters. The company cancelled the program more than a year ago, but if China's Treasure Box is any indication, the program will be back, albeit with smaller rewards.