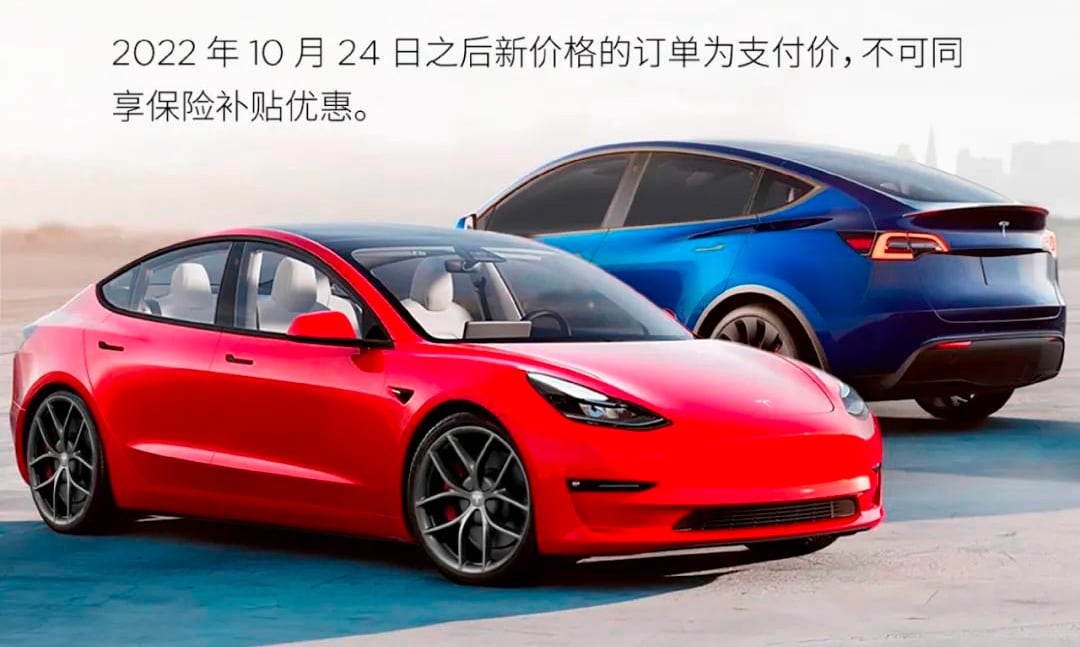 Tesla has reversed its most recent price hikes across the board in China — cutting the cost of some models by 5 to 10 percent.
Just last month the company started offering incentives to those who bought Tesla's insurance. Observers speculate this could signal the beginning of the price war in the country as numerous electric vehicle makers are jousting for the top spot. The implications could be far-reaching as more companies are building EVs, and a recession is looming. Price will be the number one factor for many considering an EV.
Reuters reports Tesla stated, "it was adjusting prices in line with costs. Capacity utilization at its Shanghai Gigafactory has improved, while the supply chain remains stable despite the impact on the economy of China's stringent zero-COVID restrictions, leading to lower costs." However, the report also claims that retail sales numbers are down, and electric car demand has also slowed.
Interestingly, the slash in prices was reported by The Paper, a Chinese digital newspaper, a month ago. But the media outlet later reported that Tesla China responded to their story, saying "Rumors, false news," and that customer service "has not received relevant notices." The drop in prices was remarkably close to the decreases that were rumored a month ago.
There's been no speculation of a price cut in North America; in fact, the demand remains high with long waiting lists. Elon Musk said during the third quarter earnings call that he doesn't see that slowing down. He said every vehicle they make would be sold. However, Elon did comment on Twitter back in July of this year saying that Tesla can lower its prices if 'inflation calms down.' We'll have to wait and see if Tesla reduces their prices in any other regions.
However, he did discuss creating a new vehicle that many believe could be the Model 2. This Model is expected to be less expensive, therefore being more competitive with companies who are offering EVs at cheaper prices.
Price Reductions in China
Model 3 RWD: reduced by $1,400 USD
Model 3 Performance: reduced by $2,500 USD
Model Y RWD: reduced by $2,400 USD
Model Y Long Range: reduced by $5,100 USD
Model Y Performance: reduced by $2,700 USD
While Tesla is the EV giant in North America, and much of the world, it is third place in China. BYD Motor and SAIC-GM-Wuling are the leaders in that country, but Tesla is gaining. The Shanghai factory is producing 22,000 units per week, a jump of nearly 5,000 since June. The company delivered more than 83,000 vehicles last month, the highest output since the factory open in 2019.
China Merchants Bank International (CMBI) told Reuters the price reductions highlight the looming recession and the industry-wide slowdown that is expected in the EV industry in China. Shi Ji, an analyst with CMBI said, "The price cuts underscore the possible price war, which we have been emphasizing since August." Some Twitter users are posting screenshots of wait lists developing in China just hours after the prices were dropped.
Ordering a New Tesla?
Consider using our referral code (nuno84363) to help support our site. Model 3 and Y buyers will receive credits toward Tesla Merch, while Model S and X buyers will receive $1,000 off and 3 months of FSD for free.