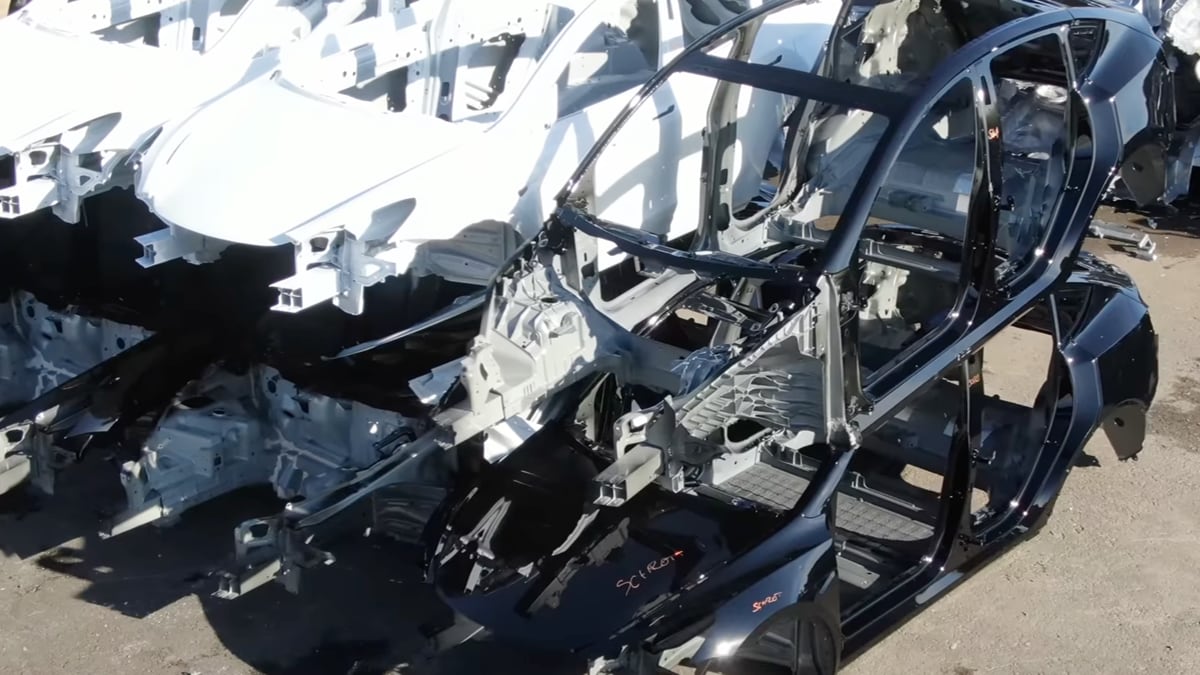 It needs 169 fewer pieces and 1,600 fewer welds; the Austin-Made Model Y Body Structure has now appeared outside the Berlin Gigafactory. This first look in the real world may offer insight into the future for Tesla. Elon Musk recently stated the next vehicle would use lessons from all models to make the next Tesla with half the time, cost and effort.
Musk showed off the simplification of vehicle structure during the shareholder meeting in the summer. "We are really re-thinking the whole way in which a car is made," said Musk. He added that Tesla created the largest casting ever produced. These complex castings "make it lighter, stiffer with better ride handling, better noise vibration harshness, better sealing against water, it is really better in every way."
"It's a gigantic improvement," the CEO told the audience, "We are going to keep enhancing the casting." Tesla showed how the improved castings reduce the number of body shop robots working on the production lines. "Even Model 3, we are at about 30 percent less robots used than on the (new) Model Y."
We are getting a close-up look at the more advanced castings thanks to drone footage courtesy of Tobias Lindh. He posted a video (below) on his YouTube channel of Giga Berlin. His drone takes wide shots of the yard outside the factory with several Model Ys. But as he moves across the yard, he zooms in on Model Ys with the front casting. It's interesting because the previous models are beside the new version with the new front.
Video of Model Y Front Casting
This advancement in the process backs up what Musk discussed in the third-quarter earnings call with investors. He said the next vehicle would, "obviously, we're going to take everything we learned from S, 3, X, Y, Cybertruck and Semi and forward into that platform." But, he continued, "we're on a 2-for-1 target," meaning engineers are working on a plan to build two vehicles with the same amount of effort it takes to put together one Model 3. Musk told investors during the third quarter earnings call, "we're twice the output. And we do believe this can be done."
The Model Y casting is tangible proof of making the process more effective. With the Tesla team of engineers tasked with finding more efficiencies, the 2-for-1 plan may be accomplished sooner than we think.