By Gabe Rodriguez Morrison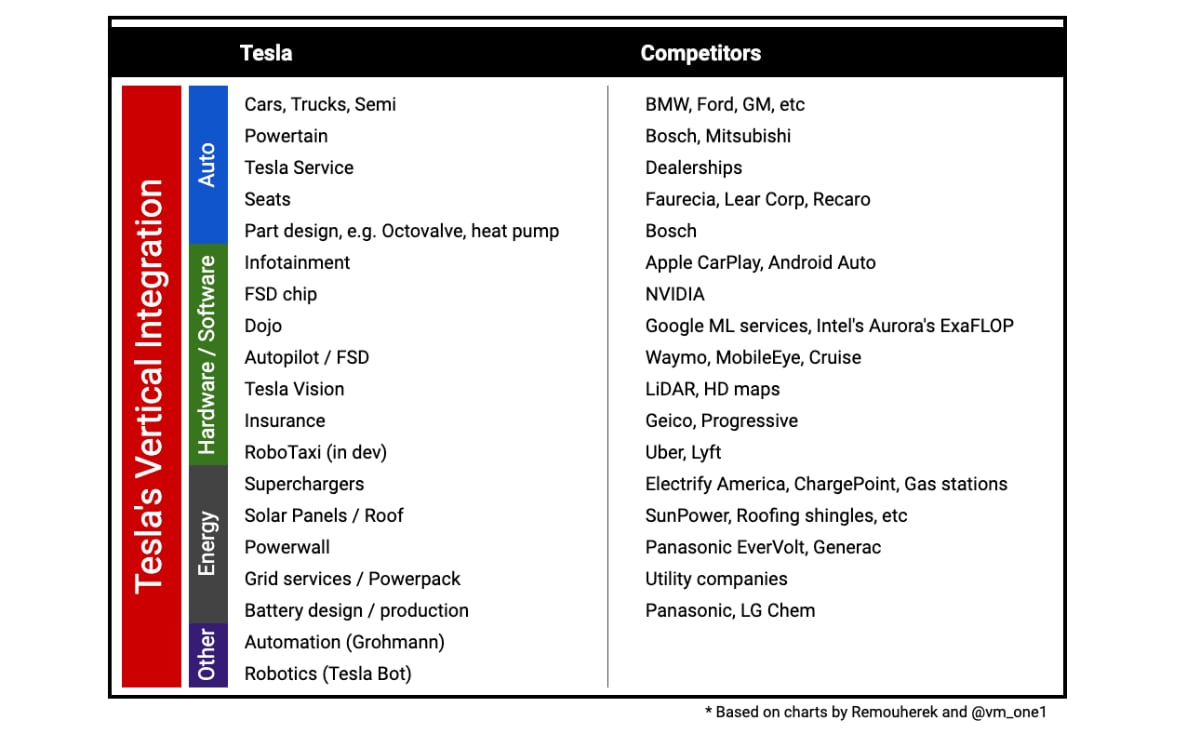 Supply chain issues brought on by the pandemic have been particularly challenging for the automotive sector. A global chip shortage among an onslaught of supply chain obstacles have adversely affected the entire industry. Tesla's vertically integrated strategy proved to be very advantageous when facing these supply chain challenges.
Tesla's insistence on vertical integration used to be one of the main reasons the company struggled to become profitable and reach volume production. Now, it has allowed the company to scale rapidly while the broader automotive industry is down amidst a supply chain disaster.
The conventional automotive business model has traditionally concentrated on design and final assembly while largely outsourcing to suppliers. This strategy left them extremely vulnerable to supply chain turmoil.
In the past, automakers outsourced as much as possible and mainly focused on supply chain management. In the short term, this strategy reduced production costs but in the long term, legacy automakers lost the ability to adapt, innovate and advance technology.
Automotive manufacturing has typically relied on third party suppliers which has led to supply chain contingency and reliance on external companies. This business model has been successful for a long time due to the maturity of the internal combustion engine and a lack of need for innovation.
Tesla recognized the stagnant supply chain of the automotive industry and revolutionized it by adopting a vertically integrated strategy.
Tesla is a chain of startups

- Elon Musk
In recent years, Tesla has defied the conventional business model, reducing supply chain needs and reliance on other companies.
Tesla has vertically integrated many production steps, from battery production to electric powertrain production and self-driving software. According to Tesla CEO Elon Musk, Tesla is a "chain of startups."
This strategy allowed Tesla to avoid shortages of batteries, which have hindered legacy automakers from reaching volume production of electric cars. Before legacy automakers began investing in electric vehicle manufacturing, Tesla partnered with Panasonic to build its first gigafactory to produce batteries. Now, the gigafactory ensures a reliable supply of batteries.
Lucid Motors, a newer EV automaker, has also adopted a more vertically integrated business model. CEO Peter Rawlinson says that gives them a huge advantage in the modern EV technology race.
In an interview, Rawlinson stated, "The electric powertrain cannot be bought off the shelf at a world-class standard, it is not a commodity. This is a technology race and the market doesn't see it yet."
Tesla's in-house software development is perhaps their biggest advantage over its competitors. As a Silicon Valley born company, Tesla has never outsourced their software. They have instead developed a proprietary self-driving software that is improved by collecting data from Tesla's network of over one million beta testers.
Ford CEO Jim Farley emphasized the company's need to move away from the "catalog engineering" business model at a conference earlier this year, saying "The most important thing is we vertically integrate."
Tesla is potentially going a step further to vertically integrate their supply chain. In light of the skyrocketing prices of lithium, Tesla may plan to get into the lithium mining and refining business. Tesla is considering mining some of its own raw materials for the same reasons that they developed their own batteries, produced their own electric motors and built their own computer chip and software for autonomous driving.
Tesla's pace of innovation and lead in the industry has become clear as the traditional business model of outsourcing components and software to cut production costs is quickly becoming outdated.