Early Sunday morning Tesla released the latest FSD Beta, v10.3. This release, 2021.36.5.2 includes numerous improvements outlined in Tesla's technical release notes, but it also introduces another notable feature, Autopilot driving styles.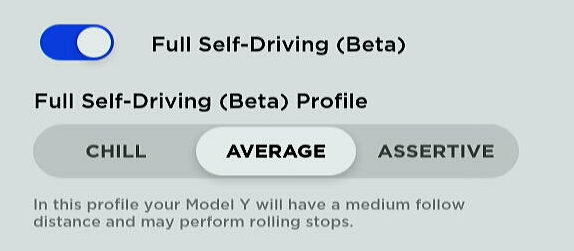 In 10.3, Tesla added Full Self-Driving Profiles, or driving styles. There are three options to pick from, Chill, Average and Assertive.
You can think of them as similar options to Chill mode which reduces fast acceleration and the speed-based lane changes such as mild, average and Mad Max.
Choosing a driving style will change how Autopilot drives and interacts with elements in its environment. For example, adjusting your FSD profile will adjust your car's following distance, acceleration, lane changes and more.
In Chill mode, your car will leave a larger following distance and be more 'mellow'. It'll remain in its lane more often if the car in front of you slows down rather than going around them. It will also perform complete stops and have more graduar acceleration.

Average mode will have a medium following distance and Tesla says that the car may perform rolling stops. Tesla doesn't mean stop signs, but optional stops, such as pulling out of a driveway or parking lot. If the coast is clear, your car may simply slow down instead of coming to a complete stop. You can also expect faster acceleration when compared to Chill mode.
The last driving profile is 'Assertive'. In this profile the following distance will be shorter and your car will try to maintain its speed as much as possible by moving into open lanes more often. Tesla says that the car will not exit passing lanes. So when driving on the highway your car will travel and remain in the left most lane.
Traveling in the passing lane is relatively normal in the US, but in many countries it's actually a ticketable offense. Tesla currently has an option in Autopilot settings that allows the car to travel in the passing lane instead of using it only for passing. It's likely that the option to travel in the passing lane will be adjusted when FSD sees a rollout outside of the US.
It's likely that these profiles affect many other areas of driving, such as when to let other cars into your lane or how it reacts to yellow lights.
These FSD Profiles are a great, and much needed addition. Not only do individuals have different preferences when "someone else" is driving, but some of these driving styles are crucial when driving in certain areas of the country. You wouldn't want to go into a major city and leave a large following distance or accelerate too slowly or cars would constantly cut in front of you.
Similar situation if you live out in the country. Driving fast and not letting other drivers into your lane may be frowned upon by other drivers.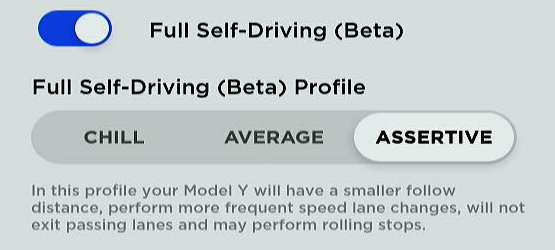 You can read about some of the other changes in FSD Beta 10.3 or take a look at the technical release notes.