On June 10th Tesla showed off the new Model S Plaid and it's completely redesigned interface. The new UI contains many new features and enhancements, such the ability to customize the buttons at the bottom of the screen so that you can have your most used apps easily accessible. It also includes the ability to drag and drop apps between the left side and right side of the screen. A new mini player also makes music controls always easily accessible. You can read about all the new features in the new UI, which we covered last month.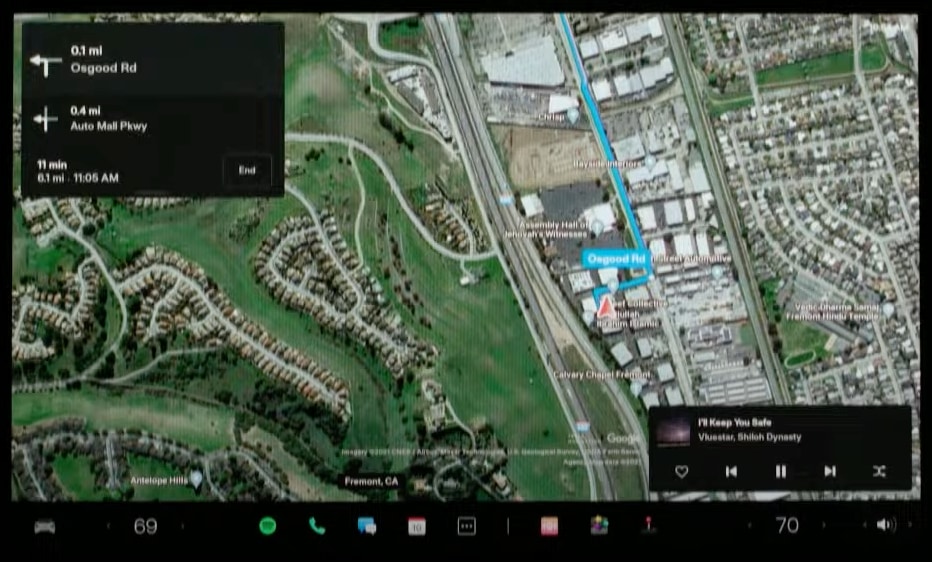 Since the day of the event, everyone has wanted to know whether this new UI would be carried over to previous cars, since the cars' displays differ quite a bit. Previous Model S and X vehicles contain vertical displays, and the Model 3 and Model Y do not contain an instrument cluster, so people started to wonder whether Tesla would be able to adapt the new UI for these other dimensions.
Elon took to Twitter and confirmed that a new UI will indeed be coming to all Teslas. We anticipate that this new UI will be similar to the UI in the new Model S, although Elon was not specific on Twitter. Elon simply said that an "updated UI coming with FSD wide release," which doesn't necessarily mean it will be the same as the UI in the new Model S. However, Tesla has never had different UIs for different vehicles in the past. Even when they overhauled the UI various times in the past, the changes always trickled down to older vehicles as well.
Yes, updated UI coming with FSD wide release. All cars with FSD computer will have new "mind of car" view. All 3/Y can be upgraded to have FSD computer.

— Elon Musk (@elonmusk) July 6, 2021
It's clear however that the UI needs some big changes before it can work on older vehicles. We may see some features dropped or changed. For example, on the Model 3 and Model Y, the left side of the screen is used for car visualizations and takes up a significant amount of the screen. Tesla could allow stacking of apps on the right side or the cars may be limited to a single app at a time.
In December of last year, Elon said that we will have multiple display options, so that feature may be included in this update.
Although we may not be able to hide the car visualizations completely, we may be able to choose how big or small they are on the screen. It would be great to see an option where the car visualizations are hidden completely and we merely keep a small window with the important information, such as current speed, speed limit and Autopilot details.
As for the vertical screened Model S and Model X, it's possible Tesla may just stack the apps vertically instead of horizontally and the rest of the layout would remain largely unchanged since those cars include an instrument cluster.
Elon mentions that the new UI will come with the FSD wide release, which honestly we don't know when that's coming. However Elon has said recently that he expects FSD to be ready "soon." It's been pushed back several times since we first expected it in April, but it looks like Tesla may be getting close. We expect the FSD beta to be limited to beta testers initially, but hopefully it won't have to wait too long after that.
The other tidbit Elon teases is that the new UI will include the "mind of the car" view. We covered this before and in short, we expect this to be new and improved car visualizations. As Tesla gets better at understanding and interpreting the world around us, the car visualizations also improve and we think this will be a major step forward in what we see on the screen.
We don't know exactly what the future holds, but it's exciting to hear that a new UI will be coming soon and new car visualizations will be coming soon.
Update: Tesla delivered v11 with an updated UI based off of the new Model S in the 2021 Holiday Update.