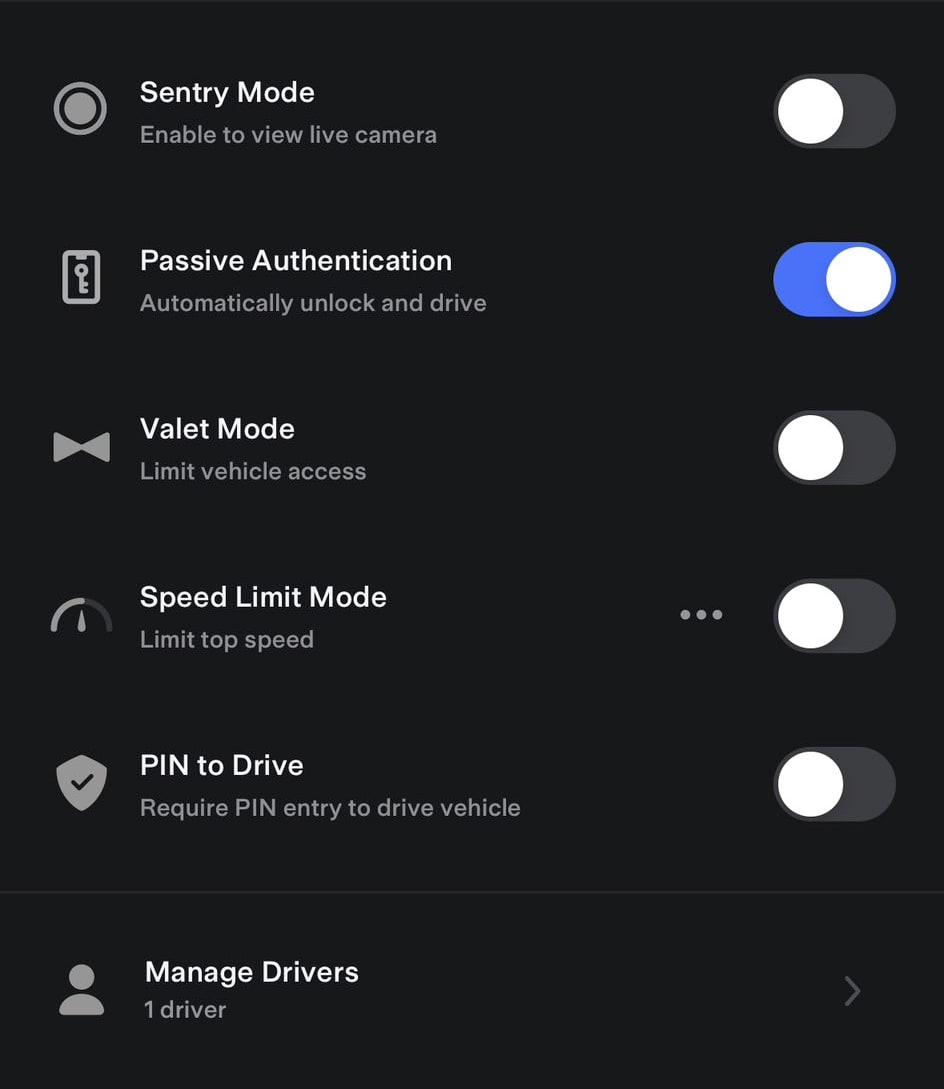 Tesla has enabled another feature in its app, but it's only available with the latest vehicle update. Thanks to the 2023.20 update, the 'PIN to Drive' feature can now be set right from the Tesla app.
This is a great addition that helps keep your vehicle safer. By having the ability to set the PIN to Drive feature remotely, you can now choose to enable it only if you lose your key fob, key card, or phone. This gives you an additional level of security, knowing no one can start your vehicle, even if they have the key.
Tesla recently also added the ability to turn off 'Passive Authentication,' which disables the auto-locking/unlocking of your vehicle when your phone is nearby.
How to Turn on 'PIN to Drive' on Your App and Car
Before this update, you could only set up 'PIN to Drive' in your Tesla car. Now, you can do it from your phone too. When you turn on this feature, you must punch in a secure four-digit PIN before you can drive.
To set it up in your car, tap 'Controls,' then 'Safety & Security,' then 'PIN to Drive.' You'll then be asked to pick your four-digit PIN. To set it up from the Tesla app, tap on 'Security & Drivers' and scroll down to 'PIN to Drive.'
Why is 'PIN to Drive' So Important?
We live in a world where tech-savvy thieves are always trying to find a way to outsmart car security systems. This is where 'PIN to Drive' comes into play. By requiring a code to start the vehicle, it adds an extra layer of protection that is difficult to circumvent. PIN to Drive has always made your vehicle safer, but it came with the inconvenience of requiring you to enter the PIN every time you went for a drive. However, by being able to set PIN to Drive directly from the Tesla app, you can now use it in those rare cases when you lose your cell phone or keys.
How to Change Your PIN
Decided to change your 'PIN to Drive'? It's super easy. Just go back to where you set it up. You'll simply want to toggle PIN to Drive off, and when you toggle it back on, it'll ask you for a new PIN code.
Forgot PIN Code
So you've forgotten your 'PIN to Drive'? No worries! You can start the vehicle directly from the Tesla app. Simply navigate to Controls and tap on 'Start' at the bottom of the screen.
You can also reset PIN to Drive by tapping the link on the vehicle's PIN entry screen and entering your Tesla account credentials.
Creating a Secure PIN
When picking your PIN, make sure it's not something easily guessable like '1234' or your birthday. You want a secure PIN but also one that you can remember. If you have a hard time remembering numbers, try a memory trick. For example, link each digit to a particular date or event in your life. Just don't make it too obvious!