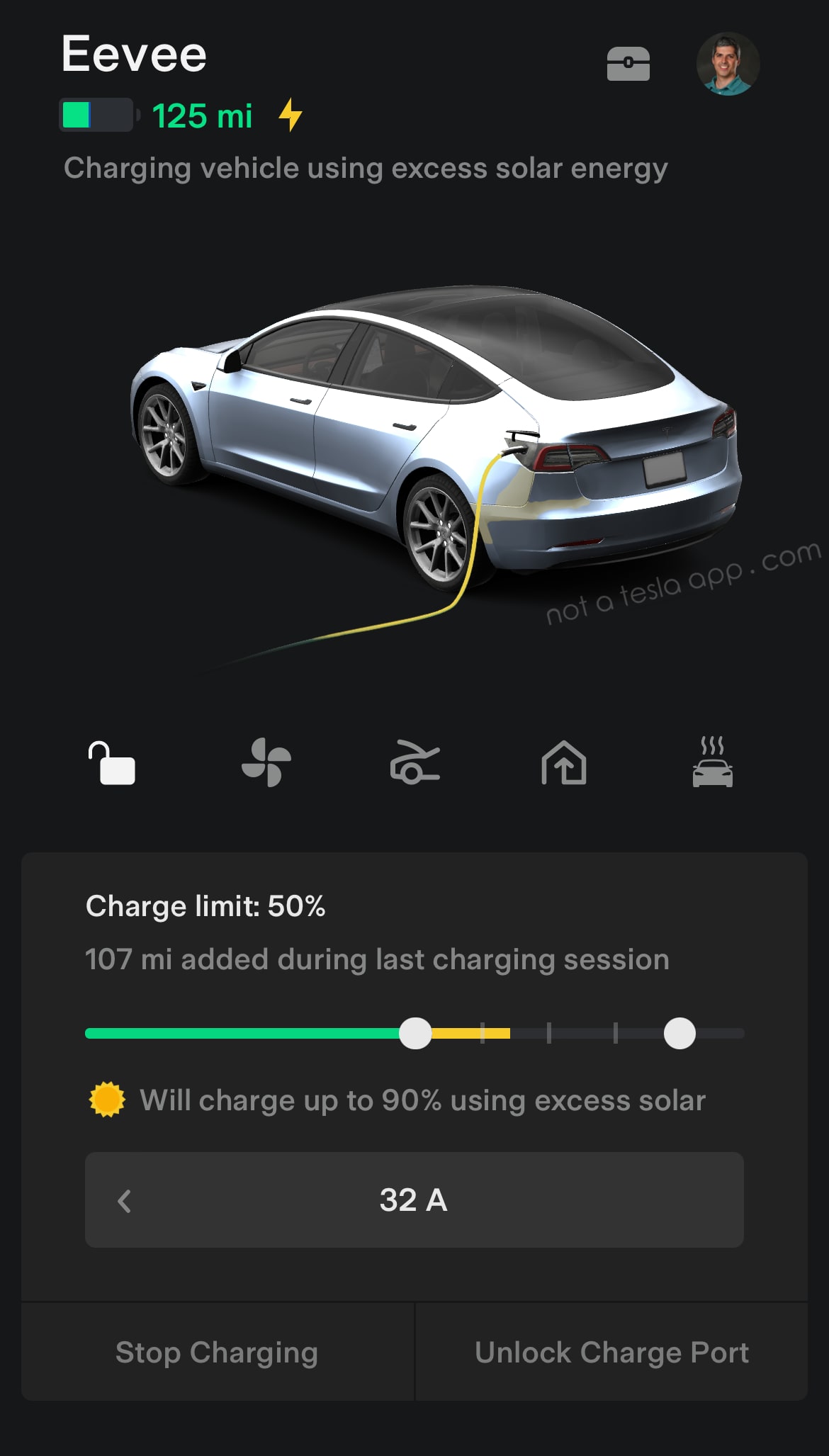 Tesla is getting ready to introduce a new feature that allows owners to charge their cars using surplus solar energy. If your home is generating more energy than it's using, this excess energy can be directed automatically to your car.
For owners of solar panels, there have been limited options when your panels are generating more energy than you're using. The system tops off your Powerwalls if you have them, but once those are full, the system sends any excess energy back to the grid.
However, if you have a Tesla, you'll soon be able to automatically start charging your vehicle whenever excess energy is being generated. This is according to new text-based information found in the latest Tesla app, according to Twitter user Tesla App iOS. Tesla is calling this new feature "Drive on Sunshine," which focuses on providing the cleanest charge possible for Tesla vehicles.
Tesla has already started updating their app with some details regarding this new feature. The feature will instruct users to plug in at home during daytime hours, to take advantage of the surplus clean energy their solar system produces.
How It Will Work
The Tesla app allows you to set a charging limit for your vehicle. However, once this new feature is enabled, you'll gain access to two charging sliders. The first slider will control how much your vehicle is charged, regardless of where the energy is coming from. You'll be guaranteed to have this amount of charge every night. However, you'll have access to a new slider that lets you set the maximum charge level, but only using your solar system's clean energy.
This will allow you to set your charging limit to a minimum amount every day, such as 60%. You could then set your solar limit to something much higher, such as 90%. This will allow your vehicle will charge up to this limit when your solar system is producing excess energy.
By setting charge limits and specifying the desired charging times and locations, Tesla owners can ensure that their vehicles are being fully charged before excess energy is sent to the grid.
Apple Inspired?
Last September, we pondered if Tesla could develop something similar to Apple's Clean Energy Charging. Apple optimized iPhone charging times by prioritizing clean energy sources from the grid. This approach aligns with Tesla's mission to create zero-emission vehicles that can charge using clean, renewable energy.
The app also lets users charge their vehicle's battery using available energy sources for regular daily driving needs while reserving a portion of the battery to be charged exclusively when surplus solar energy is available.
Explains Recent Powerwall Announcement
This new functionality enables Tesla owners to charge their cars using renewable solar energy, reducing the reliance on fossil fuels throughout the charging and driving experience.
Tesla's goal is to make EV ownership as sustainable as possible by minimizing the use of fossil fuels and promoting clean charging options. When a household generates more solar energy than it can consume, this excess power can be directed toward charging the vehicle. Tesla again began offering the Powerwall as a standalone product, allowing customers to purchase the battery storage system without requiring a solar array.
The Drive on Sunshine feature is a major step forward in Tesla's mission to make electric vehicle ownership as sustainable and environmentally friendly as possible. With this update, Tesla continues demonstrating its commitment to creating a cleaner, greener future for all.