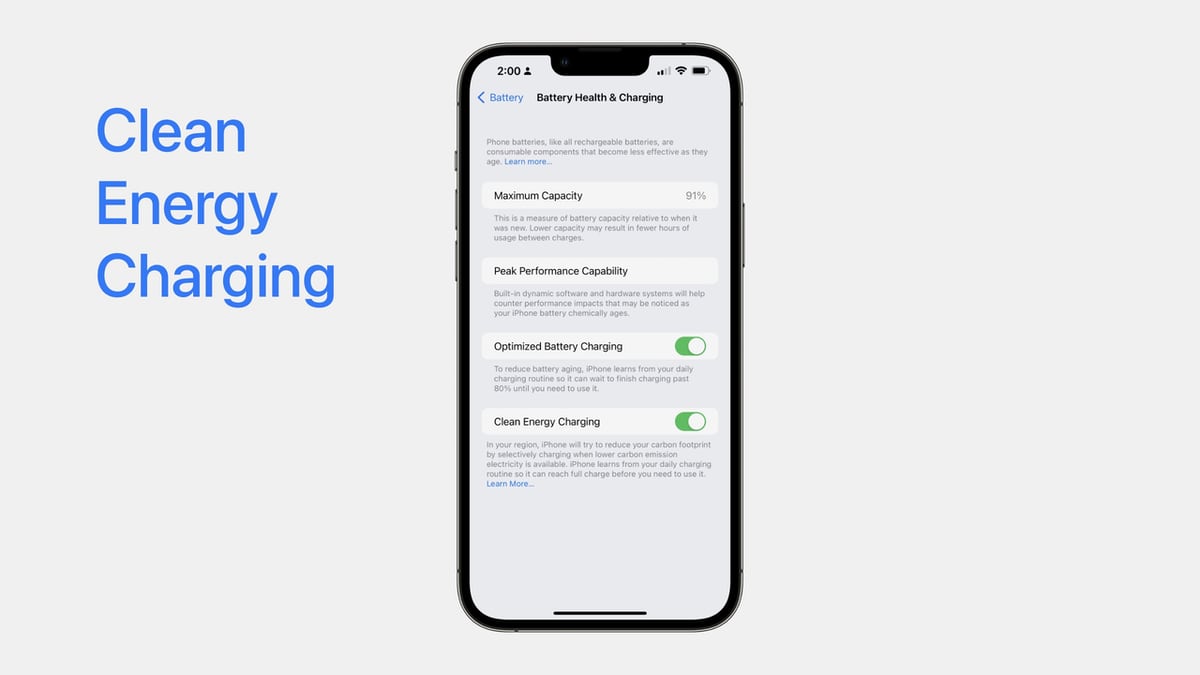 A familiar alternative has distracted the mega-company spotlight that is usually shining on Tesla. Apple launched the iPhone 14, and with it comes a new operating system — iOS 16. Apple's newsroom published a lengthy article detailing all the new features of the latest iOS. Of all the new features, there was one that stood out. Deep in the footnotes is a piece of information that likely has caught the attention of Tesla.
In an iOS update due out this fall (iOS 16.1), Apple will debut a new feature called: Clean Energy Charging.
In an iOS update due out this fall (iOS 16.1), Apple will debut a new feature called: Clean Energy Charging. But, unfortunately, they don't give us much information. The footnote reads, "Clean Energy Charging aims to decrease the carbon footprint of the iPhone by optimizing charging times for when the grid is using cleaner energy sources."
As a reminder, one of Tesla's many missions: Electric Vehicles, make badass, zero-emissions vehicles that can charge with clean energy. It's the end of that statement that falls in line with what Apple has figured out. Clean energy comes from zero-emission, renewable sources.
Apple may use information similar to Watttime. The founders of Watttime asked the simple question, "How clean is the electricity I'm using right now?" The non-profit figured it out. All users have to do is enter a zip code, and they will find an intensity scale from 1-100. The scale measures the grid emissions. The lower the number, the cleaner the energy.
This kind of feature would require a lot of information gathering from users. For example, let's say you plug in your phone when you go to bed at 11 p.m. and unplug it when you wake up at 7:00 a.m. With this update, the phone would start charging when the grid is cleaner, that may be at 3 a.m. Tesla would have the same information on users. The company knows that the commuter crowd may plug in when they get home, but the car doesn't need to be recharged until 8:00 the following day.
Tesla's impact reports detail how the company stores energy during times of high renewable generation, such as wind, solar and others. As a result, the company is proud to say it has created more energy than its products have consumed. The next step would be to have Tesla products consume only the cleanest energy whenever possible.