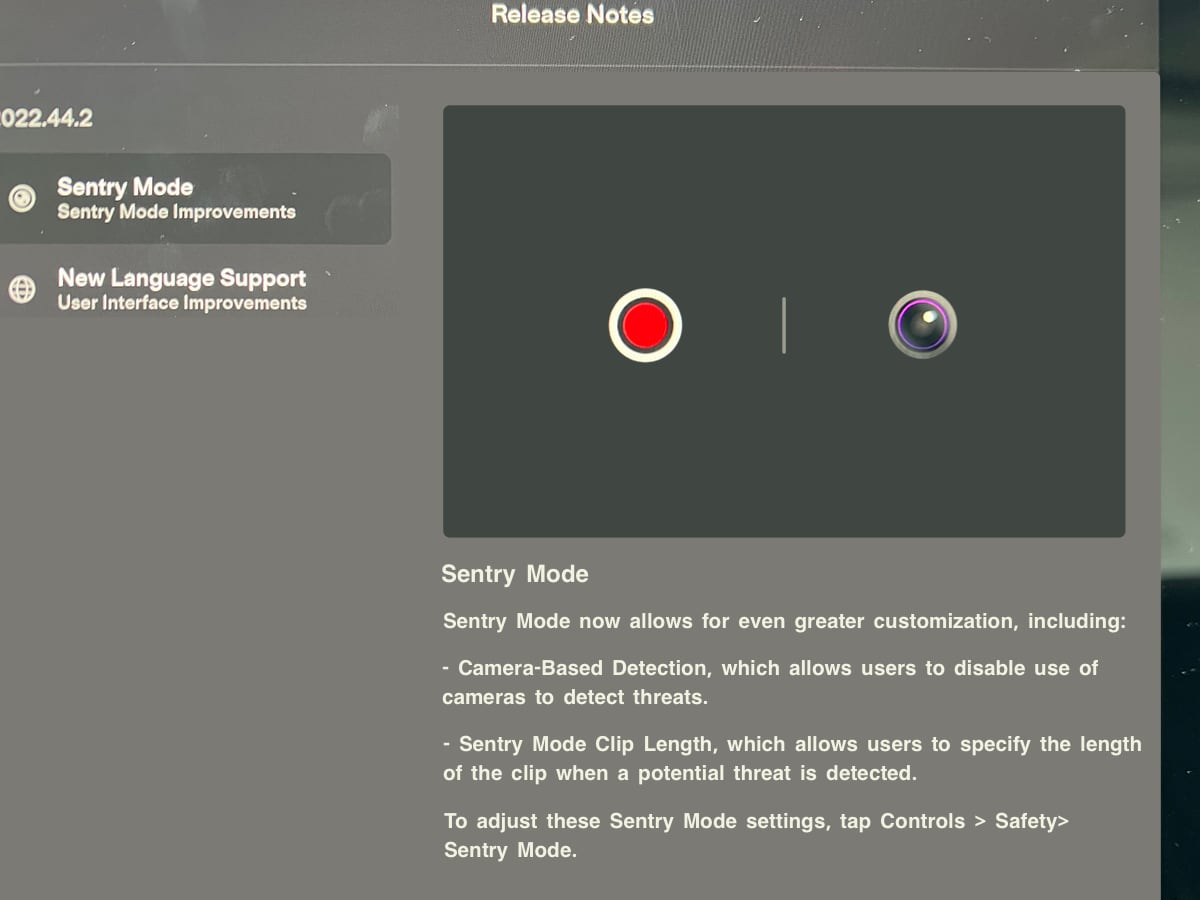 Starting with update 2022.44.2, Tesla is making improvements to its popular Sentry Mode feature.
Sentry Mode, Tesla's camera-based car alarm and surveillance system, allows the vehicle to detect potential threats near the vehicle.
When Sentry Mode is enabled it records from four different cameras when the vehicle detects someone near the vehicle or an intrusion.
Although the feature is fantastic and has caught many situations when damage has been done to the vehicle, it can also lead to dozens of recordings when there is no threat at all. This is especially true if its raining, which can trigger Sentry Mode events, or if the vehicle is parked on a busy street with a lot of foot traffic.
With update 2022.44.2 Tesla is introducing two new features to Sentry Mode in some markets. Depending on your region, you'll either get the ability to disable camera-based detection or the ability to disable camera-based detection and the ability to adjust the length of each clip.
Camera-Based Detection
The first is the ability to turn off camera-based detection so that Sentry Mode will only save recordings that are triggered by intrusion, such as a glass breaking, a door opening, or the vehicle's tilt sensor being triggered (only available in some markets).
Turning off Sentry Mode recording when the cameras detect someone near the vehicle will greatly reduce the number of recordings, however, it could also lead to some threats going undetected.
Sentry Mode Clip Length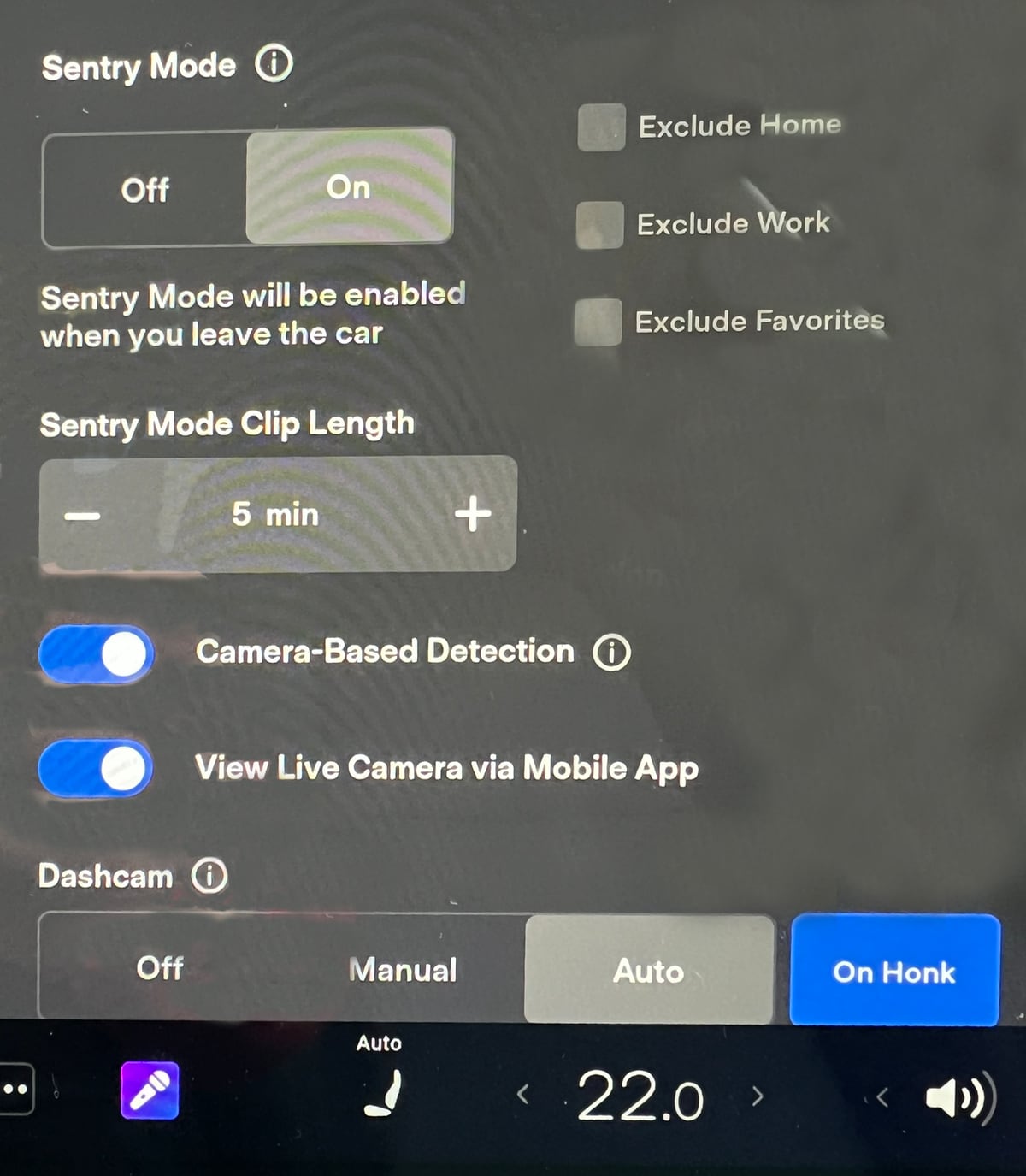 The second new feature of Sentry Mode is the ability to adjust the length of a recorded event. Once a potential threat is detected, Sentry Mode will record for the next several minutes unless additional threats are detected. The number of minutes that Sentry Mode records after a threat has been static up until now. With 2022.44.2, you'll now be able to adjust the length of each Sentry Mode clip.
This feature is currently limited to many parts of Europe. Tesla's release notes for those receiving both Sentry Mode improvements read as follows:
Sentry Mode now allows for even greater customization, including:
- Camera-Based Detection, which allows users to disable use of cameras to detect threats.
- Sentry Mode Clip Length, which allows users to specify the length of the clip when a potential threat is detected.To adjust these Sentry Mode settings, tap Controls > Safety > Sentry Mode.
Other Improvement Coming?
Two other Sentry Mode features have been rumored in the past when Elon Musk responded to users on Twitter.
While there is no guarantee that these features will be implemented, in general, it does show that Elon Musk thinks they're a good idea and he'll likely share them with the team. The outcome of whether these features get added largely depends on the feasibility of implementing such features, Tesla's roadmap, and the effort required to develop them.
In 2020, Elon said that Tesla would allow users to adjust the sensitivity of Sentry Mode, which sounds like a great enhancement. Hopefully, that's a feature that Tesla is still considering or is actively developing.
Also in 2020, Elon replied to a user on Twitter suggesting that Tesla would allow an 'incognito' Sentry Mode. The goal is to not let perpetrators know that they're being recorded, although there could be potential legal ramifications to adding such a feature.
In update 2022.24 Tesla added the ability to disable Sentry Mode sounds when an intrusion is detected. This could have been Tesla's compromise when trying to create an incognito mode. Although the car will no longer make any audible noise, it will still flash its lights and display the Sentry Mode logo on the screen letting individuals know that they're being recorded.
Tesla recently added Sentry Mode support in Israel and expanded the countries where Sentry Mode Live Access is available. The feature is now available to users in Hong Kong, Taiwan, Australia, New Zealand, South Korea and Singapore.
Sentry Mode has seen several enhancements since its introduction. With update 2022.40 Tesla now allows you to use Sentry Mode and Dog Mode together in various markets.