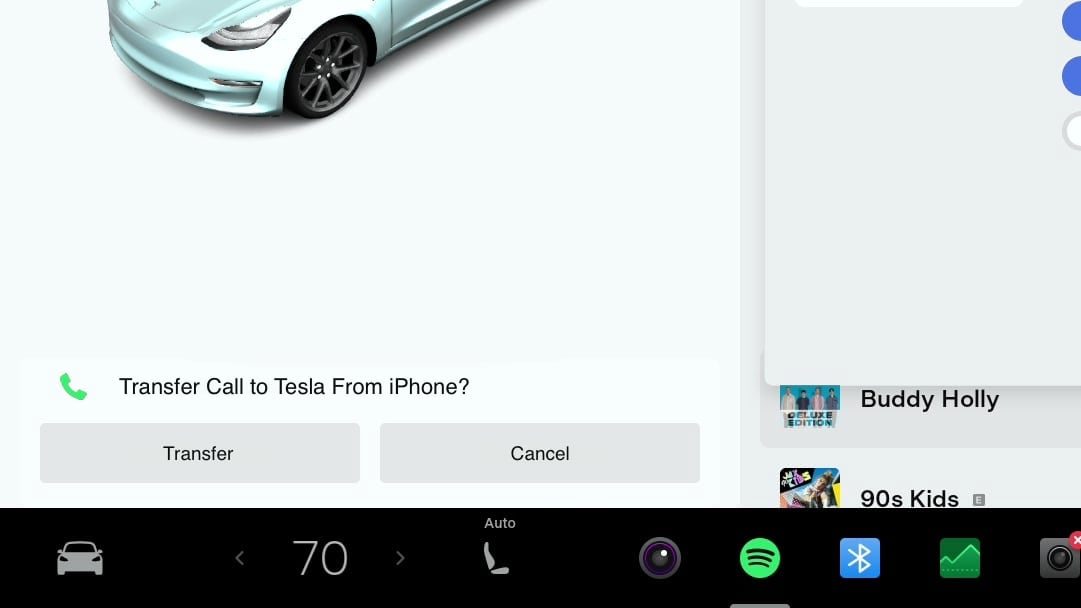 Without question, Tesla is the world's most innovative vehicle, although there's always room for improvement.
For example, when you're in the middle of an important phone call and as you open the door of your car, your phone connects to your vehicle and the call starts playing over the vehicle's speakers. Then, there's that awkward moment where the person on the other end of the call is trying to determine if they have been cut off. At the same time, you try to hurry to get into the car, or quickly try to transfer the call back to your phone. If this hasn't happened to you, count yourself lucky; for those who've fallen victim to the automatic transfer, the concerns of another instance may soon be a thing of the past.
Tesla plans to change how your phone connects in an upcoming update. Soon, when you're on an active phone call, the audio will now remain on your phone, even after you open your car door and your phone connects to the vehicle over Bluetooth.
When you're finally inside the vehicle, you can choose to transfer the phone call to the vehicle's audio system or dismiss the prompt, leaving the call's audio on your phone.
Bluetooth Troubleshooting
Until that happens, smartphone companies sometimes advise users to turn off Bluetooth to avoid calls being automatically picked up by paired devices such as automobiles. While that may work with most vehicles, Tesla owners rely on their smartphones to unlock and operate the car via Bluetooth.
Major Updates Are Coming
We don't have any details on when this improvement will be released, but we expect it to be available soon, possibly as soon as 2022.44, but it's now being tested and we expect it to be released this year.
There are several Tesla updates on the horizon. Full Self Driving Version 11 is expected to be available to everyone who has purchased FSD by the end of this year. In addition, it's believed the new Actually Smart Summon or ASS, will be included with Version 11. Those updates will get a lot of attention and likely overshadow this smaller improvement, but it is righting an inconvenience.
A Brief Bluetooth History
Let's take a quick look back at a technology that is now commonplace. It was Intel, Ericsson and Nokia who put aside competition and together developed the short-range radio technology in 1996. Bluetooth was a creative code name because King Harald Gormsson united Denmark and Norway in 958. He had a discolored dead tooth that earned him the nickname of Bluetooth.
Since the industry leaders were uniting on this technology, they used it as a temporary name. It was to be renamed RadioWire, but they needed more time to get the trademark done. The other option was PAN, which stood for Personal Area Networking, but there were too many PANs coming up in searches. Bluetooth started appearing in cars in 2000 and it was Chrysler who lead the way with incorporating the technology in it's vehicles.
Now, we appreciate the convenience of Bluetooth daily, and with a minor tweak by Tesla, King Harald Gormsson's namesake will be much more enjoyable.
Update: Users are now seeing this as part of software update 2022.40.4.1.